Wednesday 3rd December 2014
Tony Cummings reports on Deshon Bullock, otherwise known as SHONLOCK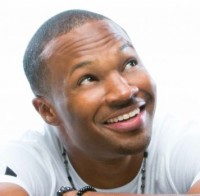 Shonlock
Few artists have travelled such a long way, both creatively and physically, in recent years than the genre-bending Shonlock. The man born Deshon Bullock, who became the choreographer for Arrested Development and Aaliyah, went on to become a key figure in TobyMac's Diverse City band and is now a critically acclaimed solo artist whose latest album 'A Night To Remember', has become a world travelling Christian music ambassador. He told New Release Tuesday website, "Since [the 2011 album] 'Neveroddoreven' we've been just traveling, touring the record, doing a lot of international things: Norway, the Netherlands, just crazy travelling and preparing for this next record. Life. The first single from 'Neveroddoreven', "Something In Your Eyes" went number one over in New Zealand before it did anything in the US. I don't know how it happened. One of our friends got a hold of the song and just started playing it over there and it just caught on. Next thing I know I'm getting a call: 'Your song is number one.' I'm like, 'What? Who gave you the song?'"
Shonlock had an early introduction to the music industry fast lane. Plucked out of his Chicagoland high school by R Kelly's management team based on his ultra slick dance steps, the eventual MC/singer/songwriter/producer joined R&B powerhouse Aaliyah and hip-hop pioneers Arrested Development on tour as a choreographer and dancer. From there, his name spread like lightening throughout the industry, inspiring a call from pioneering gospel rappers Grits which didn't just open a slew of additional career doors, but also led to an entirely new perspective on life in general. Commented Shonlock, "At first, I was using a lot of my gifts and talents for the wrong reasons but came to a whole new outlook on life after I met Verbs, who was supporting Grits at the time. One day after going over some choreography he presented the Gospel to me, which was really refreshing because it was coming from somebody who understood my background and had similar interests in music. I had been going to church when I was younger, but never really grasped it, so to have it presented in a form that I could relate to and at an age when I could understand it became life changing."
In 2002 Shonlock released an independent EP, 'Magnanimous'. But it was his work with TobyMac which was to bring him the greatest attention. Shonlock is at pains to give credit to TobyMac for expanding his musical vision. He told The Christian Music Review Blog, "I started off just in the urban and hip-hop world, really into the underground scene. I didn't really do too much rock music, and then once I got with Toby and really felt what it is like having live guitars, like electric guitars at a live show. The energy I felt, you know with me being a dancer we feel music in a different way, so that definitely opened me up to a whole 'nother realm. I think the older you get, you grow and you learn different styles and you pick up different things. You kind of learn yourself musically; and that's what I did. I started to learn who I was musically and what I like musically. And a lot of those influences and things I like came out through my creative process."
In 2010 Shonlock was signed to Arrow/Universal and the EP 'Where Never Begins' was released. The following year the tracks on the EP were added to for the release of 'Neveroddoreven'. The album received accolades from all directions, New Release Tuesday writing, "Throughout the 13 track collection, influences as varied as Mac and the Diverse City Band to Outkast, Mat Kearney, The Script and B.o.B. permeate Shonlock's boundary-breaking sound, all uniting with a crystal clear cohesion. And just as creative as the musical content is the lyrical dichotomy, which starts with the ultra-eye catching title." The album title is a palindrome, which spells a phrase the same way forwards and backwards. Commented the artist, "The message is all about my relationship with God, and when you're walking with him, I never find it odd when amazing things happen. But on the flipside with the ultimate sacrifice of his son, I could never get even, which makes me forever indebted to him."
Reviewers of 'A Night To Remember' have commented on the continuing expansion of Shonlock's sound taking in dance and club music. Commented the singer, "The way I figure it, the progression comes with maturity and just learning and exploring at the same time because I always wanted to be eclectic in my delivery. I think the centre point to what I do, the common thread is Jesus and honesty. I think that a lot of times people want to put you in a certain box. I do music that I like, music that moves me, and that's what you get out of my records most of the time. You'll find a bunch of different styles, but the centre point would be Christ, and it'll be honest and real. I didn't go out trying to make a clubby record; I just wanted to do stuff that I felt would move people and encourage people."
Shonlock continued, "It's funny how you start writing songs and then you kind of step back from the songs and you realise there's a story kind of thing going on there. [The track] 'A Night To Remember' is about that moment where you give everything over to God and that moment before you accept Christ into your life. Some people had different experiences, all great experiences, but they're all different. Some might be shaking with nervousness and anticipation, their heart beating fast with anxiety because this is that moment where you're going to take that step, and then to have Jesus meet you there is like an unforgettable thing. I wanted to try and capture that moment in that celebration and put a stamp on that period in time that you'll never forget. That was the heart and that's what I was really trying to pull together with 'A Night To Remember'."
Shonlock spoke about his collaboration on the album with Solly (Solomon Olds) from Family Force 5. "I'm good friends with Solly and I love some of his production - that's Soul Glow Activatur for some that don't know his name. We got together and created some amazing music. He gave me some stuff that was unique and we made the song called 'Transform' and we used this transformer sound."
Shonlock also spoke about having Demon Hunter's Ryan Clark working with him on the album. "I'm in the studio working with Josh Crosby. We happen to be in Toby's studio and Josh is playing some of my songs for this other producer named Aaron, who happened to be working with Ryan Clark in the other room, the lead singer. Before I got there, Aaron and Ryan had come into the studio because Josh was playing my music really loud and so they were like, 'That junk is crazy. Who is that?' That was when the light bulb went off because I'm on the chorus of 'Don't Play' trying to get it real hype and it just clicked. He was like, 'We should get Ryan to sing the hook. It would be crazy.' I was like, 'Yeah, let's do it because I love the energy and intensity in his voice in a lot of his music.' He fit perfect."

The opinions expressed in this article are not necessarily those held by Cross Rhythms. Any expressed views were accurate at the time of publishing but may or may not reflect the views of the individuals concerned at a later date.
About Tony Cummings

Tony Cummings
is the music editor for Cross Rhythms website and attends Grace Church in Stoke-on-Trent.
Reader Comments
We welcome your opinions but libellous and abusive comments are not allowed.