Wednesday 25th February 2004
Several vocalists have recorded songs for Soul Survivor's groundbreaking SOUL SISTA initiative. Tony Cummings asked them about the project.
Lou Fellingham
Any young lady who has been to a Soul Sista event will tell you that this important ministry, under the Soul Survivor umbrella, is doing some tremendous work amongst Britain's female youth. Now a mini-album, featuring a bevy of fine British worship leaders, Is about to be released by Survivor Records. 'Soul Sista: Precious', produced by Phatfish's Nathan Fellingham, will further publicise the vital work being done by Soul Sista. I asked Beth Redman, singer, worship leader, wife, mother and founder of Soul Sista, what the heart and vision of the organisation was.
"Supported by Soul Survivor, Soul Sista's aim is to teach and encourage young women to follow God and to understand how 'precious' they are in his sight. Our passion and vision is to point people to Jesus and see them healed, encouraged, sharpened and equipped. We relaunched Soul Sista at this year's Soul Survivor festival and we had up to 5,000-6,000 girls crammed into the main marquee - plus we began our Soul Sista one day events at the Soul Survivor warehouse in Watford in November and February, about 800 girls attended and we were blown away by the awesome things God did. I am just beginning my third Soul Sista book - it's all such an enormous privilege!"
So what was the thinking behind the minialbum? Said Beth, "Some of the girls on the team, like Andy Arganda and Vicky Beeching, were writing some beautiful songs and have such amazing voices that we thought it would be great to record some of their songs, plus bring in some other great writers and vocalists like Lou Fellingham, Esther Alexander and Michelle John-Douglas with whom Soul Sista has a great relationship. I hope that the CD captures our heart for God and also hopefully resources and brings real freedom to the girls listening."
Beth Redman
Beth's personal favourite track on the CD is Lex Brodie's rendition of "Heaven Rejoices". "It's so pure and worshipful," enthused Beth. Lex has been leading worship for nine months now and this, her first recording, shows a formidable new talent. "Being part of Soul Sista is an amazing privilege," commented Lex. "It is overwhelming to see God move so powerfully in healing, restoring and encouraging girls. Soul Sista is so much about girls knowing the Father's heart for them, so I loved recording 'Heaven Rejoices' because it sings truth, love and hope over them."
Another singer on the project new to CD buyers is Andreana 'Andy' Arganda. She said, "I will never forget when Beth phoned me February of last year to ask if we could write some songs together for an album we hoped to do for Soul Sista. I had never written a song before but had just a few days earlier told the Lord that I would do whatever he asked me to even if it was scary for me. I laughed out loud when Beth asked because that was in fact a very scary, vulnerable thing for me to do. A few weeks later Beth and I prayed and asked God for words and a melody. We wanted the song to talk about the freedom that comes from knowing Jesus so we began searching through the Scriptures looking for verses that talked about that. In thinking that through we thought our only response could be to praise him, so the chorus says, "The name of the Lord is to be praised." It is a simple song with the powerful message of Jesus."
Recording the song was an interesting experience. "I can remember driving down from Watford to Brighton and getting terribly lost. It was cold, really rainy and the traffic was horrendous. I was flustered by the time I actually made it to the studio. I didn't start recording until about 9:00pm and thought for sure I wouldn't be able to pull it off. I sipped a cup of water and asked Jesus to be in that room. After a few minutes there was such a sense of peace and I somehow managed to finish in about 90 minutes! My hope is that this album will be a tangible resource to young and old women alike. I pray that through the songs the Lord will sing over them and give them songs of their own to sing back."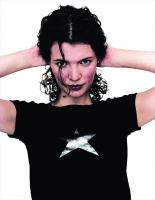 Esther Alexander
One of the best known singers on the CD is Midlands-based singer/songwriter Esther Alexander. She and Beth perform an uplifting duet on "Lifted Up". Said Esther, "I think that the Soul Sista concept is fantastic - it's an amazing opportunity to be involved in a project that is influencing young women in a very positive and dynamic way. Something of this nature has been needed for a long time and I feel privileged to be standing with Beth and the others in this exciting venture."
Another well known worship leader, whose 'Shelter' mini-album was released last year, is Vicky Beeching. Vicky enjoyed working with producer Nathan Fellingham. "He is very creative and he has been a pleasure to work with," she said. "We did the vocals at his church in Brighton, which felt like a really restful and worshipful place to record. I had already recorded 'Extravagant Worship' on my Emerge album, so I loved working with Nathan to find a fresh way to re-record it. The ad libs were my favourite part of the track - I just wanted to express extravagance to God by going for it and singing out what was on my heart. I think the album will really encourage and bring truth to the girls that hear it."
The final comments on 'Soul Sista: Precious' belong to Lou Fellingham, for years the arresting lead singer of pop rock band Phatfish. "It's great to be a part of what God is doing with the Soul Sista organization," remarked Lou. "Being a worshipper of God is not just about singing songs to God, but also about believing the truths that God says about you and living according to those truths. It's exciting to see God raising up biblical women who love him and are passionate about him and believe in being everything that God has called them to be. Recording the track on the CD was great fun and it is privilege to be part of it."

The opinions expressed in this article are not necessarily those held by Cross Rhythms. Any expressed views were accurate at the time of publishing but may or may not reflect the views of the individuals concerned at a later date.
About Tony Cummings

Tony Cummings
is the music editor for Cross Rhythms website and attends Grace Church in Stoke-on-Trent.
We welcome your opinions but libellous and abusive comments are not allowed.