Peter Timmis reports on the steady rise of Portland, Oregon pop rockers SIXTEEN CITIES
Sixteen Cities
Making an impact on Cross Rhythms radio lately is an infectious Killers-style rock number called "Sing Along" by a young band from Portland, Oregon called Sixteen Cities. The group have been around for six years, quickly making the leap from playing at high school to a regular gigging unit. They released a couple of independent albums before signing a deal with Centricity Records and delivering their self-titled debut album back in May. The record received widespread praise with its bright modern sound drawing comparisons to groups like The Fray, Savage Garden and, of course, The Killers.
Mike Rimmer recently chatted to lead singer Josiah Warneking on the Rimmerama show and begun by asking where the group's name came from. "Everyone always asks that question, they always want their home city to be on the list! It's actually a bit of a long story but I'll try and compact it. Years ago, our band heard a sermon about an ancient tribe of Israel, the tribe of Issachar. The reason they stuck out to us was there was a verse that said they were the men that knew the times and the seasons and knew God's heart for Israel. We realised that Issachar was a very difficult name to pronounce, spell and find online but we loved the meaning behind it and we loved that they were a relevant tribe; we wanted to be like them. We found a verse that said that the inheritance of Issachar were 16 cities and we liked that and so we decided to use that name." Has the band ever done a tour of 16 cities for marketing purposes? "You know we accidentally did one," laughed Josiah. "We went on a tour of the mid-west in the US and it ended up being 16 shows. Most of our tours should be 16 cities!"
With a name taken from the Bible do the group consider themselves to be a ministry band? "As a band we have faith in Jesus Christ, we believe in him but we don't like it to be cheesy or something that young people cannot relate to," explained Josiah. "Our goal is to take the faith that is very real to us and try and translate that through our music to young people all over the world. [When we play live] we try to create an experience for them that can sometimes just be fun. It can be hanging out and playing some of our original music - the main purpose of that is just to enjoy the music but our goal by the end of every concert is to point people to Jesus Christ. That could be through playing worship music or through sharing our testimony but our goal is always to point people back to Jesus."
Sixteen Cities formed at high school. "We started out by leading our peers in worship on Wednesday mornings and we fell in love with it. As soon as we graduated, we all prayed and sought God's true heart and will and we felt called to full time music ministry," explained Josiah. "We started playing in the Portland area and four years later we got a phone call from a guy with a ministry called Common Ground. It's basically a huge production with concerts, games and a Gospel presentation in a public school. So here we were thinking we'd have no chance to continue singing to students after having just graduated, and we wound up in front of hundreds and sometimes thousands of teenagers in gymnasiums singing about Jesus."
The band's original line up was made up of brothers Josiah (lead vocals, piano) and Joel Warneking (bass), Joshua Miller (rhythm guitar), Chad McCutchen (drums) and Dustin Erhardt (lead guitar). Earlier this month though, Dustin made the surprise announcement that he would no longer be playing with the group. "I have some loose ends in my life that need to be tied up," he explained. "There are some things between God and myself that need 100 per cent of my attention. God has asked me to do some things lately, and I've been pushing them to the side and I know that it's not worth trying to do things my way." No details on how the band plan to replace Dustin have yet been announced.
Returning to the Warneking brothers, Mike asked Josiah whether having a brother in the band resulted in Gallagher-style arguments? "Well you know I think I get along better with him than with anyone else in the band, we sort of think on the same wavelength," replied the singer. "A funny story about my little brother is that he had no experience whatsoever playing the bass and one day we needed a new bass player and I jokingly said, 'Hey, you should learn the bass, it's not that hard, you should learn it and join the band.' And sure enough he learnt it in two weeks and has been with us over two years now!"
As a vocalist who plays piano how does Josiah keep things exciting? "Sometimes I don't even see myself as a piano player. I am known to climb on the piano and jump off it! I really like to engage with the audience, connecting with them on a personal level during our shows. So sometimes I'll be hanging out on the piano but sometimes I'll just have to leave the piano and rock out with the rest of the guys at the front of the stage." Since Leeland came along a lot of people have said that there's been a sudden resurge of interest in piano-led rock. Does Warneking find that? "Yes, I'm not entirely sure it's just because of Leeland. The Fray was a big one, for example. But in general a lot of bands are going towards piano-led rock - even bands that don't have a piano player have some piano-led rock songs!"
Oregon is sometimes referred to as 'the most Godless place in America'. What is it like to be a Christian band from the State? "Well, they say Oregon is one of the least churched states in the United States. What we like about being from Portland is that light shines really bright in dark places. The reality is there aren't very many 'wishy washy' Christians in Portland. If you go to church here it's because you mean it and you really believe it. There aren't as many Christian artists performing in the north west of the United States and so it feels like it's a good mission field for us that we're able to go out and truly reach people who haven't heard the Gospel."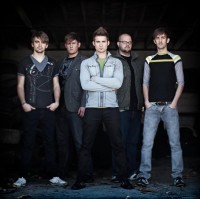 The group's next project will be something of a departure from 'Sixteen Cities'. In September the band will release an EP of worship songs. "We have hand-selected some of our favourite worship songs and recorded them Sixteen Cities style," explained Josiah. The group are also due to tour Denmark's schools and churches with youth ministry, Youth For Christ. Said Josiah, "It really doesn't matter where we're performing, we just try to break down the barrier between the stage and the audience in the hope that the message can be heard and accepted. It's an ideal show if everyone starts jumping around and having a great time, but then walk away feeling like they've had an authentic experience where they've either been introduced to Jesus for the first time or feel stronger in their faith than when they first walked in."

The opinions expressed in this article are not necessarily those held by Cross Rhythms. Any expressed views were accurate at the time of publishing but may or may not reflect the views of the individuals concerned at a later date.
About Peter Timmis

Peter Timmis
is a regular contributer to Cross Rhythms and lives in Stoke-on-Trent.
We welcome your opinions but libellous and abusive comments are not allowed.