Friday 30th December 2011
Tony Cummings digs into Christian music to locate 10 courageous recordings telling the truth about sex
Considering how dominant the theme of sex is in today's pop and rock world, songs about the topic from the Christian community have been a rarity. Such reticence for believers to tackle sexual themes is understandable. For though the world is happy to be engulfed in a tidal-wave of songs of unbridled lust it remains antagonistic to the suggestion that human sexuality is a gift to be fulfilled solely in marriage. Strangely, there is also an ultra-conservative faction in the Church who believe that songs about sex, even those that echo the Bible's teachings on the subject, are inherently offensive. Despite all this, down the years a handful of brave Christian artists and songwriters have risked the wrath of non-believers and church goers alike and recorded and released songs about sex. Cross Rhythms has selected 10 from the last three decades of music which are well worth searching out.
Judson Spence
1988 "Hot And Sweaty", Judson Spence. From the album 'Judson Spence' (Atlantic)
It's long been a sad spectacle to see singers raised in the Church move into pop and R&B who are prepared to record sexual come-ons and film bump and grind videos for TV. So much respect should go out to the hugely underrated blue-eyed soul singer Spence who, in 1988 when his big recording chance came with Atlantic Records, recorded this decidedly different number. Over a deliciously funky groove featuring ace musos like guitarist George Cocchini and bassist Spencer Campbell, Judson spelt it out for the girl giving him the eye: "Ain't no need to get hot and sweaty," he insisted. "There's more to love than sex."
1989 "About Sex", Jacob's Trouble. From the album 'Diggin' Up Bones' (Alarma)
Singer, songwriter and sometimes drummer of Atlanta pop rockers Jacob's Trouble, Jerry Davison called "About Sex" "the greatest hit we never had." It was the most popular number from the band's early live set and fans would drive great distances just to hear the band sing the song. It was originally intended for the band's 1989 'Door Into Summer' album but was passed on when the final song selection was made. The band made another demo of it and presented it to producer Terry Taylor for inclusion on 1990's 'Knock, Breathe, Shine', but Taylor felt the lyrics sounded to "moral majority". Instead another song, "About Sex (Part II)", was cobbled together for the 1990 album and fans had to wait until 1994 when a demos and rarities compilation 'Diggin' Up Bones' finally aired the raw and rocking attack on modern sexual mores.
Jacob's Trouble
1990 "About Sex (Part II)", Jacob's Trouble. From the album 'Knock, Breathe, Shine' (Alarma)
Having discarded the original "About Sex" song for the 'Knock. . .' album, despite Frontline Records' enthusiasm to include the fan favourite, Taylor and band members Jerry Davison, Steve Atwell and Mark Blackburn pulled together this little number. The lyric is little more than a list of stats ("In the next 24 hours, 7,742 teenagers become sexually active," "Scientists estimate that as many as 1 to 1.5 million Americans are currently infected with the AIDS virus"). But it still makes a powerful point.
Apostle Louis Greenup
1992 "No Wed No Bed", Apostle Louis Greenup. From the single (Pepperco)
With apostolic authority Greenup launched into an attack on sex outside of marriage insisting that only the marriage bed was the place for sex. An unpalatable message but a powerfully delivered one.
Julie Miller
1993 "S.O.S", Julie Miller. From the album 'Orphans And Angels' (Myrrh)
In Julie's songbook S.O.S. didn't stand for Save Our Souls but Sick Of Sex. And in a withering attack on the world's modern mores, the singer, who back in the early '90s was launched as a CCM pop rocker but who was to find her true direction as a mainstream country singer, makes her devastating case. "This is making me sick, I can't stand it any more/You make sex so dirty, let me out the door/What was supposed to be personal, supposed to be clean/Supposed to be private you make a public scene/You manipulate the innocent, exploit the weak/You aim for the ones too young to know the lies you speak/One more commercial, you don't care what it costs/You get your profit, you don't care whose soul got lost." Then over that chugging rock rhythm the pay-off chorus, "I'm sick of sex being abused/I'm sick of sex being used and misused to sell me/I'm sick of sex/Being used and confused by the lies, lies, lies you tell me."
1995 "Paper Ladies", Barry G. From the album 'Rugged Witness' (Grapetree)
With the duo P.I.D. (Preachers In Disguise), Barry Hogan was one of the pioneers of Christian hip-hop and in this solo set he attacked the scourge of both the world and the Church - pornography. In a gutsy, streetwise rap Barry exhorts men not to resort to the transitory appeal of the "paper ladies" of the porno magazines.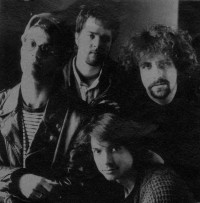 Vigilantes Of Love
1999 "Love Cocoon", Vigilantes Of Love. From the album 'Slow Dark Train' (Capricorn)
The mainstream Americana band VOL fronted by Christian singer/songwriter Bill Mallonee had been embraced by the CCM world with the song "Double Cure" winning them a Dove Award nomination in 1997 and a cover story in 7Ball magazine. But, thanks to this song, the next album 'Slow Dark Train' plunged the band into controversy. Family Christian Stones informed the album's distributor they wouldn't stock 'Slow Train Coming' because of the "explicit" song. The Mallonee-penned verse contrasted the delights of marital sex with the vain sexuality all around him in the world ("The whole world keeps on banging, they just come and go/It's just a part of their scenery, a part of their show/But I've got this wedding ring wrapped around my finger"). That's followed by a chorus of full-on sexual passion ("I wanna attack your flesh with glad abandon/I wanna look for your fruits/I wanna put my hand on 'em/I wanna pump up your thermostat beneath your skin/I wanna uncover your swimming hole and dive right in"). Sadly the same ultra-conservative mentality that ignores the Bible's Song Of Solomon reacted to Mallonee's sexual metaphors and the Vigilantes Of Love were soon withdrawn from Christian bookshop distribution.
Rebecca St James
2000 "Wait For Me", Rebecca St James. From the album 'Transform' (Forefront)
This song was to become the focal point of the Australian-born singer's ministry and was key in elevating her to the status of Ambassador For Sexual Purity. Certainly its message of waiting for marriage before beginning sex spoke, and continues to speak, to church-going teens everywhere. Its simple lyrics, penned by Rebecca herself ("Praying for you darling/Wait for me/Wait for me as I wait for you") may seem naively romantic, but they also resonate with conviction.
Pettidee
2007 "No Wed No Bed", Pettidee. From the album 'Resurrections: Past, Present And Future" (Beatmart)
Helped by LadyLike, the crunk-style rapper made his own hard hitting commentary on a modern society that treats sex as a recreational activity for all rather than something reserved for married couples. Don't know if Pettidee ever heard Apostle Greenup's song of the same title.
Twelve24
2011 "The Sex Song (I'm Just Sayin')", Twelve24. From the EP 'Better Words' (Independent)
Missy Em and her fellow school ministry musicianaries nailed the salacious bump and grind show of modern pop and R&B. Over a suitably funky track the righteous sister names and shames them. "Enrique Iglesias telling me 'I **** tonight/Got Akon in my ear telling me 'It's alright'/Rhianna tying to get me underneath her 'umbrella'/You don't know any different so you sell yourself out."

The opinions expressed in this article are not necessarily those held by Cross Rhythms. Any expressed views were accurate at the time of publishing but may or may not reflect the views of the individuals concerned at a later date.
About Tony Cummings

Tony Cummings
is the music editor for Cross Rhythms website and attends Grace Church in Stoke-on-Trent.
Reader Comments
We welcome your opinions but libellous and abusive comments are not allowed.