Karl Allison reports on the various artists album featuring THE ESCOFFEREYS, DAWN THOMAS, THE WADES, DIVINE, PAUL LEE and others.
Escofferys
The Soul Stirrers were a seminal male quartet from the US of A from whose ranks sprang 50s and 60s pop megastar Sam Cooke. 'Soul Stirrings' is a hot-from-the-CD-plant various artists album of the best of British gospel from which Island Records are hoping will spring one or more pop hitmakers.
This month Island's hot R&B and dance label 4th And Broadway are releasing 'Soul Stirrings', an album featuring the cream of Britain's gospel talent. This high-class item is produced and largely composed by Nicky Brown. Nicky is Britain's top gospel producer. Brought up in the Church Of God In Christ, by the 80s Nicky was acknowledged as the funkiest drummer in gospel, playing both with the COGIC Choir and London's beloved LCGC. In the mid 80s Nicky produced the single and most of the debut album for Lavine Hudson for Virgin Records - the first attempt by a secular company to get a hit out of the stunning vocal talent within Britain's black churches. Nicky subsequently worked for a while in the States, writing songs for gospel and secular artists, before returning to Britain. Now he's being offered the chance to work on what many see as British black gospel's most significant recording project. "'Soul Stirrings' aims to bring black gospel to the prominence enjoyed by white gospel," explains Nicky. "At the moment black gospel is very poorly funded and this is a rare chance for British gospel to really compete in the market place."
Not that on 'Soul Stirrings' pop fans will be hearing the traditional sounds of tambourine-thrashing gospel music. Says Nicky, "Gospel is changing, it must appear relevant to where the listener is coming from, what they can understand. Gospel today must move to embrace house, techno, rap. We must communicate the gospel message in the 90s using 90s musical language." Nicky is very aware that conservative elements in the church will be quick to condemn the 'Soul Stirrings' project for its undeniable 'crossover' direction. "Amy Grant can record 'crossover' with very little comment but whenever a black gospel artists makes a recording, that has far more spiritual content than some of Amy's recordings, misguided Christians leap in to criticise because the name 'Jesus' is not mentioned. In fact it would be very difficult to interpret many of the songs on 'Soul Stirrings' as man-woman songs. Mentions of Heaven and praying don't go with a romantic interpretation of the material. There's even a contemporary version of a Psalm on there!"
The name Soul Stirrings actually stems from the weekly gospel page in Britain's leading black community newspaper The Voice. In fact, it was Viv Broughton of The Voice, an expert on gospel music history, who wrote the seminal history 'Black Gospel' who first conceived the project and has acted as artist liaison. Says Viv, "There have been false dawns before but 'Soul Stirrings' could well be the project which finally lifts the talent within Britain's gospel circuit from the neglect it has suffered." So what artists are profiled on this big budget, high profile release? Let's run through the list.
THE ESCOFFEREYS
Of the 10 artists on 'Soul Stirrings' (10 not including the jazz fusion links composed by the exceedingly gifted pianist Qura) none will be better known to Cross Rhythms readers than The Escoffereys. The group had a much praised album, 'Options', released in 1992. The sisters - Sharon, Sandra and Michelle have been singing together for about 20 years now. It took a long time for success to come their way but when it did, it was worth waiting for. After picking up the Black Gospel Association award for Best British Gospel Group four years running. They signed to Atlantic in 1990 and released the storming album 'Opinions'. It charted in the States despite the lack of a promotional tour.
Sandra says, "We did get to the States, but only to meet the record company and do a photo shoot. But we still get royalties from the album being played in the clubs." Inexplicably, the royalties are coming in from Ireland, Scotland and Japan!
The girls grew up in the Adventist church. "We sung trade gospel and some jazz," explains Sandra. "I guess we were ahead of our time. We did the Rock Gospel Show in '83 and stirred things up a bit. We performed a Latin Jazz track and encouraged a lot of others. It was pretty radical at the time and we were blacklisted at first, but we've gradually won a certain respect. As far as we're concerned, we've been consistent and we'll continue to be consistent. We've tried to appeal to as wide an audience as possible. Even our parents like about half of the album!"
In this noble desire to appeal to just about everyone, the Escoffereys have played concerts in an extraordinary variety of places and situations. It's also led to certain convictions. "God has got nothing to do with denominations. We make a point of having our hand made up of people from all denominations and we've always managed to play to racially mixed audiences."
The girls are no longer with Atlantic and are currently writing songs and hoping for a new deal - maybe with Island if the 'Soul Stirrings' clicks. In the meantime, they're doing a lot of session work, both gospel and secular. "Whenever we do secular work people understand in advance that the lyrics will be vetted." Work with artists as diverse as Stevie Wonder, Jessy Dixon and Belouis Solne bear testimony to their professionalism.
The track on 'Soul Stirrings' was written by Sandra, but it's based on an old negro spiritual. It's contemporisation was inspired by an ad lib by Take 6, whom the girls had the pleasure of supporting. States Sandra, "We hope the album will help to establish a network and a market for gospel music in this country. It's about time that people began to realise what British gospel acts have to offer."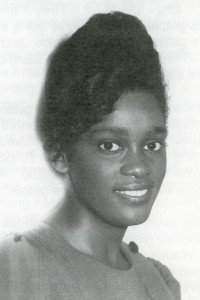 Dawn Thomas
SIGN OF THE TIMES
The most bizarre tale concerning any of the artists on the 'Soul Stirrings' album surely belongs to Sign Of The Times. They have not existed as a band since the end of last year. But that's not the only strange story... Zavier Barnett, vocalist and teller of ripping yarns, attempts to explain. "We weren't originally chosen for the album. Carlton (the band's keyboards whizzo) had made a track for The Escoffereys and was playing the tape to the album's producers. As it ended, a track of ours was next on the tape. They listened to it, liked it and asked if they could include it on the album. It was the last track to get it."
By this time, Zavier and fellow ex-Sign Of The Times Nathan Prine had put together another band called For Real. And now it threatens to get really confusing, because For Real have just recorded a track for another compilation which will be released at the same time.
The next excellent tale involves the origins of Sign Of The Times. Carlton was looking to put a band together and, quite incidentally, went to see BeBe And CeCe Winans at the Dominion. As Zavier tells it: "During the gig they asked for some people to go on stage and sing with them. I got pushed forward and we had to repeat what they sang. I'd spent years trying to sound like BeBe and I think everyone was surprised how much like him I sounded." Carlton was suitably impressed.
For Real have recently completed the Bryan Powell British tour (as backing vocalists) and enjoyed the experience of playing in the clubs. "Sign Of The Times wasn't fulfilling because it was too much on the church level," says Zavier. "We were preaching to the people who have already been preached at. We're hoping For Real can reach out beyond that."

We welcome your opinions but libellous and abusive comments are not allowed.