Wednesday 15th December 2010
In what has become Cross Rhythms annual service to its readers Tony Cummings and Mike Rimmer look back on the best CDs from the 1,000 plus reviewed in 2010.
MISTY EDWARDS - Fling Wide (Forerunner Music)
Cross Rhythms have long been singing the praises and playing the recordings of this lady whose extraordinary work with Kansas City's International House Of Prayer has brought the prophetic and meditational elements of true worship into sharp focus. The multi-layered textures of the opening "Soul Cry", based on Psalm 42, are brilliantly delivered by Misty and a magnificent band making it hard to believe that this is a live recording. Throughout, the interplay between that haunting voice, Misty's elegant keyboard work and the crunching rock guitars supplied by Adam Sniegowski and Isaac Meyer make for an intense audio experience. "Rend" has to be one of the most passionate and deeply moving worship songs ever committed to CD while almost as stunning are Misty's covers of two Vineyard Music oldies, Daphne Rademaker's "Resting Place" and John Janzen's "Take My Heart". Along with Jesus Culture's Kim Walker-Smith, Misty is currently taking worship to a deeper level than nearly all the years of modern worship that has preceeded them.
Tony Cummings
£9.97 at Cross Rhythms Direct
CORINNE BAILEY-RAE - The Sea (EMI)
Corinne Bailey-Rae broke through in 2006 with a sweet soul debut and a captivating voice. "Put Your Records On" was the sound of that summer and the ensuing years saw her establish herself as a major act on both sides of the Atlantic. Devastated by the sudden death of her husband and musical director Jason Rae in 2008, Rae took a break from music. 'The Sea' features songs written by Rae both before and after her husband's death with themes of love, lament, and solace. The carefree soulful sound of her debut has been seasoned here with some taut indie rock and denser soul sounds. The result is an emotive collection of songs from the upbeat "Paris Nights/New York Mornings" to the stripped back funk of "Closer" and the moving title cut. Darker than her debut, there are still moments where hope breaks through the surface so the overall result is a redemptive musical celebration.
Mike Rimmer
[DWEEB] - Feels Like Dynamite (Fierce!)
Coventry's finest tend to be a Marmite band, which is often the way with acts that don't sound like anyone else on the scene. But love them or hate them, no one can deny that Tim Alford's slightly deranged vocals, the fluid bass lines of Matt Donald, the edgy ferocity of Badgerman's guitar and the slamming drive of Dave Ashworth's kit make for a truly distinctive noise. Add to their stylistic brew lyrics that are full of enigmatic interest (even though not always revealing their meaning on first play) and a punchy production here from David Lynch and Matt Underdown and you have an infectious concoction indeed. Although 'Feels Like Dynamite' didn't produce the mainstream chart hit the band were hoping for with "It's OK", this is an album that surely delighted the still growing legion of [dweebites] entranced by those madcap live shows.
Tony Cummings
£9.97 at Cross Rhythms Direct
REND COLLECTIVE EXPERIMENT - Organic Family Hymnal (Kingsway)
In a modern worship scene where, in recent years, songs and music styles have often become so predictable and styilised, Northern Ireland's Rend brought a breath of creative fresh air at the beginning of the year. For their publicity shot the collective hid their faces, distancing themselves from the Christian celebrity of the "worship artist". You couldn't even tell who was in the group! Musically, the group created a fresh sound that wasn't scared to mix modern pop sensibilities with huge euphoric anthems. So, at one end, you get the unforgettable "Exalt" and at the other end, there is the simple acoustic "You Are Love". Breaking down the barrier between worship leader and congregation, the collective nature of their live work is creating something truly revolutionary. And already, there are signs that in other places and in other bands, God is doing something similar. The breadth of the band's sound and approaches is what makes this the most compelling worship release of the year.
Mike Rimmer
£9.97 at Cross Rhythms Direct
JESUS CULTURE - Come Away (Elevation)
To quote from the blurb, "Jesus Culture Music exists to ignite revival, to compel the body of Christ to radically abandon itself to a lifestyle of worship." And certainly the raw power and sheer abandon of their stadium rock approach to worship is one of the most spirit-enriching sounds in the worldwide church. The title track led by Chris Quilala with its dramatic use of surges of sound is a spine-tingling opener while Kim Walker-Smith's vocal on the mid-tempo "Freedom Reigns" is sublime so that when she reaches the chorus "Freedom reigns in this place. Jesus reigns in this place" the effect is electrifying. It builds and builds over a ringing guitar riff and is surely a song that will connect worldwide. Recorded at this year's Encounter event at the revivalists' base at Bethal Church, Redding, California, 'Come Away' has a wonderful mix from Sam Gibson (Delirious?) while other powerful moments are "My Soul Longs For You" with a nagging guitar riff and the closer "Rooftops" featuring another magnificent vocal fom Kim as the song surges to the heavenlies. "I bow down to your name/From the rooftops I proclaim/I am yours" she sings acappella at the close, and our hearts respond. Years ago a prophecy was given that "contemporary music was going to be a spearhead for revival in Britain". Here we might well be witnessing the forging of a razor sharp instrument of war able to pierce even the darkness and unbelief of this battered nation.
Tony Cummings
£11.97 at Cross Rhythms Direct
SAMUEL LJUNGBLAHD - No 3 (Independent)
Samuel's previous two albums completely passed me by but this one was unmissable. Who would have thought that one of the year's most soulful albums would come out of Sweden? The first time I came across Samuel was watching a Youtube video of him doing a guest vocal with Kirk Franklin when Kirk was in Sweden. The performance really reflects Ljungblahd's confidence and sense of humour. Samuel is blessed with a raspy soulful voice and a taste for Motown-style rhythms. A track like the opening "Everything" could easily be a northern soul floor filler but the whole album is packed with fantastic soul songs from "Walking With Fire" to "Just Believe". It's definitely got a retro vibe and yet it works as a modern soul record. There's talk of launching him in the English speaking world and this would seem to be the ideal record to break him much wider.
Mike Rimmer
ANDREW PETERSON - Counting Stars (Centricity)
Slowly but surely the Christian public is coming to recognise Andrew Peterson as one of the greatest singer/songwriters of his generation with compositions like "Labour Of Love" from his 'Behold The Lamb' Christmas album and at least three songs on this set well on the way to becoming acknowledged as classics. Unlike many top rate singer/songwriters, Andrew has a warm, melodic voice and with the relaxed, folk and Americana-tinged accompaniments featured here, Andrew has found the perfect foil to bring to the wistful poignancy of his songs. It's Andrew's lyrics which lift his songs to the highest level, for brevity's sake I'll choose just two. "Dancing In The Minefields" is a delightful story song that begins with the image of a young couple getting married with a pawn shop-bought ring before reaching the telling lines "It was harder than we dreamed/But I believe that's what the promise was for". Even more captivating is "Fool With A Fancy Guitar" which brilliantly captures the paradox of the presence of grace in broken and flawed believers like us. "It's so easy to cash in the chips on my shoulder/So easy to loose this old tongue like a tiger/It's easy to let all this bitterness smoulder/Just to hide it away like a cigarette lighter/It's easy to curse and to hurt and to hinder/It's easy to not have the heart to remember/That I am a prince and a priest in the Kingdom of God." A classic song.
Tony Cummings
£9.97 at Cross Rhythms Direct
THE RED LETTERS PROJECT - Book Of Matthew (Independent)
It was quite by chance on a trip to America that I met the two brothers behind 'The Red Letters project' and got a chance to check out a unique 3 CD set. Imagine taking all the words of Jesus spoken in the Gospel Of Matthew and making them into songs! Forty songs to be precise released as a triple CD set. Scripture memory songs are nothing new but these have been matched with a rock style rather than easy listening tunes. It's an immense project and has been a labour of love since it's being released as an independent album. Squeezing scripture into pop rock melody isn't the easiest thing to do either but overall, this is hugely impacting.
Mike Rimmer
AS I LAY DYING - The Powerless Rise (Metal Blade)
Cross Rhythms resident hard music doyen Greg Sammons thinks this is the year's best album in the field. I agree. As Cross Rhythms' reviewer wrote, "As I Lay Dying have stuck to what they do best: fast, shredding guitar riffs and solos, double kick drums, the brutal scream of Tim Lambesis and every now and then a clean chorus to keep things interesting." Those clean sections demonstrate again that not only do the band produce exciting brutality they can also offer haunting melody while As I Lay Dying's lyrics are constantly thought provoking. It is clear with this release that the band have matured and deserve all their US accolades. In fact "Anodyne Sea" and "Parallels" are, to my still-bleeding ears, their best ever recordings. More proof that not all hardcore is locked in a stylistic culdesac.
Tony Cummings
THE VESPERS - Tell Your Mama (Independent)
The Vespers were born when the two Cryar sisters Callie and Phoebe who were already writing and performing, met the two Jones brothers, Bruno and Taylor who rather usefully were a bassist and drummer - just what the girls needed. I discovered them through interviewing the girls' father Morgan Cryar in Nashville and boy I am glad I made the discovery! The group cite Americana and indie music influences and describe their own music rather neatly as indie-cana. Characterised by fabulous vocal harmonies, strong songs, rootsy instrumentation and understated spirituality, it really is a pretty intense blend that deserves a much wider audience.
Mike Rimmer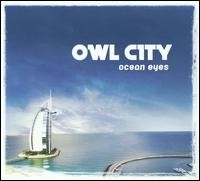 OWL CITY - Ocean Eyes (Universal)
Seldom has an album split the critics like this one. A review in NME talked about the album's international hit "Fireflies" as being "cringe-making" and "Adam Young's dripping-wet paen to nature" while another reviewer pronounced 'Ocean Eyes' as a "masterpiece in electronic pop music". The truth is somewhere in the middle. The bleepy, daydreaming emo pop of this Owatonna, Minnesota recluse may not be to everyone's taste, but in truth Adam does brilliantly in creating wistfully pretty, ethereal music which is far more accessible than the work of The Postal Service (whom more than one critic has indignantly suggested that young has ripped off). NME particularly detested Adam's approach to lyric writing, though less prejudiced listeners will find something rather poetic in his use of nature imagery while "Dental Care" demonstrates no little wit ("Rather than flaunt my style I'll flash you a smile of clean pearly whites/I've been to the dentist a thousand times so I know the drill"). And even if macho types find his talk of ten million fireflies lighting up a world as he falls asleep unbearably wet, he carries them off with delightfully deft computer rhythms. Hidden in his lyrics are references to Young's faith with "Hello Seattle", "Tidal Wave" and particularly "Meteor Shower" all referencing the transcendent and though the NME hack was particularly enraged by the lack of references to sex in Adam's songs (the journo bizarrely equating sex with "real life experience"), the Minnesota songsmith's romantic paeans invoke a touching mood of emotional fragility.
Tony Cummings
LZ7 - Light (Survivor)
In the aftermath of The Tribe, Lindz West has done a very good job of establishing LZ7 both as a band and as a ministry. He's also been good at keeping the music fresh and changing up to stay current so this is a very different album to 'Ruckus'. Reviewer Steve Hayes described it best when he said "this 14 track set of bouncy, infectious and life-breathing tracks will be enthusiastically embraced both by school kids and older CCM devotees keen to hear accessible rhymes, contagious hooks, hip-hop, hip-pop and dance party-beats." LZ7 have had a great year after the chart success of "This Little Light" in the summer and there are a few other tracks on here that could easily make it as chart singles. Standouts include "Amazing" and a creative re-working of "4 Points". Proving that Christian music no longer sounds behind the times, here's your proof because LZ7 are literally straight out of the charts!
Mike Rimmer
£9.97 at Cross Rhythms Direct
SEABIRD - Rocks Into Rivers (Credential)
Any album that produces four turntable hits is something special in my book and with this, their second record label release, the Cincinnati band manage to make a much more accesable album than its predecessor without comprising their spark of creativity. Keyboard player and singer, Aaron Morgan, has clearly honed his songwriting to pen songs strong on instant-appeal hooks and that snap and crackle with pop rock zest. The opener "Don't You Know You're Beautiful" has a catchy synth riff underpinning a tale of a girl fraught with misplaced guilt after her parents divorce while the title track closer has an embittered, attention-grabbing opening line "If I were you I think I'd shut my mouth" leading into the memorable lines "Oh how much time we waste wearing our bullet proof vests/When our feet are made of God to speed through life and death". Vocally, Aaron's occasional sortes into falsetto add to the haunting effect of his best songs here. Qualiity piano-driven rock.
Tony Cummings
£9.97 at Cross Rhythms Direct
TOM JONES - Praise And Blame (Island)
In recent times we've seen a fair few music icons rejuvenate their careers by making courageous new moves. Rick Rubin did it for Johnny Cash and Neil Diamond as both returned to a more rootsty music style. Meanwhile Tom Jones has shocked a lot of people by deciding to record a set of vintage gospel covers. When all the production is swept aside, what you have is a man with a lifetime of experiences which somehow bleed into these tracks through the richness and weariness of his voice. This is Tom Jones stretching out beyond himself through a selection of well chosen gospel songs and it's a combination of the simple performances and the absolute surprise that the Welsh singer would go in this direction that makes this a delight. The organic band sound also helps overall so electric gospel blues like "Burning Hell" packs a punch and at the other extreme, the understated "If I Give My Soul" is moving.
Mike Rimmer
THIRD DAY - Move (Essential)
Many bands run out of creative steam long before they get to their 11th studio project but the Atlanta-based veterans demonstrate here that they still retain plenty of Southern rock fire and this turns out to be Third Day's best album since 2006's 'Wherever You Are'. Mac Powell surely has one of the greatest voices in rock (not just the Christian variety) while the band here show all their rootsy swagger on tracks like "Follow Me There", "Gone" and "Don't Give Up Hope", the latter offering some smoking Allman Brothers-like interplay between slide guitar and piano. For those who go for the band's move into worship music there's "Trust In Jesus" and "Children Of God" both with huge, anthemic choruses. In fact I can even forgive the inclusion of a children's choir on the latter song. Producer Paul Moak pulls off some delightful surprises like bringing in the bluesy harmonies of the Blind Boys Of Alabama on the "Lift Up Your Face" opener while "Surrender" starts with a lone acoustic guitar then builds to an epic with meaty riffs and soaring strings. Quite breathtaking.
Tony Cummings
£9.97 at Cross Rhythms Direct
PARADISE - The Best Of Paradise (Fierce!)
In the eighties, Paradise were at the cutting edge of British gospel music blending together a very modern style which upset a lot of church elders but the younger emerging generation loved it. Best known for their top fifty hit "One Mind Two Hearts", this best of brings together a dozen digitally remastered classics from their three albums and in an era where eighties sounds are once again in vogue, this still sounds fresh. For me I always loved it when they got funky, so it is fab to be able to hear "Keep The Fire" and "World's Midnight" like this. Their albums spent a long time deleted so there are plenty of young funksters who haven't yet discovered this legendary band and plenty of older fans who'd love to get hold of this material on crystal clear CD to replace their scratched vinyl! This is a perfect introduction to one of the most significant outfits in the history of British gospel.
Mike Rimmer
£9.97 at Cross Rhythms Direct
THEBANDWITHNONAME - The4Points: The Best Of thebandwithnoname (Elevation)
The Manchester musicianaries pulled off a masterstroke with this their final album before bowing out in September - including on the expected Best Of compilation three hot new tracks one of which, the wonderful "The4Points" is up there with the greatest tbwnn classics. In case you haven't been listening to Cross Rhythms radio this last year, the track features guest LZ7, a rap of exceptional cleverness unpacking the four spiritual points one needs to grasp to find new life, a typically infectios rhythm track from studio maestro Zarc Porter and a gospel choir singing a bit of Edwin Hawkins' "Oh Happy Day". Then of course we're also presented with all those killers of yesteryear including "Amazing Grace", "Home", "Dying To Be There", "Without You Within Me" and "Do Or Die". It remains a scandal that US Christian labels never put out tbwnn's albums in America. As it is, this release proves Chip and the guys were one of the best teams of musical evangelists ever.
Tony Cummings
£9.97 at Cross Rhythms Direct
MERCYME - The Generous Mr Lovewell (INO)
In The past I'd rather pigeon holed MercyMe with a lot of other bland pop rock American CCM acts who have managed to create a career on the back of a few big songs but having found a sales niche had got stuck in a creative rut. I didn't have high hopes when I first unwrapped this CD from its cellophane but was completely blown away by the re-invigorated sound. The band have managed to keep enough of their core sound to not lose long time fans but have added in some more muscular sounds to toughen things up and band leader Bart Millard has indulged some of his Beatles influences. From jaunty pop of "Back To You" through the uplifting epic "All Of Creation" to the edgier "This Life" and "Crazy Enough", this is a musically satisfying journey. But it's the overriding message of the album that is truly touching as MercyMe try to encourage the church to rediscover how to love God and each other.
Mike Rimmer
£9.97 at Cross Rhythms Direct
LIGHTS - The Listening (Sire)
To quote from the Cross Rhythms review: "What made Lights' "The Saviour" stand out from pop's current crop of bump-and-grind sensualists was the lyric 'I just want to run to you/And break off the chains and throw them away. I need a saviour'." Lights' surprise mainstream hit turned out to be no flash in the pan. The loops and synth washes here perfectly compliment Valerie Anne Poxleitner's brittle little voice while the more one listens, the more one hears spiritual motifs woven into the electro-pop immediacy with "The Listening" and "Lions!" both likely to connect with believers. Will Lights fade from the scene as quickly as she's emerged? I've no idea. What I am sure about though is that the Canadian singer/producer has created one of the most appealing pop debuts for quite a while.
Tony Cummings
BRENDEN GUYATT - Home (Independent)
Brenden Guyatt's home has always been in gospel music. It's where he laid down his roots as a young man, working vocally with a plethora of artists. But he's earned a living as a London-based session vocalist, sung on mighty hit records and toured with some very big names. Currently he's part of the Gorillaz line up. But this album is his labour of love and a true expression of his music and heart. Consequently you discover what an eclectic and talented singer he is - this is a true artist's album. Along the way he pulls in some favours so you get contributions from the likes of Tommy Sims, Mica Paris, Rachel Macfarlane and Carla Ellington. It's been a long time in the making and Brenden is so busy he's barely had time to promote it but maybe in 2011, we'll see some live dates. He seems to enjoy the different styles and there are some genuine eyebrow lifting moments as you flip from track to track. To top it all, you can hear from the texture and emotion of his voice exactly why he is in such demand.
Mike Rimmer

The opinions expressed in this article are not necessarily those held by Cross Rhythms. Any expressed views were accurate at the time of publishing but may or may not reflect the views of the individuals concerned at a later date.
Reader Comments
We welcome your opinions but libellous and abusive comments are not allowed.