Rose Edwards spoke to THE SHINY DARKS about their EP, the change in the lineup and their faith
The Shiny Darks
Houston-based punk-rock band The Shiny Darks currently have a song "Stab At Love" on the Cross Rhythms playlist and are set for even bigger things having landed a track on a forthcoming Aerosmith tribute album alongside acts like Kiss, Alice Cooper and Poison. Although clearly a mainstream outfit both The Shiny Darks are strong Christians. In fact band member Chavi Boswell was once in a satanic band but turned to Christian rock music after a savage beating while frontman Quenton Rockwell is an ordained minister.
The band formed in Houston in 2007 and consisted of three members but after two of the members, Paul and Gem Mendez, left only Rockwell remained. Quenton (vocals, guitar and bass) was joined by Chavi (background vocals) whilst on tour with the previous lineup of the band and found that they clicked so after the split Chavi was the first person that Quenton asked to play the drums. The change in the lineup wasn't as weird as Quenton thought it would be though. He commented, "I'd been playing with the band for three and a half years when they quit. Live, I would lead some songs anyway, and of course all of the background vocals, so it's just a few more song lyrics to remember. Although, I am not the best at remembering lyrics. We have to roll with more gear now, for one. Or at least it seems that way. Since I am playing bass and guitar, I have to run through a variety of pedals and amps. So, that requires more cables, a big pedal board and all that jazz. Chavi plays a bigger kit than we've ever played with before and is doing vocals and such so that means even more stuff to haul around. It also puts more pressure on each of us to put on a better show. There's no one to use as a crutch if you're not feeling up to par. Scheduling was always easy for us, but now it's even easier."
Though not a "ministry" band The Shiny Dark's faith is strong. Said Quenton, "I'm actually ordained and we're both heavily involved in our churches. I am a member of Willowbrook Assemblies of God in Houston, and Chavi grew up Baptist but currently serves at a few different churches in his hometown, Leesville, Louisiana. We are also involved with the Luis Palau Evangelistic Association's Creative Arts Alliance."
He continued, "While he was raised Baptist, he became a Satanist as an adult. Chavi has toured with black metal bands (Satanic) all over North and South America. After being attacked by a former band and brutally beaten, he awoke in the hospital to find out that he had a bursting tumorous mass in his brain. While in the hospital, it was Christians that cared for him and displayed the love of Christ. Through that beating and brain tumor, God saved his life both physically and spiritually. An interesting side note, his former band used to hold Bible studies in the tour bus so they could 'know their enemy'. A few of his former band mates are now believers. I guess Jesus can be quite sneaky. I believe your faith impacts everything you do (whether you want it to or not). As a Christian, I believe that God's mark is on you if you're a believer. The Shiny Darks are in a unique position. Most of the doors that have opened for us industry-wise have been in the mainstream market. They have been very accepting of us. I've found that most of them were raised in church and at one time in their life were sincere believers. They got burned by Christians, or somebody proclaiming Christ. We befriend them, love them and encourage them, and they soak it up. They're starving for it. God has brought some reconciliation to people this way. We don't have to proclaim anything. God does it for us. He also does a much better job at it."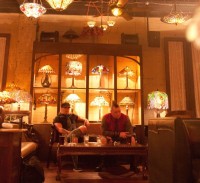 The Shiny Darks have a bombastic sound similar to the original British punk bands of the past such as The Clash and the Sex Pistols rather than the politer fare of most US pop punk outfits. Quenton commented, "My mom listened to the Clash when I was a kid. My parents were very eclectic in the music they listened to when I was growing up. I inherited that. So along with the Clash you may hear classic rock/pop, classical, Texas swing, blues, thrash, new wave and electronic influences. If not yet, just wait."
'At War With The World", the band's first EP, was released in 2007. The band's second EP 'Stab At Love' follows a story of loss and trials to become something better, have something more and finding out that it wasn't worth it in the end. Quenton revealed, "'Stab At Love' was about this girl that our former bassist/vocalist was really into. She played with his emotions, led him on, and dropped him. He maintained it wasn't about her, but it was. It was him reminding himself that there is someone out there for him. She just wasn't it. 'I Wanna Be A Kennedy' is basically a re-telling of the story of the small-town kid that goes to the big city to make something of himself. In the process, he has to compromise a lot. So much so, that he realises that what he thought was success was ultimately failure. Then the next bus rolls into town with another kid looking at him as the ideal. The cycle continues. We were writing 'I Wanna Be A Kennedy' during an election cycle here in the US. That's probably why we used that name. They have had this iconic image for quite some time but it's always been partnered with compromise and ultimately tragedy."
On the EP they worked with Sylvia Massey, the renowned producer who has worked with bands such as Tool and Johnny Cash. Quenton found it surreal to be working with Massey, as he explained, "It was a bit surreal to be honest. We were very nervous about the whole thing being a scam. We were a bit paranoid but when we walked in to the studio she recognised us. The fear quickly faded. Her excitement and energy was quite contagious. She would frequently get on the talkback mic while we were playing and say encouraging words. Her bringing in Cameron McKenzie to co-produce, mix and engineer was a stroke of genius! Cameron's a successful studio musician and producer from Australia. He was great to work with too! As a guitar player, I loved the tone they came up with on the guitars and bass! You also knew you were doing it right when you could look into the control room and they would be rocking out to what you're playing! I learned so much from both of them. We even had them sing background vocals as well. Sylvia's is most obvious. She's the one singing the 'Lalaluv!' on the chorus of 'Stab At Love'."
Quenton continued, "It was pretty straight up. Get in and get out. Sylvia picked the four songs you hear out of about eight or nine we sent her. So we went in very practised and ready to change things up as well. Very little actually changed besides adding some 'weird' instruments, synths and background vocals. The toy piano on 'Stab At Love' was a very last minute thing that our engineer/co-producer Cameron and I experimented with. It turned out good if I may say so."
The Shiny Darks feature on a Aerosmith tribute album with a cover of the Aerosmith's cover of The Beatles' hit "Come Together" and the album will be released this August.

The opinions expressed in this article are not necessarily those held by Cross Rhythms. Any expressed views were accurate at the time of publishing but may or may not reflect the views of the individuals concerned at a later date.
About Rose Edwards
Rose Edwards
is a journalist living in Stoke-on-Trent.
Reader Comments
We welcome your opinions but libellous and abusive comments are not allowed.