Wednesday 3rd September 2008
Mike Rimmer was in Nashville when he talked to urban gospel pioneers THE WASHINGTON PROJECTS
The Washington Projects
Any Cross Rhythms radio listener who's heard the smouldering fusion of R&B and hip-hop on "Diamonds" and "Take It To The Streets" will have already recognised that The Washington Projects are one of the finest new acts to emerge from the urban gospel scene. Except they aren't new. Back in 2000 there was a San Diego trio, Souljahz, consisting of siblings Je'kob, Joshua and Rachael Washington. Their 'The Fault Is History' (2002) blew me, and just about all the other critics, away and I met the trio in the Nashville Hilton. As well as their genre breaking music I was impressed by the group's passion for God, creativity and down to earth approach. But after the critical accolades for 'The Fault Is History' a long silence followed. It was only broken this year when the group, now just Je'kob and Rachael, emerged with a new name, The Washington Projects, and a devastating album, 'Commanders Of The Resistance'.
Ironically it's to the same hotel that I walk to meet them to conduct the conversation you're about to read. The pair are about to perform at a lunchtime concert and both are in fine form. Je'kob's afro is looking wild and free and is the visual image that accompanies music that has been created in a free space where the band have not had any label pressure. Their debut album is an independently produced release and sounds as fresh and startling as anything recorded by Souljahz.
One of the things with the Souljahz' 'The Fault Is History' was that the trio created an album that was almost too innovative. The industry struggled to pigeonhole the group. Were they R&B or gospel? It must have been a frustrating experience for the group. "Yeah it was," Rachael agrees. "I think creatively we had a really good time making the record but then something can be really good creatively and then not work formula wise for certain formats and certain markets so it was something that we had to understand. So that was a growing process for us but it feels really good now to be able to do what we want to do and pitch it wherever we want to and hopefully people will be able to 'get it' this time."
In the interim as Souljahz they did put some stuff out on iTunes but it seemed to be aimed more at the mainstream. "Yeah we did", observes Je'kob. "We had a couple of tracks during the last three years of working with the label and trying to do some stuff. I think the goal we've always had in our hearts is to make music. This is what we write about. Whether it's a love song, whatever song it is, it's coming from our hearts. We're Christians and we write like that. So we weren't really focussing on a certain industry, we were trying our hardest to say, and to help the record label understand, that that's where we're at and that's what we're trying to do."
I ask the pair to give us some brief family history. Je'kob starts the story: "Pops was in the Army so we were all born in different places. My brother was born in Kentucky, I was born in Texas and Rachael was born in Hawaii. So kind of all over the place! Probably stayed the most time though in San Diego and were raised most of our childhood there and California is where we are still." I wondered whether all the travelling made them closer as brother and sister because they were always uprooting. "Yeah, absolutely," Rachael agrees. Je'kob laughs, "I have no friends. Honestly! No, it's definitely been fun. I mean, we get along really well and I just love her! I mean she's good!" Rachael interjects, "He's making me cry!"
I think I'm going to cry as well at the siblings holding a love-fest and since this interview isn't sponsored by Kleenex, I move on to ask them about their parents. "They are major Christians!" Rachael describes them. "Faith is a big thing with them. I think the biggest thing that we saw growing up is how much faith our parents had in the Lord and what he's going to do in their lives and they weren't worried about a lot of things. Even though we weren't the richest kids in the world and we didn't have everything, our parents just really raised us up in the Lord and we feel very, very blessed for that reason because I don't know what it would have been like if we didn't have that. We have a very, very strong support system."
Je'kob was in ninth grade when he decided to own his own faith. "I was just experiencing life, seeing things and trying to come to my own conclusions instead of just hearing what your parents are telling you or whatever, and realising that what they're telling you is actually playing out in real life. It was a refreshing thing because a lot of times you take advice from people and then it turns out they were wrong and just seeing that through relationships, hardships; all the things that you go through in life and realising that that is totally on point and that God IS there and he's waiting for you. He wants you to come to him and just surrender to him in all situations."
Meanwhile Rachael got clued in a little earlier than her brother, in seventh grade. "I'm a little more mature than he is", she laughs. "It was the time when you get into junior high and I'm sure it starts a lot sooner now for kids which scares me, where things just start coming up, you know? You start running into problems, issues, where you have to make decisions where you kind of have to own who you're going to be. For me it was about that time when I decided and also it was easy, you can see the circumstances; I grew up with older people, I had older brothers and all of their friends so I saw a lot of people go through stuff that I didn't want to go through so when you can see them suffer consequences for things you're like, 'I don't want to do that. I don't want to be that.' So I kind of decided that I didn't want to be that, I wanted to be somebody that was different."
I can see that there might be a few challenges ahead for The Washington Projects. The album really is a stunning hybrid of rock, hip-hop, soul, funk and pop. They have crafted an original sound and effectively indulged their creativity. There is a danger when you stick to your creativity though! You can have great artistic integrity but you're going to die poor. Je'kob laughs, "That's sad, thank you for saying that! Our goal is definitely to try and blend the best of both worlds. You learn a lot in the years and one thing from the last record to this record I think that we've learned is really to strategise better, so a lot of the stuff that you hear is very poppy. It's a good mix of hip-hop and pop in my opinion and that's kind of what we're hoping to go for."
So how do they survive financially? Rachael started working for a designer out in San Diego for a while doing what she describes as 'fashion stuff'. "I wasn't designing anything," she explains, "so I don't want to give myself credit for nothing! It was more behind-the-scenes kind of stuff, so that was really fun for me. I mean we were always writing, we were always working on music." Meanwhile Je'kob worked at a furniture store. "I love furniture; it's my other passion other than music," he laughs. "I'm lying completely but you do what you gotta do and just keep moving, try and stay happy and realise that money comes and goes and it doesn't really matter. It's about doing what you love and knowing that you're pleasing God and so that's what we do."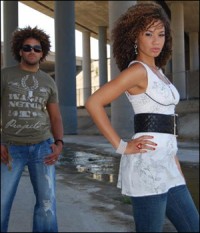 So to sum up, Je'kob does his nine to five and then he goes off for the evenings and you play. "Superhero," he interjects. "Yeah, I got a cape and everything." Ahem. I attempt a Hollywood style voice over. "BY DAY HE'S A HUMBLE FURNITURE SALESMAN BUT AT NIGHT HE TURNS INTO... RAMPANT URBAN ARTIST!" They both start laughing. Je'kob mulls it over, "Rampant urban artist! I might make a cape that says that!"
I start the voice over thing again exclaiming... "RAMPANT URBAN ARTIST MAN! HE CAN LEAP OVER TALL BUILDINGS." and this time Je'kob delivers the punchline, "AND RAP TO YOU!" He laughs again, "That's so awesome!"
You have to admit the album has an interesting title. 'Commanders Of The Resistance' does sound like a superhero type thing! "It does!" Rachael agrees. "It's just really about resisting the wackiness." Resisting the wackiness? Now there's a turn of phrase that needs elaborating by Rachael. "It's about standing up against anything that's just not producing any kind of hope or joy or goodness or anything. Let's do music that's about something! Music used to be telling stories and it used to be about deeper things than just this on-the-surface, in-the-club stuff that's on the radio. So we just wanted to be part of something that's resisting that."
One challenge is that a lot of urban music is about sex. Rachael agrees, "Yeah it's hard because even with one of the songs on the record, "She Can't Love You", people always automatically think that I'm talking about sex and I'm like, 'Love and sex don't mean the same thing. I'm talking about LOVE not sex!' It's gotten so misconstrued over time and we just wanted to be a part of something that's bringing it back. People used to write songs about love. So we're just trying to be a part of that."
The more you listen to the album the more the themes emerge and the more obvious it becomes that what they're trying to communicate comes from a position of faith. But to the superficial listener it does not sound like a Christian album. "That is absolutely deliberate," explains Je'kob. "It's very much.our goal is to infiltrate the system. I guess we shouldn't be saying that publicly! To really just take those messages of hope, of love, the stuff that God talked about; that we live and try our hardest to live every day and put that in a music form that the world can grasp. And it's fine if people do worship music or just do stuff to edify the Church, but our goal is to reach people who are gonna say, 'Man, that's a good song! I'm listening to it.' They don't know what it's really about but then, like you said, it grows on them and they're like, 'Man, that's something different. What are they talking about?!' That's the goal; that's our overall goal."
Rachael chimes in, "It's just talking about giving God's opinion, or what we've learned of God's opinion!...on situations that everyone goes through. It's situations that you're going to get in no matter what walk of life you're in. And if there's no.'alternative' out there on the radio, then it's your only option, you're not hearing anything else. And that's in the radio and TV and media; it's a huge influence on kids. So yeah we're definitely trying to infiltrate. We're definitely sneaky little ones!"
Sneaky but talented is the way to describe them. Je'kob's phone has been bleeping. He's been sneakily texting the band's sound guys who are waiting for them to do a soundcheck for their next performance so it's time to move on. 'Commanders Of The Resistance' is a fine piece of work and my hope is that it won't take years before we have some more new material from a duo with plenty to say and lots of ways to say it.

The opinions expressed in this article are not necessarily those held by Cross Rhythms. Any expressed views were accurate at the time of publishing but may or may not reflect the views of the individuals concerned at a later date.
About Mike Rimmer

Mike Rimmer
is a broadcaster and journalist based in Birmingham.
Reader Comments
We welcome your opinions but libellous and abusive comments are not allowed.