Trevor Kirk looks back over the decades to highlight important Christian music events
The Crossbeats
December 1967/January 1968
Buzz magazine reported that Pete Meadows (the very same guy who helped get Premier Radio onto the airwaves) was very pleased with his new Ekco 12 string guitar, having sold his Gibson Les Paul to a member of the Bee Gees' backing band. Listen out for it on all those old Bee Gees 45s from the '60s!...New Musical Express reported that Cliff Richard had accepted an invitation from Kensington Temple to give a series of "sermons" on the subject of the Christian faith and its relationship to the world of show business. Provisional date was May 1968.
Where are they now? One of the best Christian music albums of the '60s hit the shops this month. 'Crazy Mixed-up Generation' by The Crossbeats. Five young men from Bootle in the heart of Liverpool's dockland immediately became the CCM equivalent of the Beatles and instant role models for Christian bands all over the UK. The line up for the album was: Tony Mathias (lead vocals), John Boyes (led guitar), John's kid brother Eddie (bass), Sam Pennington (rhythm guitar) and Eric Knowles (drums). They wrote all their own material: the album earned rave reviews (see left) and see right for a shot of the band as they were in their heyday. I'd like to know...where are they?
Odd Ads from BUZZ (2d per word)
"Young lady singer would like to join a group in or around Waltham Forest, but not really necessary. Does not play instrument."
"Wanted: lead vocalist, called by God."
December 1977/January 1978
British Youth For Christ and Buzz magazine joined forces to promote a concert at the Royal Albert Hall, featuring Graham Kendrick, Dave Pope. Adrian Snell and BYFC evangelist Eric Delve, "An evening for the King" was scheduled for Saturday January 7, with seats at £1.50 and £1, standing room at 60p..A new gospel album from Cliff Richard was announced, its title 'Small Corners' and 20 years later, it's still in Alliance Music's catalogue!///And the new Jimmy and Carol Owens musical 'The Witness', starring Barry McGuire as Simon Peter, would be playing a 30 date* four month UK tour, starting in June.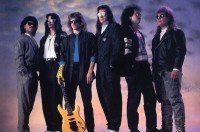 Mylon LeFevre & Broken Heart
Pete Meadows (minus his by now old new 12 string guitar) reported for Buzz magazine on a gig by Larry Norman and The Alwyn Wall Band at The Gaumont, Kilburn at the end of November. Of the even then veteran Jesus Music pioneer, he wrote: "There's more to being a performer than simple having the ability to produce good music...Larry has put Christian music onto a new level...Larry passes the whistle test"... lop band Nutshell (pictured) announced that Heather Barlow and Pam Thiele would leave the band on January 14 after a farewell concert with Paul Field. Their replacements would be Mo McCafferty and Annie McCaig, formerly members of Brightwinter... Musical Gospel Outreach announced that, with effect from January 1, 1978, it would be changing its name to Kingsway Music.
New Music magazine's Voice Of America column reflected on the death of Elvis Presley and reported that, amongst a rash of tribute records was one album by J D Sumner And The Stamps Quartet entitled 'Elvis' Favourite Gospel Songs'; this single from the album is "Elvis Has Left The Building"...Also it was reported that Elvis had been studying the Bible during the last years of his life; in his own words, he was "cramming for the big exam".
Odd Ads from BUZZ (13p per word)
EDITORIAL JUNIOR
"An excellent opportunity for someone who wants to get into journalism. Come and pound a typewriter, answer the 'phone, organise contributors and generally learn the ropes. Ideal for a school leaver. Write or 'phone: Pete Meadows, Buzz magazine" (Is this how TC started his career?)
December 1987/January 1988
21st Century Christian magazine, the successor to Buzz, reviewed three albums which I recently featured on UCB's Vinyl Frontier show: 'Won By One' by The Bond, featuring Geoff Mann; 'Trade Secret', the line up including Julie Moon, Les Moir, Neil Costello and Mai Pope (supergroup or what??); and 'Looking At You' by Helen Guard (pictured), production by Paul Field...Other new albums released included 'An Evening With Marilyn Baker'; 'Do Something New Lord" by Chris Bowater; 'Say So' by Sheila Walsh; and Chris Rolinson's follow up to 'Electric Praise', unsurprisingly titled 'Electric Praise 2'.
Greenbelt 1987 attracted some 21,000 punters, reported 21CC; amongst those appearing were Steve Taylor, Sheila Walsh, The Alarm and Steve Camp; speakers included John Smith and Tony Campolo...Following on from Greenbelt, Steve Taylor announced a UK tour to plug his new album 'I Predict 1990'; Derby's finest, Phil And John, were booked as guests, thus having an opportunity to plug their new album, 'Lonely Dancer'...Other CCM artists on tour included Adrian Snell, Garth Hewitt, Ishmael, Dave Bilbrough, John Pantry and Bryn Haworth (not a lot changes, does it?).
Word's Premier magazine reported that record shop managers were struggling to cope with the success of the Heartbeat single "Tears From Heaven", particularly as Christians were buying 10 copies at a time to hand out in their fellowships. Staff at Our Price in Eastbourne were heard to mutter, "Oh no, not another one! Who IS this band anyway?"...Quote of the month in Premier magazine from the reviewer of Bryan Duncan's album 'Whistlin' In The Dark': "If this album doesn't lift your spirits, either your stereo is broken or you're a Luton supporter"!

The opinions expressed in this article are not necessarily those held by Cross Rhythms. Any expressed views were accurate at the time of publishing but may or may not reflect the views of the individuals concerned at a later date.
About Trevor Kirk
We welcome your opinions but libellous and abusive comments are not allowed.