Trevor Kirk looks back over the decades to highlight important Christian music events
May/June 1973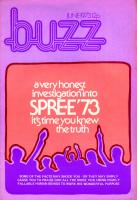 Buzz, May/June 1973
The big talking point during the Spring of 1973 (at least in evangelical Christian circles) was Spre-e 73. Spre-e, or to give it its full title, Spiritual Re-emphasis, had been born out of the experiences at the Explo 72 event in Dallas, Texas, of Maurice Rowlandson, at the time the British Director of the Billy Graham Evangelistic Association. He'd been very impressed by the teaching and training programme laid on at Explo for several thousand young American Christians and decided that he should try to organise something similar in the UK. Amid concerns of important decisions being taken without proper consultation, and burgeoning expenditure (particularly in hiring Earls Court Arena and Wembley Stadium and in bringing Dr Billy Graham from the USA to speak at the evening meetings), Buzz in June conducted a "very honest" investigation under the headline It's Time You Knew The Truth. The article sought to find out if it was the most expensive red herring in Christendom or a sincere effort to meet a vital need and concluded that the event should not be dismissed lightly. Musically, the event would see the participation of names such as Cliff Richard, Johnny Cash, Malcolm & Alwyn, Terry Dene, Parchment and Judy Mackenzie. v An interesting musical happening called Lonesome Stone, presented by Outreach For Jesus, the management company for US band The Sheep (see TTs, CR73), was due for a three-month run at the Rainbow Theatre, a 2,700 seater arena in North London, from July. Billed as a multi-media production of the Jesus generation portrayed in music, film and drama, the show's advertising proclaimed that it would give the punters "what Godspell and Jesus Christ Superstar failed to present." Ticket prices were an eminently reasonable 50p to £1.50, and taking part along with The Sheep would be Larry Norman. v Malcolm & Alwyn had paid a flying visit to Barcelona, Spain at the end of March, to perform at a Jesus Music concert at the end of a week of Festival Of Light-style events. About 300 attended the gig and according to Buzz the front row was freaking out on illegal substances and 14 of the audience made a decision to follow Jesus. How many of the 14 were on the front row isn't clear. v Record Label News: Following on from The Sheep being the first release on the new Myrrh record label, the second was 'Lion And The Lamb' from Garth Hewitt, with further albums promised from (amongst others), Dave Pope, Ishmael & Andy and The Water Into Wine
May/June 1983

Buzz, May/June 1983
Greenbelt was celebrating its 10th anniversary in 1983, with a move to Knebworth Park, Hertfordshire, with a promise of plenty of space (the venue had coped with crowds of 100,000 at pop concerts), and wonder of wonders, FLUSHING LOOS!! The names booked for the event so far (according to a huge pull-out colour flyer in May's issue of Buzz) included Cliff Richard and band, Mark Williamson (and Band?), Sheila Walsh, Garth Hewitt, Rodney Cordner, Graham Kendrick, Swedish metallers Jerusalem, German pop/rockers Semaja, and from the USA, Maria Muldaur, The Mighty Clouds Of Joy, Randy Stonehill, Kenny Marks and Jerry Arhelger. Radio 1 would again be covering the event, with Radio Greenbelt hopefully in operation for the first time. v An outreach event in Dudley, West Midlands, organised by the Saltmine Trust, had been a conspicuous success, with local press and radio giving extensive coverage. Titled Filling Station, it used a derelict garage building converted to a concert hall, with appropriate forecourt furniture supplied by Shell, and featured the musical talents of Phil & John, Dave Pope and New Beginnings. v Buzz's Albums Of The Month, as reviewed by Tony Cummings, were 'DMZ' by The Resurrection Band in May ("..their best ever album .."), and 'Drifting' by Sheila Walsh, with the assistance of Cliff Richard, in June ("..a superb album, putting the Good News in the high street pop racks"). "Drifting" had been released by mainstream label DJM into mainstream record shops, and the title track made number 60 in the UK pop charts. v At the 14th annual Dove Awards, held in April, Amy Grant scooped Artist Of The Year, with her mega-seller 'Age To Age' taking Contemporary Album Of The Year, Album Cover Of The Year, and Song Of The Year courtesy of Michael Card and John Thompson's "El Shaddai". Other winners were Sandi Patty (surprise, surprise), Larnelle Harris, John Michael Talbot, Al Green and, the International Artist Of The Year, Sheila Walsh, who had had a full page ad inside the front cover of CCM in May, plugging her Sparrow album 'War Of Love', which received an excellent review in the same issue. v A debut album by a new artist gained rave reviews in CCM magazine in June. The reviewer gushed, "This album is full of the promise of a great new talent." By and large, I think he was right: the album was 'Project' by Michael W Smith. v
May/June 1993

Cross Rhythms, May/June 1993
Lineup details published in Cross Rhythms 15 were for the third Cross Rhythms Festival, Holy Power, to be held on July 9th-11th in a new venue at Risdon Farm, Okehampton, Devon. The lineup included Martyn Joseph and Eden Burning, along with America's Rick Elias & The Confessions and Kevin Prosch. Other acts on the bill were Ian White, Nuffsed, Gethsemane Rose, The World Wide Message Tribe, Split Level, 65 dBA, Johnny Markin, Rob Ash and Shirley Novak. Rick Elias, today an award winning record producer and songwriter, spoke in the magazine about his forthcoming UK visit to Cross Rhythms. "It's kind of neat to go to a place that's influenced me a lot," he said. v Greenbelt were having major administrative problems in the run up to their 20th birthday bash. The Daventry District Council in Northants had refused to grant a public entertainment licence to enable GB to hold the event at their supposedly permanent new home at Churchstowe. After some wheeling and dealing, a temporary home for the festival was found at Deene Park, near Corby, and Greenbelt announced a "confirmed artists" list that included Cliff Richard, Martyn Joseph, Eden Burning, The Rez Band, Iona and Over The Rhine. v The Resurrection Band (known in those days simply as Rez), had been booked to provide the bulk of the seminars and ministry at the 1993 Meltdown Festival, to be held in Shropshire in October. v Sad news in CR 14 of the going home of Geoff Mann on February 5, and of Steve Fairnie on February 23. Radical rocker of the famed wobbly and non-wobbly guitars, but also a vicar in Rochdale, Geoff had been suffering from cancer of the colon. And Steve, pioneer of such diverse yet groundbreaking acts as Fish & Co and Famous Names as well as a renowned hypnotiser of chickens (honestly!), succumbed to an asthma attack a few days after his 42nd birthday. v Tributes were also published in connection with the deaths of two influential figures in black gospel music; Thomas A Dorsey, composer of many gospel standards, including "Precious Lord, Take My Hand", passed away on January 23, aged 93; and Frank Williams, national director of the gospel division of Malaco Records and a member of top gospel outfits The Jackson Southernaires and the Mississippi Mass Choir, suffered a cardiac arrest in March. v Finally, talking of black gospel, it was announced that Andrae Crouch was to make his first album for seven years, having signed a contract with Quincy Jones' Qwest label. After his much publicised problems a decade earlier (see TTs in CR72 and 73), Crouch had slipped out of the limelight, concentrating on film and TV soundtrack work, with only occasional guest appearances on other people's projects.

The opinions expressed in this article are not necessarily those held by Cross Rhythms. Any expressed views were accurate at the time of publishing but may or may not reflect the views of the individuals concerned at a later date.
About Trevor Kirk
We welcome your opinions but libellous and abusive comments are not allowed.