Tony Cummings quizzed Marc James of British rockers VERRA CRUZ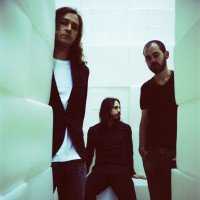 Verra Cruz
Cross Rhythms last spoke to Verra Cruz in 1999 though then they were known as Dust. Much water has passed under the bridge (or maybe a more appropriate metaphor would be much dust has passed under the carpet) since then. The long established British blues rockers have had a shot at the mainstream, recorded a critically acclaimed album for Fierce! and have built up an enviable reputation as one of the best live bands in Britain. If such achievements weren't enough they have in frontman Marc James one of the most gifted guitarists and powerful worship leaders in the UK church. With all this going for them a new interview with Cross Rhythms was clearly way overdue. I caught up with the talented trio earlier this year in Yeovil at the Nth Fest. I began by asking Marc whether it was strange to get reviews for 'Emancipation Day' in mainstream mags like Kerrang! referring to Verra Cruz as a "new band". "It was good really - good for us. We changed the name probably four years ago and we've sort of been plugging away, just working hard trying to get somewhere with it. And then we sort of all of a sudden got a whole new audience when the album came out - you know, Fierce! and all that so to all intents and purposes we are a new band. It's great to be seen as a new band. It's a bit bad to be seen as an old band who's only released one album!"
In fact Dust/Verra Cruz (Marc James, guitar, vocals; Josh Jones, bass; Jimmy Cooke, drums) were formed in St Albans in 1996. Their early recordings 'All Or Nothing' (1997), 'See Red' (EP, 1998), 'Spirit' (EP, 1999) and 'Invisible' (EP, 2001) and their blistering live performances made them firm favourites on the Christian festival circuit though it was always clear that the band had a heart for evangelism. In 2003 the band, renamed The Verra Cruz, signed with secular management. The Crazeltown singles "Soul Collides" and "Corner Of My Mind" were released. They were going to be credited Verra Cruz but at the last moment a 'The' had to be added. Explained Marc, "That was because there was another Verra Cruz in Scotland who've gone now! We'd already released the single and everything and then we found out and they were threatening to sue us!"
With the mainstream push came a request from the band's new management to play down "the Christian thing." The band's manager even phoned Cross Rhythms asking that Cross Rhythms take all references to Dust/Verra Cruz off its website. We politely declined his request. Marc now looks back philosophically over the whole episode in the band's career. "We were in a situation where all the people we were working with didn't know we were Christians. The manager we had wasn't a Christian and that was the sort of environment that we were in and we were just starting to get on to radio. I guess at some point there was a conversation which was like the whole sort of 'undercover' sort of thing. Looking back I'm not sure it was all that good for us. I think that we learned a lot from that time. We were working with some radio pluggers at that time and I remember being in a club talking to them and they were like, 'We heard that you guys were religious.' I was like, 'Oh no, here we go. . . busted!' Actually, they were really interested. They weren't saying, 'That's it, you need to find another radio plugger.' They were really intrigued and wanted to talk about it. I think that we've learned a lot since then. That was an opportunity to share something about our faith with some people who need God. If that comes up again, we're just going to be ourselves with it."
I asked Marc to take his reminiscences further back and tell me how he first began to play guitar. "I guess pretty soon after I started going to church really. Maybe four months after I started going to church, I started playing guitar with Graham Ord (the British musician, one time half of The Wesley Brothers who is now a popular worship leader based in Vancouver). Graham was like a mentor for us really and just a great guy so I kind of sat in on the worship band pretty much every week. We used to have the same band."
Drummer Jimmy Cooke, who had been listening to Marc's reflections, added his bit. "He beat us into shape week by week. It was a great experience, wasn't it?" "Yes, it was," Marc agreed. "Anyway, we were just doing worship gigs with him. I was never really a singer until I had something to sing about in God, so voice-wise it was something that came out of my passion to worship and my passion to communicate God in a way that people could relate to. So literally the singing thing came through the youth group, singing a few songs, someone needed to lead worship so I would do it. I could play guitar well so was led to sing lots of solos in home groups and then gradually the first mission trip. No one could sing so I'd be a fool and do it!"
Down the years Marc's remarkable guitar skills have been heard on numerous Vineyard UK albums. I asked Marc how the recording opportunity came about. "It was in a little church in St Albans. I got a call one day from Brian Doerksen (the famed Canadian worship leader and songwriter) to my house. I was almost like, 'Yeah, right!' He said, 'I am doing a worship gig and I'd love to come and play guitar.' So I went along and played guitar at this worship night. I didn't really realise but it was an audition. So afterwards he phoned up again and said, 'We're recording an album and would really love you to be involved, I really loved your playing.' So that was the first thing. We didn't really know what we were getting involved with! And to be honest, I was really uncomfortable playing that sort of music - uillean pipes and so on which was weird for all of us! We were going round thinking, 'We don't really know what this music is that we're creating.' But there were a few moments when I really felt that I could put something of myself into it and it was just such a laugh - it was great! When the actual night arrived and the hall filled up with people it was just incredible - it was really something!"
As it turned out the resulting Vineyard Music album 'Come Now Is The Time' (1998) was an international worship best seller and soon Marc's guitar work was being called on for numerous more albums as an aggregation of the best British worship musicians from the Vineyard stream of churches began to record albums under the name Vineyard UK. Marc is particularly proud of the 'Hungry' album. "That was the biggest selling Vineyard album of all time. So that was pretty amazing to be part of - we just didn't know at the time!"
In 2006 Marc released his own independent album 'King Of Glory, King Of Grief'. I asked Marc about the project. "Basically I got married two years ago last week and we moved cities - we moved to Luton and stopped going to a Vineyard church and started going to a Baptist church in the area. So my avenue for worship songs stopped - because the Vineyard record label is intrinsically part of the church ministry so as soon as I wasn't in the church there was no avenue for the songs. I had all these worship songs so after trying to find some sort of deal, which never arrived, I had these demos which I had recorded at home with one of Paul Burton's microphones and I played them to a few people. I played it to Graham Kendrick and a few friends and people and a few Vineyard guys. They said that they just loved how they sounded as it was. They said, 'Why don't you just finish it and stick it out?' So I spent about a month in our house finishing it; I played pretty much everything myself and drafted in a few friends for a few moments. It was just like a faith thing really, I borrowed the money to get it pressed up. I've made that back now which is good and a relief! And it's slowly getting out there. I'd like to do something more with some of the songs 'cos I think there are some good worship songs. But there's such saturation out there with worship songs at the moment. It's hard to get a look in!"
Our wide-ranging conversation finally got round to 2006's Verra Cruz album 'Emancipation Day'. Said Marc, "Listening to it now I have to say I am really proud of it! I think that it's a culmination of so many years and also coming against so much adversity and it was almost like our emancipation - like finally getting this album out."
Prior to its release Marc spoke to Cross Rhythms broadcaster Greg Sammons about the band's beloved album. "It's got quite a heavy blues influence with some lap steel songs. Whereas in the past we have tried to keep the songs quite concise, on 'Emancipation Day' there are a few more songs that go off. There's a lot of improvised stuff on there. We tracked a lot of it live as a three piece. For those who don't know, usually with an album you'll track the drums first, then add the bass and then add the guitars, and finally add the vocals. But we actually wanted to get the live feel and so the newer songs that we recorded we set up in Rockfield Studios in Wales all in the same place but with our amps in different rooms and all stuff like that, and rocked. So we really captured some of the live energy that people have come to expect at a Verra Cruz gig."
I asked Marc how he'd come to take up the lap steel. "We went out to the USA with Vineyard - me and Jimmy actually and Brenton Brown to do some worship showcase thing for the record labels. We had a couple of days so we drove down to Memphis to do the whole Elvis thing you know - Sun Studios, BB King, all that. I found this old music shop, went in and saw this weird instrument. The guy there was called Billy Hatcher, a really cool guy from Memphis. He was showing me how to play it and it was really cheap, $270. It was a lap steel guitar made in 1938 and it had been in a church for 50 years not doing anything. Now it's really a new voice for me."
Verra Cruz have already recorded demos for their new album. I finished our fascinating chat by asking Marc what the band's legion of fans could expect. "I think that it will be different. We've got some different songs coming out - it will just be a collection of what we're writing. We're feeling really free now that we've done the 'Emancipation' album. We've captured that moment. Now we're free to just diversify."

The opinions expressed in this article are not necessarily those held by Cross Rhythms. Any expressed views were accurate at the time of publishing but may or may not reflect the views of the individuals concerned at a later date.
About Tony Cummings

Tony Cummings
is the music editor for Cross Rhythms website and attends Grace Church in Stoke-on-Trent.
Reader Comments
We welcome your opinions but libellous and abusive comments are not allowed.