Tony Cummings continues his occasional series with further assessment of a mainstream music magazine - this time VINTAGE ROCK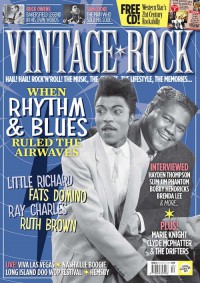 The music of the past continues to find niche audiences who prefer the sounds of yesterday to the popular genres of the moment. Box sets re-issue pop, rock, jazz and blues; tribute acts ply their trade for audiences remembering the music of their youth; DVDs and TV documentaries chronicle some era of musical history; it seems that any artist or style which once hit mass popularity has today a clique of supporters. So it's hardly surprising that a smallish magazine publisher based in Bath, Anthem Publishing, have established a bi-monthly newsagent distributed magazine, Vintage Rock, though the name is a little misleading. Although the vintage bit is fair enough (music being recorded and performed, or SOUNDING like it was recorded and performed in the 1950s and early '60s) the rock bit infers that VR sticks to the Presley, Holly, Hailey axis of rock and rollers while in fact it also takes in styles like doo-wop, pop, blues, country and, in the July/August issue I put under the microscope, rhythm and blues.
Before I dived in to the articles proper I flicked through the pages noting its excellent design and printing before letting my eyes rest on the goodly number of adverts. There was one for West Sussex's Summertime Swing Festival where 3,000 punters will enjoy rock 'n' roll revivalists The Jive Aces, Cassidy Janson and Laurie London (yes, the Jewish singer who as a 13-year-old schoolboy hit number one in the UK charts in 1958 with the spiritual "He's Got The Whole World In His Hands"). Elsewhere I chuckled over an ad for Great Yarmouth's Elvis Festival which promised a set from Phil Haley & The Comments and an ad for the Hemsby Rock 'n' Roll Weekender which promises the somewhat more authentic Bill Haley Jr.
Marie Knight
Onto the actual articles. The July/August issue contained a fascinating in-depth piece on Hayden Thompson, a rockabilly artist who after one unsuccessful single with the legendary Sun Records has found, decades later, an enthusiastic following in Europe; an extract from the autobiography of country music star Buck Owens; not one but two reports on the Viva Las Vegas Rockabilly Weekend, one covering the music of the event with a photo of Dick Dale (funny, but I'd never thought of the master guitarist of surf music as having anything to do with rockabilly) and one written by the magazine's "resident scenester" Dolly Simpson which touched on such dubious attractions as a devilled egg eating contest and the Miss Hillbilly Dumplin' contest; an interview with Britain's young rock revivalists Sharna-Mae & The Mayhems; a Soundtrack of My Life column where UK rock 'n' roll Roy Young picked his 10 favourite recordings (including, astonishingly, Michael Bolton's cover version of Percy Sledge's "When A Man Loves A Woman"); an article on Slim Jim Phantom, once a member of rock 'n' roll revivalists Stray Cats; a seemingly random selection of 40 rare records with pics of the labels for collectors to drool over; an interview with Peter Burns about his forthcoming two books on the Drifters; a review of the Hemsby Weekender in Norfolk which featured Sun Records legend Sonny Burgess with a photo of the great man showing him today looking like our favourite grandad in a bad suit; a brief Q&A with Brenda Lee where the rock and country star (rather oddly for a summer issue) spoke mainly about the origins of "Rockin' Around The Christmas Tree"; some reminiscences from British rocker Vince Eager containing a sexually off-colour joke; and a review of the Long Island Doo-Wop Festival which alongside mentions of The Teenagers, The Tokens, The Willows, Chris Montez (doo-wop?), The Skyliners, The Jive Five and others had a surprise mention of Chuck Girard who as many Cross Rhythms readers will know is one of the founding fathers of Jesus music whose Love Song group were pioneers of the CCM which was to follow. The writer of the Long Island piece seemed unaware of Chuck's fame with believers after his dalliance with doo-wop but at least Chuck got an enthusiastic nod. ("Chuck Girard, lead singer of The Castells, who sold strongly with the spiritual-influenced 'Sacred', went on to be the lead singer of The Hondells, who had a US hit with 'Little Honda', and both numbers were done to a tee").
It was the articles relating to Vintage Rock's cover story When Rhythm & Blues Ruled The Airwaves which potentially were the most interesting for Cross Rhythms readers. A general article The Good Times Roll by Bill Dahl tried to summarise the rhythm-and-blues-into-rock-and-roll story but unfortunately largely ignored the African-American church's contribution. For instance there no mention that jazz and R&B diva Dinah Washington developed her singing style on the gospel scene or that Little Richard got his screaming vocal approach to New Orleans R&B through the hard gospel quartets he grew up listening to. A plus though is that the photos used in The Good Times Roll and dotted randomly throughout the magazine are classic black and white ones, some almost suitable for framing.
Bill Dahl also contributes a short interview with Bobby Hendricks, a rhythm and blues singer who sang with The Swallows and The Drifters (including singing lead on the 1958 hit "Drip Drop" and enjoyed an R&B hit of his own with the rocking "Itchy Twitchy Feeling". Today the 70-something singer is still singing and observed "God has been good to me. I have nothing to complain about."
Sam Cooke
VR's piece on Clyde McPhatter is built around the seminal album he recorded while with the Drifters, 'Clyde McPhatter & The Drifters'. It's a reasonable piece and takes in his gospel roots with writer Jack Watkins asserting "he displayed emotive, melismatic effects that up to that time had tended to be restricted to the gospel field." The tragedy of McPhatter's life and early death is also touched upon.
Another of the rhythm and blues giants documented in VR is a strangely similar story. Like McPhatter, Sam Cooke began in gospel music, switched to rhythm and blues, made a big pitch to establish himself as a smooth nightclub entertainer, began to be recognised as one of the great voices of post-war music, but died young in circumstances showing that the Christian faith of his teenage years wasn't strong enough for him to deal with the temptations and enticements of mainstream showbiz. Rocko Jerome's article A Legend Of Ambition seems to have been put together entirely from information in Peter Guralnick's fine Dream Boogie: The Triumph Of Sam Cooke book and disappointingly contains no new interviews or insights.
The VR article which will be of most interest to Cross Rhythms readers is One Special Knight by Julie Burns which is a well-researched piece on Marie Knight. Ms Knight had major success in the gospel field, touring and recording for years with the sublime Sister Rosetta Tharpe and then moved into rhythm and blues/soul music. Unlike Cooke and McPhatter, Marie hung on to her Christian faith before her death in 2009. Yet despite her historic importance and musical brilliance evident to any Spirit Of Rock And Soul reader/listener who's heard her gospel and soul masterpieces like 1953's "Calvary" and 1965's "Cry Me A River" she has largely escaped the attention of music historians and therefore the article is most welcome.
Thanks to the Marie Knight article and the historic pics, Vintage Rock can be recommended to those with an interest in old school gospel and/or vintage soul music. Its article and columns though are of a decidedly mixed standard. But I for one will look at further issues with interest.

The opinions expressed in this article are not necessarily those held by Cross Rhythms. Any expressed views were accurate at the time of publishing but may or may not reflect the views of the individuals concerned at a later date.
About Tony Cummings

Tony Cummings
is the music editor for Cross Rhythms website and attends Grace Church in Stoke-on-Trent.
We welcome your opinions but libellous and abusive comments are not allowed.