Saturday 10th August 2019
Tony Cummings quizzed Richard Martin about the pioneering music history package WAXING THE GOSPEL
Sankey cylinders (photo: Meagan Hennessey; Michael Khanchalian Collection)
Since its inception, Cross Rhythms has endeavoured to acknowledge and document the rich history of Christian music recording. Down the years, we have published articles on a wide range of pioneering artists from the Carter Family to Blind Willie Johnson, and our website has run pieces on seminal figures like Ira Sankey and Fanny Crosby. But now, with the publication of an amazing book and CD package, those interested in the earliest days of Christian music recording have an extraordinary opportunity to discover for themselves the very first recordings made of American religious music. 'Waxing The Gospel: Mass Evangelism & The Phonograph 1890-1900', released by Archeophone Records, brings to music lovers and amateur music historians an utterly fascinating collection of sounds and photographs from a long-gone era.
'Waxing The Gospel' brings to light the first recordings, some recorded privately and some released to the public originally as wax cylinders. The recording quality is obviously very primitive but, thanks to the care and attention of the music historians involved in the project, the sacred solos and brass band performances, harmony groups and amateur ensembles are heard with surprising clarity while the songs being performed are often timeless indeed. As the book carefully chronicles, the recordings grew out of America's second Great Awakening and the extraordinary work of evangelist D L Moody and singer Ira Sankey, and such songs as "Nearer, My God, To Thee" (recorded in 1893 by Baldwin's Cadet Band Of Boston); "Swing Low, Sweet Chariot" (1894, Standard Quartette); "Pass Me Not, O Gentle Savior" (1897, Steve Porter); "The Ninety And Nine" (1899, Ira D Sankey) and many more have well and truly stood the test of time.
The copiously illustrated book contains many rare photographs while the fastidiously researched information clearly shows 'Waxing The Gospel' to be a labour of love. Cross Rhythms had an opportunity to quiz the compiler of the book/CD package, Richard Martin. Together with Meagan Hennessey, Richard is the owner of Archeophone Records and I began by asking this ethno-musicologist to tell me a bit about his very unusual record label.
He said, "Archeophone Records was founded as a kind of a hobby in 1998, and started for real as an LLC in 2000. We now have 75 releases, the emphasis always having been on top-notch scholarship and contextualizing the world's oldest recordings. Our focus is anything recorded 'acoustically' - ie, before the advent of the microphone. We do have a few things from the electrical era, but these are outliers. We've done spoken word, vaudeville, operatic, comical/topical, ragtime, jazz, etc. The catalogue is built around different series, some involving historical questions, some being single-artist, some telling the story of specific record labels, and so forth."
Fanny Crosby (photo: Garber; Moody Bible Institute)
Richard explained how 'Waxing The Gospel' came into being. "My involvement stretches from beginning to end. Michael Khanchalian pitched a 'Sankey project' idea to us around 2002 or 2003, as he owned a number of those cylinders. Originally he was going to do notes. Various delays and the availability of other recordings, such as the Moody discs and the Heath field recordings, made us realise there was a much bigger story to tell. We provisionally employed another writer, who did some useful footwork and gave us his research notes, but he declined to take on the larger concept. When it came time to put the whole thing together, that was left down to me. So I did most of the original research, wrote the manuscript, restored and remastered the tracks, laid out most of the book, restored the illustrations, and managed the project."
I couldn't resist the temptation to ask this eminent academic whether his interest in 'Waxing The Gospel' was purely that of an ethno-musicologist, or did he have Christian faith as well? Richard gently put me in my place. "Surely that dichotomy is not especially useful, is it? I have advanced degrees in English literature and Theology, but my interest in and knowledge of 19th century music and recording comes from doing this thing we call Archeophone Records. As I'm sure you observed, 'Waxing The Gospel' is as much about the nascent recording industry as it is about early sacred recordings. I am proud to say that a wide spectrum of customers - believers, non-believers, Christians, atheists - have all said they regard 'Waxing The Gospel' as an incredible resource, useful in very different ways to different audiences."
I asked Richard how long 'Waxing The Gospel' took to compile. "In the intro, I think we said it was 'about a decade', but really it was probably more like 13 or 14 years. Obviously, not all that time was spent labouring on the project; there were long stretches of inactivity. But those periods were not exactly dormant; they were times of reflection and searching (and frustration) as we were trying to figure out what kind of work we wanted to create and how to do it."
I suggested that 'Waxing The Gospel' would, in a perfect world, be on the shelves of all the major Christian bookshop chains, as it is an amazing historic record. It isn't, though. Why did he think that was so? "The problem is people's lack of historical interest and imagination. It's especially problematic over here. Consumers can't find out about historical subjects if no one presents them to the people, and news outlets and other publications won't touch it because they think no one is interested. So it's a vicious cycle. The most amazing thing we witnessed from potential reviews that never got published was the inability of writers to comprehend that the matter on 'Waxing The Gospel', particularly the section on the Heath cache, represents a new paradigm in the dissemination of information in our technological age.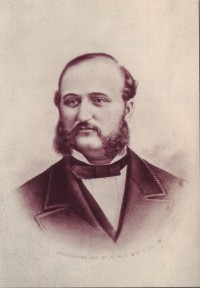 Ira Sankey (Moody Bible Institute)
"Reviewers would ask me, 'Who told you that Fanny Crosby made that record?' and I would rehearse for them the entire story by which we established the provenance. But the reviewers didn't understand. Or they would ask what institution the Heath cache comes from (it doesn't; it's in personal hands), or what other caches of similar field recordings are out there (there aren't others that have come to light). It's difficult for people to understand and appreciate when something new in historical studies is happening right in front of them. Having said that, there are history buffs, phonograph enthusiasts, students of popular music, students of hymnody, Victorianists, and religious folks who have been enthusiastic customers."

The opinions expressed in this article are not necessarily those held by Cross Rhythms. Any expressed views were accurate at the time of publishing but may or may not reflect the views of the individuals concerned at a later date.
About Tony Cummings

Tony Cummings
is the music editor for Cross Rhythms website and attends Grace Church in Stoke-on-Trent.
We welcome your opinions but libellous and abusive comments are not allowed.