Thursday 2nd November 2017
Tony Cummings muses on the lives and music of soul music star WILSON PICKETT and early blues singer PEETIE WHEATSTRAW
The lives of early blues singer Peetie Wheatstraw and soul star of the '60s and '70s Wilson Pickett do not at first glance seem to have much in common. Their musical styles were of course very different from each other as were the spans of time when they enjoyed acclaim and popularity for the music they made. But both are linked in a strange way. Wilson Pickett publicly celebrated his libertine lifestyle and was pleased to be known as Wicked Pickett while Peetie Wheatstraw laughed at churches who denounced his music and was a proud and boastful exponent of "the Devil's music".
The myth that the blues, and later R&B and soul, were "the Devil's music" had become ingrained in black church teaching almost from the beginning. Down the decades, countless preachers denounced secular music suggesting that even to listen to it their congregations were risking moral pollution. Like most lies there was a grain of truth in their denouncements. Since the earliest days, the development of African-American music has thrown up many songs that were aggressively sexual in nature.
Sexuality is of course a vital part of the human condition and is a subject that the songwriter or poet will often be drawn to. But as Scripture reveals, sexuality when removed from a loving relationship (as, say, depicted in the Song of Solomon) becomes a curse rather than a blessing. And songs that celebrate the pleasures of sex with little or no seeming regard for the personality or even the humanity of their subject, are songs of lust not love.
Unfortunately songs of lust, often couched in the crudest of metaphors, have been part and parcel of many blues singers' repertoires since recording began in the 1920s. And whether it was the '20s Victoria Spivey pleading with her dentist to come fill her cavity or in the '50s H-Bomb Ferguson boasting about his "10 Inch Record", there have been plenty of lurid songs to dehumanise sex and remove it from the marriage bed where it can delight and celebrate our humanity.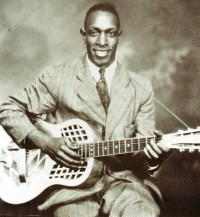 Peetie Wheatstraw
Peetie Wheatstraw was one of America's most popular blues singers in the 1930s (popular only among the African-American community of course - it was to be decades before white America and Europe were to discover the art and creativity of the blues). Peetie, real name William Bunch, grew up in Cotton Plant, Arkansas and in the late 1920s had moved to East St Louis. Throughout the '30s he became one of the most recorded blues singers clocking up 161 recorded songs. All but two of his records were issued under the names "Peetie Wheatstraw, The Devil's Son-In-Law" or "Peetie Wheatstraw, The High Sheriff From Hell". He composed numerous "stomps" with lyrics projecting a boastful demonic persona to match these sobriquets. He sang about the repeal of Prohibition, slum clearance and unemployment. But the bulk of his recordings for Vocalion ("Good Whiskey Blues", "King Of Spades") and Decca ("Crapshooters Blues", "Banana Man", "Gangster's Blues") were about loose women, booze and the supernatural. Wheatstraw's "Police Station Blues" was to form the basis of Robert Johnson's "Hellhound On My Trail". His influence was huge and blues critic Tony Russell has even written, "Wheatstraw constructed a macho persona that made him the spiritual ancestor of rap artists." On 21st December 1941, Wheatstraw's 39th birthday, he and some friends decided to take a drive. The blues star was a passenger in the back seat when the Buick struck a standing freight train instantly killing his two companions and Wheatstraw dying of head injuries in hospital some hours later.
During his lifetime Wheatstraw was much criticised by the Church. With semi-pornographic blues, depictions of drunkenness and celebrations of violence being a part of some blues singers' repertoire, it was hardly surprising that many African-American preachers began denouncing such songs and those who sang them. Some preachers even suggested that the Devil himself was responsible for creating the blues. Unfortunately such naive theology allowed the baby to be thrown out with the bathwater and ignored the passion, power and poetry of many other blues songs. Rather than critiquing that which was lyrically immoral, they lambasted the whole blues music field suggesting that Christians should only sing or listen to explicitly Christian songs. This artificial secular/sacred divide expounded in many churches was sadly repeated decades later when white churches produced virulent anti-rock 'n' roll sermons and books.
It took decades before the blues as the Devil's music heresy began to be opposed by some African-American preachers. One of the most important voices in challenging the assertion that blues and R&B were from the Enemy was the Rev CL Franklin first from his church in Memphis then Detroit. Franklin was a hugely popular figure in the post-war church and his sermons, released on vinyl records, were big sellers for Chess Records. In the David Ritz book Respect: The Life Of Aretha Franklin the blues singer BB King spoke about the Rev Franklin: "I sat under his sermons for many years. I'd like to say that he was the bluesman's preacher because he'd come to the clubs to see us. But that wouldn't be fair. Frank - that's what his friends called him - was everyone's preacher. Because those sermons he recorded for selling in the same little stores as our blues records. We looked at him as a fellow artist. He was one of us. Unlike other men of the cloth he never called our music devlish - and we loved him for that." Tragically, as Ritz's book also reveals, CL Franklin's lifestyle was every bit as compromised as the blues singers, boasting about their sexual conquests, he enjoyed listening to and the reverend's numerous sexual dalliances were to have a deep and harmful emotional effect on his daughter Aretha Franklin.
Aretha was of course to go on to become the Queen of Soul. The secularisation of the black church musical styles which began in the '50s had by the '60s brought unprecedented fame and fortune to hundreds of singers raised in the African-American church and the birth of soul has now been recognised as one of the most important periods in the development of 20th century popular music. Particularly influential in soul music's development were the "hard" gospel quartets, with lead singers who rasped, roared, falsetto crooned or even screamed their songs of salvation. By the mid '50s, as well as the established big timers like the Blind Boys Of Mississippi, the Soul Stirrers and the Sensational Nightingales making a sort of living by endlessly touring America's black churches and gospel programmes, there were thousands of local gospel groups endeavouring to get even that tenuous foothold into professional music making.
Wilson Pickett
The Violinaires were one such group. Formed in Detroit in 1950 it was to be five years before they got to make a record. Personnel came and went until eventually in December 1957 the group recorded a second single "Sign Of The Judgement/My Work Will Be Done" for Gotham Records. Singing tenor with the group was a 16-year-old Wilson Pickett. Alabama-born Pickett had grown up singing in Baptist church choirs and when he left Alabama to move away from his abusive mother and live with his father Pickett leapt at the chance to join the Violinaires. The group played alongside bigtimers like the Soul Stirrers and the Davies Sisters on gruelling church tours. By 1959 though Pickett was lured away from gospel by the success of more and more singers who were moving away from church music to the far more lucrative mainstream market. Pickett joined a fledgling R&B group the Falcons. The group had some excellent singers including Eddie Floyd and Mack Rice (later to become R&B soloists) but it was the gospel-charged lead vocal of Pickett that landed the Falcons an R&B hit with "I Found A Love".
Embarking on a career as a solo singer Pickett recorded a demo of a song he co-wrote "If You Need Me", a slow burning soul ballad which even featured a secular sermon. However it was another ex-gospel singer Solomon Burke who had the big hit with the song. Pickett's first significant success as a solo artist came with "It's Too Late". But the one time gospel man had to wait until 1965 when his third single for Atlantic Records "In The Midnight Hour" recorded at Stax Records studio in Memphis became a million selling hit. A stream of other hits like "634-5789", "Land Of 1,000 Dances", "Funky Broadway" and a gospel-sounding re-working of the Beatles "Hey Jude" followed. Sadly the soul star threw himself into the excess that superstardom often brings. His womanising, drunkenness and drug abuse began to have an effect on his career and the Wicked Pickett nickname he adopted and the swaggering bravado of his stage act didn't hide the difficulties he was now experiencing. In 1975 Pickett's once prominent chart career was on the wane and after his label RCA dropped him he formed a short lived Wicked label. In 1991 he was arrested for allegedly yelling death threats while driving a car over the lawn of the Mayor of Englewood, New Jersey and the following year he was charged with assaulting his girlfriend. Then in 1993 Pickett struck an 86-year-old pedestrian and after pleading guilty to drunken driving charges received a reduced sentence of one year in jail and five years' probation. Pickett spent the twilight of his career playing dozens of concert dates until 2004 when he began suffering from health problems. While in the hospital he appeared to return to his spiritual roots and told his sister he wanted to record a gospel album. But he never recovered and died from a heart attack on 19th January 2006.
Wicked Pickett and The Devils Son-In-Law had little in common save that in their years of musical popularity they decided to praise immorality and flaunt any thoughts of conventional restraint. With their deaths it seems likely that both are now residing with their chosen spiritual Fathers.

The opinions expressed in this article are not necessarily those held by Cross Rhythms. Any expressed views were accurate at the time of publishing but may or may not reflect the views of the individuals concerned at a later date.
About Tony Cummings

Tony Cummings
is the music editor for Cross Rhythms website and attends Grace Church in Stoke-on-Trent.
We welcome your opinions but libellous and abusive comments are not allowed.