Ken Riley, frontman of Newcastle's rock worship team YFRIDAY, talks us through tracks on the band's new album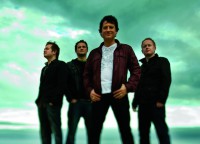 Yfriday
"Creator"
The most "pop" and keyboard based track on the album. It has overtones of a new musical direction and suggests the attitude of future writing. The track has a great vibe and is a real grower with all the kicking power of the Dez and Danny rhythm section and with my guitar limited to one track - I know it's sacrilege!! - but it's Gav who really excels himself on this one. The opening song - like most of the album - speaks of the need for forgiveness and the promise that if we open ourselves up honestly, God will provide the "washing down" mentioned. We're looking forward to playing this live big time.
"At The Cross"
A song that answers the questions that it raises, "Can I call you my friend?" The good news here is that - through the Cross - we can call God our friend and he will release us and set us free. Musically we have a cool Scooby vibe going on and it's really true to the core sound of the band. There are lots of surprises for the listener, with a 1920's orchestra, big choruses and a guitar solo! It's a bit of a roller coaster.
"Glory"
There are songs that will be in the Church for years because they're classics. I see "Glory" as a modern "I Give You All The Honour", although you may need to use your imagination to get this. I hope that I've managed to write a contemporary song that would sound great on Radio 1 but gives Jesus all the glory. If we're going to grow the Church we need to look this way. It's my favourite track, it has a great feel and is totally in the groove - it's a song I'd buy and play to death!
"Head Over Heels"
This rocks! Big drums, big bass, even bigger guitars, distorted vocals and no keyboards! Imagine Stereophonics or Blink182 singing a worship song and you're about there. Noel Richards popped into the studio the day I was recording the guitars and left with a very big grin on his face. Lyrically, it still speaks of my amazement that God would put himself through the suffering he endured for me - and for each one of us. One of the lines says, "You even took the sin of those who nailed you," and I don't honestly know whether I would have been one of the ones egging them on to crucify him or not - but does anyone?
"I Love You"
I spend hours writing songs, some come quickly and some very slowly. This happened so quickly that I underestimated its power - until I used it leading worship at church and the place exploded! My suspicion about the song was confirmed when I played it at rehearsal for the boys and they ended up on their faces! The recording is true to the day it was written, just me and a guitar, sat on the floor in the studio late at night. I hope that people take this song into church, it's easy to play with a capo on 5 and I hope that it helps people meet with God.
"Rain"
Our producer Neil Costello is a genius; he helped us get so many cool sounds. The keyboards are amazing and guitars massive. When the recording of the song was almost finished we listened to a rough mix - and I cried. It wasn't just because the song had reached its potential, but somehow it seemed to have caught an anointing that only God can bring. The song tells how we make plans for our lives that we hope will lead to greatness - like being a millionaire or something. But these empty hopes can be replaced with something of much greater value, that leads to a different kind of greatness altogether. I hope that non-Christians will be able to empathise with the content of this track and feel the presence.
"Praise"
Already established as a recent live favourite, we've really improved the overall sound of the track so that it's a veritable musical delight to the ear - getting carried away now! Gav's theramin parts are so quirky and I've changed guitar style on this one, Danny's bass is very cool and as usual Dez is rocking out behind us - making this a really big, bright "up" track, definitely one of those songs that stays with you all day.
"Carry Me"
Another song about me being naff and needing God's grace. I think the closer you get to him, the more your own failings are shown to you. At least I hope that's what it is 'cos I should be grown up by now. Although it's by grace through faith that we're saved, we can't feed ourselves on milk, we need to be weaned onto the more substantial things that he has for us. This is what makes our walk with God so interesting, challenging and sometimes seemingly impossible. But graciously he does give us the strength to succeed. When the huge Gav pad was recorded, God's spirit filled the studio and I cried again - I must be a good barometer for God's presence. This is also the first time Dez has used a brush for anything other than his hair!
"Joy"
Another song already well established live and we've left the recording fairly true to that vibe. I love to see people sing the tongue twister verse the first time through and nail it by the second. It's got my favourite drum fill and the song declares what God has done for us. When you come along to the gigs, get excited and jump around and have a good time!
"Shelter"
The last track and it's honest and probably readily identifiable to all. I'm sure that most of us have this little part of our lives that we keep hidden away and visit from time to time. It's the part that is known only to God and ourselves and is the non-public dark bit that we fight with. Buthe understands what we go through more than anyone - he meets us there and he can help us to beat it. This really is a deeply intimate worship song, because it takes guts to admit these things and guts to do something about it. The end sections lift you and fill you with hope - they show that the increase in faith and God's power that we long for is available - and thank him for giving us shelter.


The opinions expressed in this article are not necessarily those held by Cross Rhythms. Any expressed views were accurate at the time of publishing but may or may not reflect the views of the individuals concerned at a later date.
We welcome your opinions but libellous and abusive comments are not allowed.