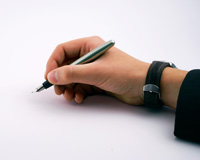 Cross Rhythms are currently looking for new transcribers!
Can you help Cross Rhythms? We are looking for home volunteer workers who can transcribe interviews for our music and life articles.
If you've got some time and a computer and want to do something which is a vital help to the Cross Rhythms ministry, please drop us an email telling us you are willing and including your phone number.
We will email the interviews to you.
Email Cross Rhythms Human Resource Manager: hr@crossrhythms.co.uk
We look forward to hearing from you!