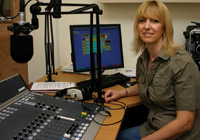 The Worship Warehouse is a weekly contemporary worship show presented by Cross Rhythms Co founder, Kerry Cole.
Artists regularly featured include: Jake Hamilton, Kim Walker, The David Crowder Band, Kevin Prosch, John Mark Macmillan, Misty Edwards, The Morning Star Band and many others.
The shows are broadcast every weekday at 12 noon, Saturdays at 2pm and Sundays at 9am. Kerry says, "The spiritual emphasis of the show is to focus on God as our creator, give him glory and thanks and to enjoy incredibly edifying and heart changing lyrics by some deeply committed and passionate worship leaders. There is also a very real sense of intercession present in the show."

More in Cross Rhythms Plymouth 96.3FM..