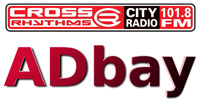 A NEW CONCEPT IN RADIO ADVERTISING
YOU DECIDE THE VALUE!
MAKE US AN OFFER
Get your advert heard three times every day for a month on the peak time Breakfast Show
BID BY:
Fri 28 September for MONTH OF NOVEMBER
Fri 26 October for MONTH OF DECEMBER
Fri 23 November for MONTH OF JANUARY
Fri 14 December for MONTH OF FEBRUARY
Fri 25 January for MONTH OF MARCH
Fri 22 February for MONTH OF APRIL
How does it work?
You decide the value of the advert to you.
Make an offer.
Highest 7 offers get an ad.
Minimum offer £50 for month of advertising (rate card value £450 - £500).
We can professionally produce the advert for a one off cost of £95.
BUY NOW AVAILABLE AT £250.
Prices subject to VAT
Cross Rhythms Radio 101.8FM and Online
Your advert will be heard on both the Cross Rhythms Online Station and Cross Rhythms City 101.8FM across Stoke-on-Trent and Newcastle-Under-Lyme
What to do next
Email or call Rob Thompson to process your bid or for more information.
Respond early for a better chance of getting a slot - space available for 7 advertisers on the Breakfast Show
Direct Tel: +44 (0)1782 877303


More in Radio..