Mike Rimmer reports on the new trend and brings the low-down on six hot American acts, FOSTERSTHINKING, BLOOM, LESS THAN SEVEN, SALLY ANTHONY, THE ECHOING GREEN and FLOORED who are bringing their music to the public via the internet.
There was a time when the dream of every band was to gain the attention of some record company mogul who would sit behind his leather topped desk, pass out the fat cigars and declare ...'Let's make a record." Sadly in these more enlightened days, the knowledge of the debt-ridden exhausted bands that litter rock's highway and the legal strife caused by on sided recording and publishing deals that have affected even globally successful artists like George Michael and Prince mean that even in Christendom, the fairy tale happy ending of a record company contract is being acknowledged as just that... a fairy tale.
Until recently two things separated the indies from the majors. Firstly the expense of recording and secondly, the record companies had the marketing muscle to make the difference. The '90s have seen changes that make it possible for enterprising, creative indies to begin turning the tables on the big guys. The development of cheap effective digital home recording equipment means that even some top 40 songs have been produced in the bedroom and now the growth of the internet means that the world is only a modem away from your album.
The internet is growing quickly in the UK and ifs currently estimated that over a thousand new subscribers a day are accessing the web. America is still a long way ahead of us but the gap is beginning to narrow. Perhaps we should not be surprised to find that in the USA, there is a growing community of Christian music artists who are staying independent and marketing their CDs via the net, designing their own web pages and creating newsletters that are sent out via email. Even better, with the development of MP3 technology and Real Audio, you can even hear tracks before you buy which is great news for indies because each artist can make their music heard. There's literally a whole new world of Christian music for you to explore that proves that there's life outside scene.
The growth of E commerce here in the UK means that it is becoming increasingly viable for bands on this side of the pond to follow suit. It makes you wonder that if soon consumers will be able to buy all they want via the web. It may be a future where your local Christian bookshop is only stocking the narrow range of Christian albums that the labels are choosing to release and you can log on, purchase and sit back and wait for the CD to arrive. It's an emerging scene and the independent artists featured here are all beginning to explore the vistas of opportunity offered by the web.
Fostersthinking
Oklahoma based Fostersthinking found their name in an unusual place! Singer Aaron Hines recalls that drummer Brian Meiler had been taking some summer classes at college, during which he found the new name. The class was reading aloud from their textbook and came across a passage that read "...the CPU fosters thinking in terms of digits...". A foreign exchange student asked "Who is Foster?" and the whole class erupted in laughter. Once they explained that it was being used as a term and not a proper name, Brian's mind started working. He presented the name FostersThinking to the rest of the band. He said the name was simple to understand, "We are called by God to foster others' thinking to Jesus Christ. It took some time, but eventually the name grew on everyone."
Previous to this, an earlier line up of the band had been known as Heir & After and had been born out of the high school friendship of keyboardist Jason Smith and original guitarist Andy Anders. They've been functioning since 1995 and after the usual line up changes and honing processes FostersThinking, the band, are determined to pursue music ministry. Hines passionately declares that the goals of the band are "to promote the Gospel of Jesus Christ to everyone we can and to hopefully take our ministry on the road full time."
Their first studio explorations in 1997 produced two songs, "Wretch Like Me" and "Perfect" which were both featured on the 31Flavors compilation released by M&M Records. That company also, released the original version of TheBlueRacer' in 1998 though the band only stayed with the label for a few months. Two further projects were recorded and released independently, the festive 'NoVacancy-A FostersThinking Christmas' was released in December 1998. Earlier this year they also made a live album 'WorldWideThinking-Live at The Outer Cafe', available to fans who attend their live shows. A new version of TheBlueRacer1 was created when the band went back into the studio to re-record several songs, add an entirely new song, re-mix and re-master TheBlueRacer1 for re-release.
Like many independent bands, it's on stage that FostersThinking really have the opportunity to win new fans and impact an audience. Aaron describes a gig as "quite a wall of sound. Our live sound is a lot more heavy than that of our album. Our stage performance has been described as very commanding. We try to lure the crowd into our thoughts and messages within our songs. At times the crowd is strong and silent and the next moment they're jumping up and down screaming for more."
Then again occasionally it's been Aaron himself who's been jumping up and down! He confesses, "Many of the fans we see often remark about my habit of not wearing shoes on stage, I guess they think it's weird. I'm sure I'm not the only one who does it. That does remind me of a somewhat comical story... We were playing a show at a festival outside on a flatbed trailer that happened to be unshaded. I, in all my wisdom, proceeded to walk onto stage without my shoes. I soon found out what it felt like to have sun burned feet. If you've never had that happen to you, thank God." Musically the band are eclectic with a good line in bluesy rock. They have sometimes taken that label as criticism but Aaronn reports, "After many prayer sessions and talks about it, we all felt that God gave us a ministry to try and touch everyone we could. What better way to do it than to play a little bit of everything."
The ministry heart of the band's album is clearly illustrated when Aaron describes a couple of the tracks on 'TheBlueRacer1. He comments, "I wrote 'Lonely' when I was feeling like no one was there for me. I soon realized that God is always there with us, even when we're lonely. I feel that 'Here With Me' represents such a wonderful sense of being, just knowing that God is there. Several youth and college groups have adopted it as one of their worship songs that they use during services. The song was a total miracle. Todd, our bassist, was laying down this fat groove and Brian picked up on it and played a beat on his djimbe. I soon followed with some melodies and as the song progressed started pushing a falsetto in some parts. It truly was a gift from God."
BLOOM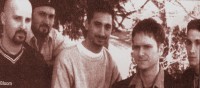 Bloom
The Gibson Cafe in Nashville is a smaller venue for young bands to present their material. I am there with my wife Pippa and singer/songwriter Jeni Varnadeau to check out Bloom. We order water to drink and Pippa takes a large mouthful only to find that it tastes disgusting. She rushes to the loo to spit it out. Red faced, she returns to our table and confesses that she accidentally entered the wrong toilet, rushed into the gents, spat it all out in the sink and rushed out much to the surprise of the one male witness in there. Unfortunately, it turns out that Mark Giacobbe, singer with Bloom, was the witness of Pip's toilet trip! Bloom's stage performance is not badly affected by the incident. Playing to a small crowd with a ropey sound system that gradually improves as the band play on, Bloom have undeniable talent. Mark explains that Bloom have already | been winning awards, "Two of us in the band, myself and John Cashwell (keyboards) won the GMA's Song Of | The Year contest. I won in '98 with '490' (featured on the album 'Mindy's Revenge') and John won this year with his song 'Joseph's Melody'. Tony, Mike and Joe (guitar, drums and bass) also won the GMA's spotlight contest at the regional level last Fall in a side project called 'Cinder'."
Bloom hail from New York and that city has been an inspiration in terms of vision. Giacobbe explains, "This is one of the largest cities on the planet where only four per cent of the population is evangelical Christian. Now we send missionaries out to countries with more Christians than that. So we feel that our vision is to present the light of the Gospel, of the Christian worldview, mainly or primarily to secular audiences; to be a bridge, or to plant seeds of truth and light. So our primary objective would be to influence our world for the Gospel through our music -writing tunes that, musically, will kick butt and be able to compete with everything else that's out there, and tell the truth about life, about the world, about God."
Mark explains how the band function when they play in mainstream venues, "We're not evangelistic per se, we don't preach or anything." He elaborates, "But we will tell stories - some of the songs that I've written, in particular, are based on things I've seen around town, and they might require a bit of explanation. This one song, 'Jesus In Manhattan', actually is about one of these 'epiphanies' I heard about on the news where Jesus purportedly appears on somebody's window in their apartment. And in the song I use that to talk about how Christ is all around us in the city, always wanting to break into our lives, and how if we're truly seeking, we can find him but we don't have to go to some sign and wonder to see it. So from the stage I'll tell the story behind the song."
Like many independent bands, Mark admits that it's sometimes difficult holding everything together. "I mean we're doing everything ourselves. Recording, booking, promotion, all while holding down jobs which are not even nine to five in some of our cases, but a lot more demanding than that. What a record company is, basically, is resources in terms of people, connections and money (all of which is on loan, of course, against record sales). We're out here doing this juggling act trying to fit it all together. Sometimes it's like the old Wild West story about the lone cowboy defending the fort against the Indians (not very politically correct, I'm afraid) but he takes a shot here, then runs and takes a shot there and keeps going around the fort like that to give the Indians the impression of force. That's what we're doing, sometimes, it seems. On the other hand, we have 100 per cent control. No one's telling us we need to write a stronger 'hit'. No one's telling us where to play, what to say from stage, what to wear. I guess that appeals to our American sense of independence."

We welcome your opinions but libellous and abusive comments are not allowed.