The iBar, Bournemouth, Monday 11th August 2008 single launch review by Dave Griffiths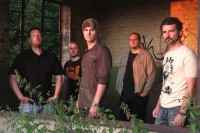 Audio 1
The "digital" nightspot that is Bournemouth's iBar is not a big place, and it doesn't take many people to make it seem quite full. So, when there is a lot of people, the underground performance area gets very warm and cramped. Add to this mix a sense of excitement and a pretty good visual/lights set-up, you've got a good situation for a single launch. Audio 1 are friends of mine, so this review is not exactly an unbiased and fair journalistic appraisal, but what they're doing deserves to be reported on. Support came from Steve and Tom from another local Christian rock band, Crossbeam, on their acoustics. It was a pleasantly gentle way to open the night as the pair added a Coldplay song to a selection of their own melodic material. After a fairly quick change-over Audio 1 were fanfared to the stage by a broadcast on the big screen behind the stage of the video to the single they were launching at this gig, a cover of '80s pop star Howard Jones's "What Is Love?". The video was very much akin to the '80s stadium rock videos; you know the sort, a big stage, big lights and lots of sweeping camera angles.
Then the band themselves took the small stage and kicked off their set with another cover, this time it was "Times Like These" by the Foo Fighters, which was an unexpected move. The set took the audience through several of the band's own songs, some of which I noticed were songs left over from the time before guitarist Dan Wellberry joined and the band were called Glo. In time we came to the live performance of "What Is Love?" which had people grabbing for their camera phones to capture the moment. Audio 1 are a good band, they can play their instruments to a high standard and Steev, the lead singer, has a strong pop voice often sounding similar to former Savage Garden frontman Darren Hayes. Their re-interpretation of "What Is Love?" is a faster-paced, guitar-driven and more edgy affair than the original which was pure '80s synth-pop. However, the Audio 1 version retains a certain '80s vibe, but perhaps more from a punk angle. To be honest, I think that the chord progression is very '80s and there's not a lot you can do to change that. Back to the set! The choice of songs included a few slower ballads, but mainly stayed upbeat. Sadly, the sound in the room was not great and the performance was interrupted by some squeaking and booming every once in a while. Still, it was a tight and energetic deal and the many gathered fans no doubt hurried home to download the single. According to the band, there is an album in the offing, so that will be something to look forward to.

The opinions expressed in this article are not necessarily those held by Cross Rhythms. Any expressed views were accurate at the time of publishing but may or may not reflect the views of the individuals concerned at a later date.
About Dave Griffiths
Dave Griffiths lives in Bournemouth, is the lead singer of rock band Bosh and runs Nth Degree Music Community.



We welcome your opinions but libellous and abusive comments are not allowed.