Tony Cummings spoke at length to a member of Nine Beats Collective, BARRY TAYLOR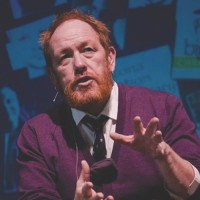 Barry Taylor
Anyone who's listened to Cross Rhythms radio recently will recognise the track "Wild World" by Nine Beats Collective featuring Barry Taylor. It's on the critically acclaimed Beatitudes-based album 'Nine Beats To The Bar' and is as catchy a piece of electro-pop as you'll hear anywhere. For the man who wrote and sings "Wild World" it's just one more creative calling card for a singer/songwriter, preacher, academic and author whose life has had more twists and turns than an alpine railway track. For in times past Barry has been the one-time guitar tech for AC/DC; a maker of modern worship music for Kingsway Records; an author of an academic tome Entertainment Theology; and a churchman who has managed to get himself thrown out of an eminent US Episcopalian church. Barry was happy to talk to me about his multi-faceted life. He began by talking about his unexpected radio hit.
"As you know, the whole project is built in response to the nine beats, those nine things in the Sermon On The Mount. I just had this idea and it just felt like I needed to stretch for it. I think in some ways what I was trying say lyrically and musically was that they are elusive ideas, and you sort of have to reach for them. Sometimes when you are in a recording studio you can just find things about your voice that you wouldn't necessarily try in a different environment. I was as surprised as everybody else, because it's much higher than I usually sing, but it seemed to work out all right."
Barry continued, "It's actually essentially the heart of the track that wound up on there. There were flourishes and finished vocals that were added. It was a fairly extensive demo, but the final production was done over here in England, and I was in California, so there were additions that I didn't have much say in. But it turned out to be good."
Barry grew up in Cambridgeshire and like millions of other teenagers in the '60s became enamoured with music. While at grammar school he learnt guitar and quickly became proficient. By the mid-'70s he was getting work as a roadie including some gigs with the Bay City Rollers. By 1979 he was working as guitar tech for heavy rockers AC/DC on their aptly named sex, booze and drug fuelled tour Highway To Hell. Then, to everyone's astonishment, Barry turned away from the excess of the rock'n'roll life and towards the living God. Joining a church in California his dramatic conversion story became a matter of considerable interest in evangelical circles.
Talking about his AC/DC years Barry said, "I was touring around the world with a rock and roll band. It is what it is; it's what everybody thinks it is on many levels. I was embedded in that world. Coming of age in the '70s, in some ways I was like everybody else I knew. We inherited a world of popular culture that had a certain shape to it. Music still conveyed this idea of escape from normality or boredom. There's always been some kind of drugs associated with music, and I was someone who was interested in altering my consciousness. I was never really a drinker. When I was young, I was baby-faced and it was difficult to get served in the pub, but drug dealers don't ask for identification. It was easier to take drugs than to get a pint. The funny thing is, it wasn't part of the equation of working with AC/DC in the beginning. There was a lot of wariness amongst the band about drug-use. Later on, Phil, the drummer, left because of drug problems."
Barry continued, "But I was involved in that whole world people can imagine, and I found my way out of it because I grew tired of who I was becoming as a human being. I'm a melancholic person: I don't like myself most of the time. You reach a point where the way you are, or the way you act, is worrying to yourself. I wanted to be a different kind of person, and I began to look for another way of being. I wanted to be a better human being. It was never my intention to find God. I was trying be a human being who likes himself a bit better. My first return was to philosophy - reading philosophy and realising that a lot of philosophy, particularly 19th century philosophy, was a dialogue for or against religion. I hadn't any feelings about religion other than that I didn't like it, I'd rejected it, because I grew up in a fairly left-wing family where there was no religion apart from my grandmother's church attendance and religious education at school. I had all of these concepts about God that gave me this, 'I don't believe in God' kind of thing, but I'd never actually thought about it. That's how I began. I thought, 'If philosophy is dealing with this sense of otherness, interacting or denying religion - what do I think about religion?' That's how the whole journey started."
After his dramatic conversion to Christ the Cobo Arena in Detroit he stayed with AC/DC for a short while before moving to California to take up Bible study and growth. After moving to Los Angeles he met and married former model Cathy. They moved to the mountain resort community of Lake Arrowhead and planted a church. As well as his pastoral duties Barry became an accomplished conference speaker and worship leader speaking at churches and conferences across the USA and Europe and even the Soviet Union.
In 1990 popular Christian writer Dan Wooding wrote Barry's biography Singing In The Dark and two years later Britain's big player in the modern worship movement Kingsway Music, having started a series of albums The Worship Leaders which included in the series albums by Dave Bilbrough, Canada's Andy Park and Bryn Haworth, released Barry's album 'Fire For You'. The album was recorded in Riverside, California and featured many top US musicians including Bob Somma, John Schreiner, Bob Wilson and vocal arranger Howard McCray though in truth the Taylor compositions like "Lord, Your Name Is Wonderful" and "Stand Up And Dance" hardly broke new ground.
Behind the scenes things were changing for Barry, and his discontent with American evangelicalism began to grow. He said, "I began to question what I was doing and what I was involved in. I had friends who walked away from things for reasons I could understand. People would say 'loss of faith'. I don't know if it was loss of faith in God, necessarily, as much as loss of faith in an institution or organisation. I decided I was either going to walk away or walk in a different direction with it, so I decided to pursue a more academic enquiry, simply to answer questions I had, to find ways of thinking more critically about stuff. That began another journey. I came into Christianity with this typical conversation experience, and what I've realised over the years is that there are these moments of transition, conversion, epiphany that happen over and over if you're moving towards something and you're keeping questions alive. I realised I was dissatisfied with a lot of answers that were being bandied around. I was feeling frustrated with ministry, and feeling disconnection from myself."
He continued, "Somebody gave me a cassette tape. That's how long ago it was: it wasn't a hip thing, it was the available technology. It was a tape on Christian leadership, which at the time was the last thing I wanted to listen to: I was almost done with that. But eventually I gave this tape a listen, and the opening line was, 'The task of the Christian minister is to guard the great questions.' That was a moment for me. With a very broad brush, I could say that, like many people, I came into Christianity with the perception that Christianity was about the opposite, guarding the answers. The fact that somebody said the reverse is true - it was to guard the great questions - was very liberating to me, and that was what set me off on another journey. That's been probably a more defining conversion than one from rock and roll to religion. What I realised is that part of my makeup as a human being was that I am a questioner: I inquire, I'm curious about life and the world, about many things. That's what led me to the world of thinking more critically."
With his marriage at an end and the church closed, Barry threw himself into study. In 2008 some of the results of his PhD study were published in the book Entertainment Theology: Exploring Spirituality In A Digital Age. Barry spoke about his move away from evangelicalism into forms of speculative theology. "If you look around and you study, you realise there's always been a breadth of opinion - agreement and disagreement - about any number of things. A lot of people I encounter today have a real problem with metaphysics and ideas about the nature of being, God as a person. We presume that's enshrined in some kind of box that can't be looked at. I don't think that's the case. It's not that there aren't specifics, but I think there are general trends.
"One of the things that has interested me over the years is the way the world we live in affects the way we think about things, particularly in the time period we have, which has seen immense transition. There are profound shifts that happen when societies embrace new technology. Religion is not exempt from that, because religion exists within culture, and it's subject to the same dynamics. Part of the reason a lot of people have problems with religion is because religion holds on to notions and ideas that were formed and shaped in consciousness and understandings - it's not that they're invalid, but they're dynamic. The French philosopher Jacques Derrida has this really interesting comment he made in an essay. This is a bit of a paraphrase but it's fairly close: 'The growing ignorance of and reliance upon technology has created a space for the rise and the return of the animistic and the mystical and the magical.' He creates a link between technology we've embraced and a different understanding about the immaterial.
"We live in this world where everything is essentially digitised - it's all done with algorithms and binary numbers - and we are more and more uncertain about everything. When I first got involved in Christianity there was a very clear dividing line between new Christians, whether they were evangelical or whatever, and the supposed traditionalists - the stuck-in-the-muds who hadn't had a conversion experience, they didn't have all the necessary gear. In the last 15 or 20 years you see everywhere - in Britain, in Europe, lots of places around the world - evangelical churches are claiming mystery, using liturgy, creating rituals. 20 years ago that would've been anathema if you'd been Pentecostal or evangelical. I think there are ways to handle the unexplained. We've gone through this amazing shift of being confident about what we know to being uncertain. Some people retreat into other forms - good forms - and other people go, 'This religious stuff doesn't work for me. I need to find some other way to mediate my life.' All that kind of stuff interests me."
Today Barry teaches theology and culture at a Los Angeles theological college as well as teaching advertising and design at an advertising school in LA. "I've also done practical stuff; I've always been involved in some kind of community of sorts. I'm one of those feast or famine, hodgepodge, 'put your life together by doing different jobs' kind of people. Though this may sound profane to some, I can say that music is my true church - if such a thing exists. It's been the passion of my life, both as a fan and as a maker of music, all my life. I remain a music fan and a music maker."

The opinions expressed in this article are not necessarily those held by Cross Rhythms. Any expressed views were accurate at the time of publishing but may or may not reflect the views of the individuals concerned at a later date.
About Tony Cummings

Tony Cummings
is the music editor for Cross Rhythms website and attends Grace Church in Stoke-on-Trent.
Reader Comments
We welcome your opinions but libellous and abusive comments are not allowed.