Tuesday 12th February 2019
Tony Cummings reports on the phenomenal recording and touring band from Mobile, Alabama, BIG DADDY WEAVE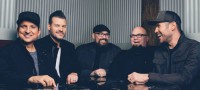 Big Daddy Weave
Those of you who know your Nashville CCM will be aware that Big Daddy Weave are one of the most popular bands on US Christian radio. Over the years they've enjoyed a stream of number one singles, including "Love Come To Life", "Redeemed", "The Only Name (Yours Will Be)", "Overwhelmed" and "My Story". Their "Redeemed" recording spent an astonishing 11 weeks at number one, was dubbed the Song Of The Year at the first annual K-LOVE Fan Awards and was RIAA Platinum-certified.
Big Daddy Weave members Mike Weaver (lead vocals, guitar), Jay Weaver (bass, vocals), Jeremy Redmon (guitar, vocals), Joe Shirk (saxophone, keys, vocals) and Brian Beihl (drums) have released eight full-length albums and now, in their 21st year as a band, have released a single, "Alive", the first from a new album to be released this autumn.
"Alive" was co-written by the band's friend, recording artist Zach Williams. Williams' life direction was dramatically changed a few years ago when he heard Big Daddy Weave's song "Redeemed" on the radio. When Williams was a guest artist on a Big Daddy Weave tour last year, he shared his song "Alive" with the band during a bus ride to the next show. The band committed on the spot to recording the song.
Mike Weaver spoke about the decision. "As the Lord used 'Redeemed' to touch Zach's life, he is now using a song that Zach wrote that so deeply speaks to where we are. This song came in its perfect timing, with us coming out of a hard life season and into a season of light. We cannot wait for everyone to hear a song that means so much to us as a band."

Following the near death of bass guitarist Jay Weaver, the passing of Mike and Jay Weaver's father on Christmas Day 2017, and the cancer diagnosis of their mother, the release of "Alive" represents a definitive statement of life for one of Christian music's biggest headlining touring artists. The band is now about to embark on the 35-city tour Alive Tour of the US, set to run through April.
The successful touring career of Big Daddy Weave was tragically interrupted in 2016 when Jay Weaver had to be rushed into hospital, where he had both feet amputated as part of efforts to fight a deep infection in his body. Said Rod Riley, President and CEO of Word Entertainment at an award ceremony in 2016 where Big Daddy Weave were honoured with the Rich Mullins Artist Impact Award, "Considering the recent health-related events that Jay Weaver and his family have gone through, and seeing how Christian Radio and fans have, and continue to respond, it is clear that Big Daddy Weave has set the bar very high when it comes to contributing to the music and ministry of Christian Radio. I could not be more proud to get to work in support of the music and ministry of Big Daddy Weave and see how God continues to use them to impact culture."

Jay, who now plays with the band seated in a wheelchair, said at the time of the award, "The way our friends in radio have rallied around my family through all of this says so much about them. People who would have never heard about this in any other way except through Christian Radio have been praying for us, with us seeing a physical reaction to that in our lives."

The opinions expressed in this article are not necessarily those held by Cross Rhythms. Any expressed views were accurate at the time of publishing but may or may not reflect the views of the individuals concerned at a later date.
About Tony Cummings

Tony Cummings
is the music editor for Cross Rhythms website and attends Grace Church in Stoke-on-Trent.
We welcome your opinions but libellous and abusive comments are not allowed.