Tony Cummings spoke to worship pastor Paul Nelson about the 60-strong worship team of St Peter's, BRIGHT CITY
Bright City
When the eponymous project by Bright City entered Britain's Official Christian & Gospel Albums Chart it was another sign that in terms of modern worship music, and church life generally, something particularly significant is happening in the seaside town of Brighton. Those who have followed the development of the UK's modern worship movement will know that Brighton has for many years been a key place and possibly the epicentre from which God-breathed songs have impacted the Church worldwide. Several internationally known worship leaders and songwriters have made their home in the city and the parent church of the Newfrontiers stream, Church of Christ The King, has been a big influence. But now another Brighton church, St Peter's, has been experiencing rapid growth and the 'Bright City' album is the first, but undoubtedly not the last, recording of the worship team at St Peter's. Cross Rhythms spoke to worship pastor Paul Nelson about the vision of the Brighton-based worshippers.
Tony: Tell me about the church.
Paul: Originally, a little team from Holy Trinity Brompton came down in the summer of 2009 to start a church-plant here in Brighton. The church building is right in the centre of town, and it was going to be made redundant - sold by the Church of England - because there hadn't been a vicar running the church for a while. There was a small congregation meeting, but they couldn't keep the lights on. The vicar at Holy Trinity, Nicky Gumbel, heard that this church was being closed and decided to contact the diocese and say, "Please don't close it. We'll send a team." It's an amazing location, right in the heart of the city. Everybody in Brighton knows St Peter's - "Go to St Peter's and turn left" - it's that kind of building. Archie and Sam Coates, who are part of Holy Trinity Brompton, and a team including myself and a couple of others, came six years ago to start services again and re-open the church. It's been a really exciting adventure seeing the building come alive again, people coming on Sundays; it's been amazing. We started services in November 2009, and we've been going since then.
Tony: What is Martin Smith's connection with the church?
Paul: Martin and his family - Anna and the kids - have always been based on the south coast, originally in Rustington. A couple of years into the plant, they began visiting St Peter's, and in conversation with Archie and Sam decided to begin to commute over for church on Sunday. I think they'd been part of Arun Community Church, but felt God was doing something new. They started to commute over on Sundays and be part of the church and eventually move over to Brighton. They've been an amazing blessing to us - particularly to me, of course, with the worship team, helping me grow it.
Tony: How many are currently on your worship team?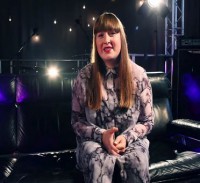 Sarah Bird
Paul: We have about 60 people on the team. We started with a morning service and an evening service, here at St Peter's, and after a while needed to split that morning service; so we now do a couple of morning services here on site, but also have a couple of other sites - one based on an estate in Brighton, a church called St Cuthman's, which is part of us, then one on the university campus.
Tony: It's become a multi-site church?
Paul: Almost. St Cuthman's is more of a plant - it's a cross between two things - but worship team-wise it's resourced from St Peter's. On a Sunday morning, we're across three sites, so there's a good team of worship leaders now, and we're always looking to bring people through.
Tony: Do you find that the more word gets around, the more musicians want to join in?
Paul: Yes, sure. A lot of musicians come to Brighton; we sometimes call it "London-by-the-Sea" There's a lot of life and creativity here; there's a scene anyway that draws people. There's also a college called Brighton Institute of Modern Music that draws a lot of students for a three year degree. A lot of our team come to Brighton because they're coming to BIMM, which has helped. We set out that worship would be at the heart of what we were doing; we always felt with Brighton being such a creative city that we would love the church to be a chaplaincy to the arts, a place where artists and musicians would feel at home.
Tony: Was there ever unease that St Peter's would be perceived as being in competition with Church of Christ The King?
Paul: We never felt that. I've been friends with Simon Brading - the worship pastor who does the equivalent of my role at the church - since we were teenagers. When I moved to Brighton I connected with him again after a few years. He would come and speak at our worship team nights. It was an encouragement to have someone to connect with who was going through the same sort of things. In September we're having a joint prayer meeting with Church of Christ The King; Archie and Joel Virgo are going to lead it together. We hope we can both be a blessing to the Kingdom that's in Brighton.
Tony: Are most of the songs sung at St Peter's original?

We welcome your opinions but libellous and abusive comments are not allowed.