Friday 19th September 2008
Mike Rimmer met up with new American rock singer BROOKE BARRETTSMITH to talk about her music and ministry.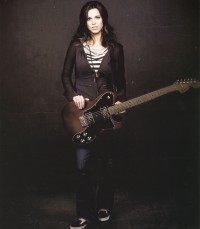 Brooke Barrettsmith
Brooke Barrettsmith laughs as I tell her it's time we in the UK got to know her a little bit. The Illinois-based singer is enjoying the attention that being a debut artist brings and telling me about her extremely musical family! "My two grandmas were professional singers; one Broadway, one opera. My dad was a blues drummer in the city. He played session drums for artists like B.B. King and Muddy Waters. When he became a Christian he started doing music for the Lord and I grew up watching him do that. I feel like I have no choice. It's in my blood!"
But she didn't want to go and do show tunes? "No, I wasn't feelin' the Broadway or the opera. I think I'm gonna go with the rock!" She laughs and I suddenly realise I'm dealing with a rock chick! She's also a preacher's kid since her dad soon hung up his drum sticks and went into ministry. Brooke therefore grew up with music in church. "I have the traditional story," she admits. "I think the first memory I have of doing music was doing my talent shows in Grade School singing little ditties dressed up as a mouse; singing little Mickey Mouse songs!"
I idly wonder aloud whether there are photos and it turns out that there are but they are well guarded. Such a spoil sport, that Brooke Barrettsmith. Despite the musical upbringing, it wasn't until Brooke was thinking of going to college that she decided that she wanted to pursue music. But was it obvious that she'd do Christian music? "Absolutely. I love Christian music. I'm a huge advocate and fan of it and I always wanted to be a Christian artist. I think the first cassette tape that I owned was Amy Grant."
In the beginning Brooke wrote songs, almost as if she were writing a journal and recording her life experiences. She formed a band with her siblings called Brooke & Leah with her brothers as the rhythm section. Brooke played guitar and admits that this is the moment the inner rock chick emerged. "She does come out in my live shows. Do a little bit of head banging! I love my Fender Telecaster." She demonstrates the leg stance, the rock pose and I suggest she needs a Flying V guitar. "I would love to have a Flying V!" she admits. "When I start making some money - some time in the next 10 years! - then maybe I'll purchase one!"
One thing that's immediately obvious when you come across Brooke Barrettsmith is that she has a bit of a long winded name. Why not be Brooke Barrett or Brooke Smith? "We debated on that a little bit," she says. "I think that's why we self-titled the first album because my name is so long it's just enough for people to be able to remember my name. But I wanted to. I love my heritage and my family. I just couldn't part ways with my last name! We come from England and it was hyphenated in England."
Clearly I'm left with a suspicion that Americans wouldn't be capable of using hyphens! So she'll be Barrettsmith until she marries and then she'll have to pick a potential husband very carefully! She agrees "That's right. I'll take a short name!"
As a preacher's kid Brooke was obviously surrounded by the influences of faith as she was growing up. "I think I started to own it in high school. I believe that I gave my heart to the Lord at a young age; eight or nine. I remember my dad making sure I understood the Gospel and what it meant to know Jesus personally and to have eternal life. But I think I really started to own that relationship with the Lord and cherish it and live it out in high school. When I started to have a slight problem. You'll hear it on this album. There's a couple of songs like 'Okay' and 'Paper Tigers' about an anxiety problem that I encountered at 15 years old. It was kind of a crossroads for me, to not allow fear and anxiety to be more real than I knew God to be at that point."
She continues and shares about the panic attacks she suffered as a teenager. "You don't know when they're going to happen. Your heart gets going and you have irrational fear. It can happen anytime, anywhere and be brought on by most anything. So at that point in my life I needed the Lord to come through and the only way that was going to happen was if I was growing closer to him, because I was the one who distanced myself from him. So I really dug into the Word of God and learned to renew my mind in Christ through his Word and through spending time with him. And by the grace of God he helped me get through that to where I can work through them now and lay them at his feet, and I find deliverance through him from that."
Surprisingly, she still occasionally suffers from attacks even now that she's in her mid 20's. She admits, "Once in a while I'll feel one coming on but I know now from experience and from having spent close, intimate fellowship with my Saviour what I need to do; and that's go to prayer and ask God to meet me where I'm at."
All artists carry stuff, particularly if they're a songwriter and writing their own songs. They can write about any of their experiences. So what is it that's distinctive about what Brooke wants to do? What is she trying to communicate at this point on her debut album? Explains Brooke, "I wanted to communicate three major points. The first, that you need to bring your anxiety...and not everyone has physical panic attacks but everyone experiences stress and anxiety, and that your only peace can be found in the Lord. It says that in his Word repeatedly, that your peace of mind is found in having that relationship with the Lord and he didn't give you a spirit of fear but of power, love and a sound mind."
She continues, "Another point would be to never be ashamed of your faith in Jesus and never apologise for it. I think sometimes people want Christians to sit back and feel weird about telling the world that you're a Christian and to say sorry. I don't want to be apologetic and I never will. I'm proud to be a Christian. I'm proud to be a Christian artist too. And the third thing would be, especially for the teenagers of today; that it's okay to admit that you've been hurt in relationships and that people let you down. I think we're a society that asks people to bottle things up and not be real and 'just deal with it' and 'don't burden me with your burdens.' But just to let people know; it's okay to admit when you've been hurt, because you're human and God gave us emotions for a reason, and within healthy boundaries to ask people for help sometimes. Maybe even just ask for some prayer, you know? Be vulnerable."
So has that been Brooke's experience? Has she been hurt in relationships? "I have, yeah," she replies simply. "I've had experience with hurt in relationships with people close to me - family, friends. And so yeah, I feel like God's allowed me to go through those certain situations in order to convey that message too, especially to the teenage girls."
Brooke is a youth leader in her church and spends plenty of time with teenage girls. Has she noticed how easy it is for teenage girls to find comfort in a boyfriend and was that something she went through? "Definitely! I was in a relationship where I was finding my identity in the person, and my comfort and my security was in him instead of in the Lord. So we're all susceptible to that. I think it's human nature to want to depend on a person that's tangible. But I think when that doesn't work out and when they haven't found that in the Lord, they think they're not good enough. They're not good enough for people. They weren't good enough in their relationship and they try to compensate in ways that harm themselves. And so I have a huge heart for teenage girls, that you ARE good enough. God created you to be perfectly, beautifully, wonderfully who you are. Let's try to find our identity in the Lord early on. Let's reach these teens when they're in junior high and high school and teach them where their identity is supposed to be."

The opinions expressed in this article are not necessarily those held by Cross Rhythms. Any expressed views were accurate at the time of publishing but may or may not reflect the views of the individuals concerned at a later date.
About Mike Rimmer

Mike Rimmer
is a broadcaster and journalist based in Birmingham.
Reader Comments
We welcome your opinions but libellous and abusive comments are not allowed.