Drew Kelleher reports on Merseyside-based songsmith CHARLIE LANDSBOROUGH.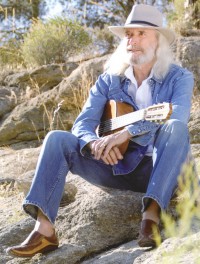 Charlie Landsborough
Charlie Landsborough says he abhors arrogance, litter, falseness, violence and socks with holes. But, according to the lyrics of his best-known song, he is quite fond of his wife.
His most popular song, "I Will Love You All My Life", has been recorded by George Hamilton IV, Roly Daniels and the popular duo Foster and Allen. The latter's version reached number 49 as a single in the British charts while the album of the same name also entered the Top 100-Charlie's own version, which was the first to be released, was a BBC Record of the Week. "I started out writing," says Landsborough, "because I believed I could sing. No one seems to take much notice of you unless you can write your own songs. I always loved poetry and so I started writing at a time when no-one was writing their own material."
Charlie said that round his Merseyside hometown people see him as a singer. "But everywhere else I'm known as a songwriter - the roles are reversed." Although he is not overtly a 'gospel singer' he's a man who holds very strong Christian convictions, which permeate his writing.
In fact he is a deeply committed Christian but not an on-stage preacher. This may explain why his songs have been so well embraced by other artists and audiences.
Foster and Allen, well known in the antipodes, have had success with his "I Will Love You".
"I have friends down there who call me up sometimes, they say 'Oh I heard one of your songs the other day'. That's nice for them, and for me of course."
His fame has even spread to the 'Dark Continent'. Many South Africans are familiar with Landsborough songs - and not just English speakers.
"Three songs have been translated and sung in Afrikaans and are doing quite well from what I've heard," he said.
Closer to home, "I Will Love His songs have been recorded by everyone from George Hamilton IV to Foster & Allen. He is one of the performances at the 'British Country Promenade' show at the Royal Albert Hall in June. He is also a committed Christian.
You All My Life" made the Irish Top 10- it claimed two positions simultaneously! The Irish obviously wanted a double-dose of monogamous morality so much they bought the Foster & Allen version as well as that of Roly Daniels.
Internationally loved country and gospel singer George Hamilton IV first expressed an interest in Landsborough's work when he asked about "Part Of Me" before he settled on "I Will Love You". (I just wonder why this rendition didn't get into the Irish Top 10 at the same time.) "I've been writing for years and years," said Charlie, "I always sort of dabbled in writing songs for the past 30 years. I was always fairly diffident until I wrote 'No Time At All' which was taken up by an American company. That's one that Willie Nelson was interested in."
Charlie's first album, produced in Bolton by Christian producer Brook Trickett, is now available. Not surprisingly nine of the 11 songs on the album have already been covered by other artists.

The opinions expressed in this article are not necessarily those held by Cross Rhythms. Any expressed views were accurate at the time of publishing but may or may not reflect the views of the individuals concerned at a later date.
About Drew Kelleher
Drew Kelleher is an Australian-born journalist currently residing in Walsall, West Midlands.



Reader Comments
We welcome your opinions but libellous and abusive comments are not allowed.