Australian worship leader and producer CHRIS FALSON is now based in Los Angeles. He spoke to Tom Gould.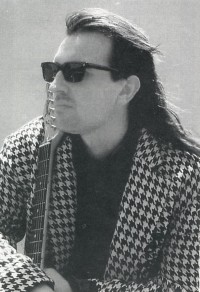 Chris Falson
Chris Falson's name has been synonymous with the quality product emanating from Australia in the last few years. As the music director of Christian City Church, Sydney, he produced the 'Stand' and 'War' live albums (released in the UK by Kingsway), contributing five songs to each album, as well as supplying lead vocals and guitar. He, along with Geoff Bullock, was a member of the team who collaborated on the annual Youth Alive rally in Sydney (three of these events were recorded and released under the banner of 'Rock The Flock'). His song "All Honour" featured on Ron Kenoly's huge 'Lift Him Up' album while Noel Richards has covered "For The Rest Of My Days" and "I Walk By Faith" on his last two albums respectively. Chris Falson is, however, best known for his self-titled album 'Chris Falson', released on Maranatha's Broken label.

Having established himself as a major force in the Australian CCM scene, Chris is now resident in Los Angeles where he is breaking new ground with his band Chris Falson And Amazing Stories, a live album has recently been released in the UK by Word Maranatha following on the heels of their two Maranatha studio albums 'Standing On The Rock' and 'Pure Joy'. Earlier this year Chris undertook a short, low key solo tour of Britain, followed by a tour of the major US cities with the Amazing Stories. The UK leg was christened the "Catching Up With Old Friends Tour", which is why he only played a few selected dates in the two and a half weeks he was in the UK. Another visit is being planned for the latter part of this year, or early next year.
The obvious first question to ask an overseas artist is how you see the difference between the CCM scene here and the US? "Well, for a start, it's harder to make a living here as a musician or artist. I don't know how the likes of Sue Rinaldi and Caroline Bonnett survive. I think that Americans as a rule are more generous and perhaps more willing to pay for a concert etc. Musically though, I would say that the British sound is still fresher and a little more adventurous than what's happening in the States. The average person here is a little more cynical and not so easily impressed by the glitz and glamour packaging. I think that this helps British musicians, not financially, but definitely artistically."
Why did you move to the States when you were gaining international recognition for your work in Australia? "In short, it was a God thing. When Karyn (my wife) and I visited LA in 1992, something happened to both of us...it was like God placed a burden for LA on our hearts. The day we flew home to Sydney was the day of the riots in LA. I can't explain the pain we both felt...it was like we were being violated. We prayed for months trying to shake it...but eventually we knew that we had to go and plant ourselves in LA. I thought initially that I would be helping to start a church somewhere in LA, but it has turned out to be much broader than that. I have been helping to shape the worship at our local church (Calvary Chapel, Capistrano Beach), have been part of the Promise Keepers worship band which has led over 500,000 men in worship in various cities across America, lead one of the worship services for World Youth Day '93 for the Pope's visit to America. I have written a ton of new songs and have been able to work as an arranger and producer on various albums for Maranatha! At the moment I am writing songs for a Warner Bros project and preparing to go on a nine-week tour across America with Promise Keepers! Life at the moment is very exciting!"
I asked if living in the States had changed his musical outlook! "Well, America has the best and the worst of everything. It is a nation of opportunists, which I see as good and bad. The positive side is that if you have something of quality, and you believe in yourself, then you will do well. For me musically, I am able to carve out a reasonable living as a song writer, guitarist and worship leader because there is something happening all over America...all of the time. I don't think I could do that here and I definitely couldn't do it in Australia! I have also been able to develop more as an artist...meaning that I can write and perform in my own style all the time as opposed to spreading myself thin over a number of styles just to survive. The downside is that I have to accentuate my R's just to be understood."
Is it different being an Aussie in the US? "Well, I missed cricket, rugby, meat pies and Promite for the first year, but I'm now able to read the menus at Mexican restaurants with such confidence I almost feel like a local! It's definitely a plus being a non-American artist in America. For a start, people are always fascinated by my accent. You know I have actually been booked on sessions because people think I sound like Peter Gabriel or Sting!!...which I don't! It's the accent and phrasing of sentences...most Americans think I'm English, which of course is an insult in view of the recent cricket series!"
How would you describe the new album? "The live worship album has a lot of the feel and emotion of the 'Chris Falson' album. The songs are all mine, some are congregational songs and some are not - these are more personal songs to do with my walk. This is the first album where Amazing Stories behaves like a real band! The video of the concert will be available as well - very MTVish. I just hope that Beavis and Butt-Head give it a good review!

The opinions expressed in this article are not necessarily those held by Cross Rhythms. Any expressed views were accurate at the time of publishing but may or may not reflect the views of the individuals concerned at a later date.
About Tom Gould
Tom Gould is the music director of the Wirral Christian Centre on Merseyside and heads up the School Of Creative Arts at the World Wide Christian Outreach School Of Ministry.



Reader Comments
We welcome your opinions but libellous and abusive comments are not allowed.