A genuinely fresh approach to worship recordings was the latest release by CHUCK GIRARD. Mike Rimmer spoke at length to the Jesus Music veteran.
Chuck Girard
If the annals of contemporary Christian music are ever written, one man's name will be up there alongside Larry Norman and Andrae Crouch. Chuck Girard played a central role in Jesus Music's primary band Love Song, both as a songwriter and a performer. When the band split in 1974, Chuck's initial solo work represented some of the finest recordings of the time. And then Chuck Girard seemed to slip from sight. The Love Song recordings and some of his solo work eventually saw their way onto CD a couple of years ago but other than that, the silence has been deafening.
However, 1997 saw the release of 'Voice Of The Wind', an altogether fresh approach to worship recordings and rather than delve too much into his musical history, I wanted to explore his current involvement in worship. In tracking the man down, I have to admit to a personal bias because Chuck's music was the first CCM I ever heard a few days before I was saved in 1978. To finally be able to talk to him brings those early months of my walk with Christ back into sharp focus.
For Chuck Girard, his recent worship recordings simply reflect the way in which God has led him since the late '70s. While I was beginning to discover his music, Girard was signed as a solo contemporary artist but not everything was going well. He quickly brings me up to speed. "I went through a time of renewal in my life in the late '70s/early '80s. This is no secret and I don't want to take a long time to develop it, but I was delivered from alcohol addiction in the early part of the '80s. That problem had cropped back up into my life, not over night but over a long period of time. There was a time of renewal in that time of repentance and getting right with God and he began to speak to me about things. The industry had changed so that it seemed at the time less ministry orientated and I felt led of the Lord to pull back out of the whole scene. I thought it would be a very short time of getting my life back together and then getting some new music and perhaps getting a new recording contract. But God had different ideas and what happened was that there was a revolutionary turn in my life focus and ministry orientation. For a while the Lord seemed to be moving me more towards ministering to the Church and I had always been frustrated up to that point of doing evangelistic songs just for Christians. My ministry shifted into a body kind of thing which still had evangelistic elements."
Girard didn't immediately rush to re-sign to a Christian label, as he explained, "I stared to make my projects independently because I hadn't really felt led to get back into looking for a recording contract. I felt at least I needed to make the first album ('Name Above All Names') myself and it was a tremendous ordeal and it was a five-year thing to get the album together and pay it off. But at least I had this piece of music, which was all mine. That whole thing appeared to a lot of people that I had dropped out or fallen by the wayside but I was actually going stronger than I was before. It was just that my visibility changed because I didn't have a record out every year. I feel like the second half of my ministry after the '80s has been more effective than the first part."
To me, that came as a surprise, particularly when you consider that Love Song were originally working at the time of the Jesus Movement, one of the most dynamic revivals in recent times. Also, considering the influence of Love Song among their peers. I asked him to explain further. "I feel like I am more of a skilled minister now," Chuck answered. "So that when I have meetings now there's more of a focus and knowledge and understanding of my gifting and how it relates to people. In the old days we were a bunch of wide-eyed innocent guys who didn't even view ourselves as ministers. We were just these musicians who played this music about Jesus and had an altar call. I feel like there's a little more specific focus to my ministry now and so it's a little more effective."
The main thrust of this effective Body ministry is in the realms of worship. I asked him to give me some background on the 'Voice Of The Wind' project. Chuck began defensively: "Well, first of all, if I was under contract and I had the budget to do an album every year like I used to, I wouldn't call this a new direction because it's not where I am going forever. It may be all I get to do between now and the return of the Lord because it's so hard to get an album out when you do it yourself!" He chuckled at the thought and continues, "It isn't my only direction, it's just a part of my ministry that I felt needed to be expressed on a disc and as a part of this renewal time in the early '80s I got introduced in a deeper way to the subject of worship as the Lord led me into a revelation of worship. I was prompted by the Lord to do a Bible study on music which led me to a study on worship because they're inseparable in the Bible."
Chuck's journey into a deeper understanding of worship led him to a very special concert with an audience of just one! He told the story, "I felt God ask me to go to the piano and do a concert for him. It turned out to be a very intimate hour and a half worship time that kind of revolutionised my life. I saw that there was a depth of communion and intimacy that was available to us if we took the time. That kind of became a model for a little piece of my concerts from then on. I felt like the Lord was saying for me to do a little bit of this in each concert. I used to do a ballad segment in each concert where I would string three or four ballads together because I had so much ballad material and that became very popular with a lot of people. So this just became the extension of that, leading people in a few choruses and giving them a worship experience Chuck Girard style. Then I decided it would be nice to capture this on a disc and I tried several different methods. I tried bringing worshippers into the studio but that didn't work too well because the studio was too small. I tried just sitting at the keyboard completely all alone and nobody in the studio, not even an engineer. But the most effective method seemed to be a live performance in front of a group of worshippers gathered together in a church."
At first listen the album struggles if your ears are finely tuned to the big production albums that you're used to hearing from America. However, 'Voice Of The Wind' is something special. Girard continued to explain: "My concept for this album was to try to capture the anointing that happens when I'm leading a live group without having to consider a band because the flow would be different. I just wanted it to be unencumbered so I took that material back to the studio and I wanted to create an album that had this sense of a live album but was still a production album. I added some orchestration, some solo violins, some guitar parts over the top of the original tapes very, very carefully. We didn't just paste this stuff on, it was very prayed over and we chose the right people to create a record. I wanted something that would be enjoyable to listen to on a musical level and yet would have the anointing of my live services. It is volume one of what I hope will be a series of these things. I actually have enough raw material in the can to do a second volume and as time and money allow I'll be working on it. We've just got this first one out and we're getting a very good first response. It's a rough road because we don't have money to promote but it's really got to be a good enough record where people say, 'I've got to tell my friends about this'. The early indications are that it could do fairly well. It's a pet project of mine and very exciting for me to finally have this out."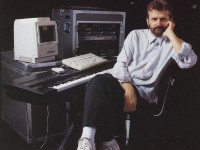 Chuck Girard
The most intriguing element on the 'Voice Of The Wind' project is the way in which Chuck has embraced the practice of spontaneous worship, integrating it with pre-written songs. The aim is to free the worshipper from the formal song into more intimate informal worship. Chuck elaborated, "When I first discovered it, it was during that concert for God that I mentioned when I just got free and I'd never done that very much myself. It was a long time before I felt the courage to do it in a live setting. I would start to try to break out and be spontaneous and I would get the first line out and then I'd freeze and panic just like anybody else and figure out something that rhymed and be glad that I didn't embarrass myself. I was down in South Africa a couple of years after that and there just seemed to be a freedom that came. I was with Ray Macauley at the Rhema church down there. I came on the stage and I began to sing acapella what we now call the song of the Lord for about a minute before I hit the piano. It seemed right after that I came into understanding this gift and it gave me much more freedom and I continued to become much less self conscious about it in the years after that. Now it's almost like turning on a faucet. In my times of leading worship, there's a sense of letting it flow. I've learnt not to force it. For me it's an important part of my worship ministry and I think it's something that is going to become increasingly important as we try and be more spiritually minded in our worship services. I purposely indicated those segments on the album because I didn't want people to be guessing when I was doing spontaneous things."
To move into spontaneous worship is both liberating and exciting. I wondered whether this was something that Chuck would like to provoke in the whole Church? He responded, "I do think it's important. I was on staff for two years as a worship leader and it was a fairly conservative body so it wasn't really heavily Pentecostal from the get-go. We were starting to introduce some of this element into our worship towards the end. We were actually doing an event called Worship LA where we would get together once a month on a Friday night and just worship. There was no message and no speaker. In the context of all that, I believe what is important is there are things that happen where the Lord speaks to us in a very immediate way through a singer or in our case we even encourage the congregation to come up to the microphone and they could prophesy or sing the song of the Lord."
For Girard, the act of worshipping spontaneously is closely married to the ministry of other spiritual gifts, which emerge when the Spirit is allowed to move freely during worship. He explained: "As you develop gifting, I believe that God can speak very specific things to people, not just about the future events of the world but also to minister to immediate needs with words of knowledge about the healing of their bodies or the setting free of their minds in certain areas. That's what I was starting to get into more and more and that's the important stuff! Not that we can say that we're so prophetic and we're on the cutting edge and we do songs of the Lord but there's actually an element of it that enables us to minister more effectively to people if we're open to that kind of a flow. What it does is open a greater possibility to minister immediately to the people you're ministering to. That's what we were discovering in our meetings, miracles were happening. People were getting healed, we were beginning to scratch the surface of that which is available when you become proficient at allowing the Spirit to move."
Having lived through a revival in the early '70s when thousands of hippies converted to Christ, and been part of the musical revolution which provided a soundtrack to that revival, I wondered whether Chuck recognised the importance of today's music in relationship to the revival which seems to be gathering on the horizon. "Music has always been a very key part of each revival as far as I understand it," Chuck said. He confessed to not being a student of revival but continued, "One of the most important elements of revival is that it seems to have its own music. Of course, the Jesus music was the music of the Jesus Movement and if nothing else, the style of the music should be relevant to the times and that becomes very evangelistic. One of the elements that really started Calvary Chapel's explosion in the early '70s was our music. It was probably the last element to get in place. There was already a young hippie kind of guy preaching and he had a Bible study or two and the church wasn't growing phenomenally but the minute the music hit the scene, it seemed like that was the catalyst to draw the people in and the church grew from a couple of hundred to a couple of thousand in six months after we started playing. The media picked up on it and did their stories and with all the media attention the thing just exploded. I think that the music said as much as the preaching did. So I think it's an important element of any revival and will be an important element of what God does in the future. I also feel there's going to be another big wave of evangelism."
Finally, did Chuck recognise that there needs to be new styles of music incorporated into worship in order to reach a new generation? "My philosophy has always been that there is nothing new musically under the sun," Chuck replied. "We may create some different kind of synthesised sounds but basically not too much stuff is that new musically. The only tool, which a Christian has, which the world doesn't have, is the spiritual element. I think if we concentrate more on that, getting into prayer and asking how we can get God more involved in our music, then that would be the only element available to us for change or progression."
Chuck continued, "In terms of style we could create music for worship which is more contemporary. Some of these churches which are like punk rock church. The worship services are very heavy rock - punk or alternative music so maybe for those people that works. I'm not particularly an advocate of the idea that all styles of music can necessarily accommodate the flow of God or the ministry of the Lord. I'm also not a judge so I don't know! Just for me some musical styles don't seem to be able to convey the sense of God I'd want out of a worship service. But different strokes for different folks, so it's going to be interesting to see what happens in the future. I'd like to see people press more into the spiritual side of things and consider how can I create a vehicle by which God can move more powerfully than ever before. That to me would be my goal and not what musical style could I come up with that might speak to today's youth. First of all, I'm not today's youth; I'm 53 years old! There will be a younger person who'll come along and accomplish that task if it's something important to God. I would love us to harness some sort of a vehicle by which we can communicate more effectively the power of God."
Chuck Girard is keen to recognise that there is something big going on. His final comments: "We're at a time of such radical stuff and even in the Church there's such a radical sweep all the way from conservative ballad type ministry through to these kids and Christian mosh pits which can be real hard to take! But what a diversity we seem to have!"
Wherever you are on that diverse scale, whatever your age or preference in terms of style of worship, whether you are from a traditional evangelical tradition or you're an enthusiastic charismatic, we're living in an age where God is calling us to an increased intimacy with him. Even recently in my own quieter moments drawing aside to worship God, I sense a freshness in the presence of God which continues to draw me closer and closer and it's beautiful. Whatever your "style", let me encourage you to take risks and step gently into a new place in his presence.

The opinions expressed in this article are not necessarily those held by Cross Rhythms. Any expressed views were accurate at the time of publishing but may or may not reflect the views of the individuals concerned at a later date.
We welcome your opinions but libellous and abusive comments are not allowed.