Tony Cummings talked to David W Huff of CCM pioneers DAVID AND THE GIANTS
David & The Giants
I'm speaking on the telephone to record producer, songwriter and for many years frontman of America's popular CCM hitmakers David And The Giants, David W Huff and quite frankly he is flabbergasted! He has just been told that a record David And The Giants recorded in 1968, long before they had any claim to being "a Christian band", has just been reissued on a new compilation album issued by Ace Records, 'Northern Soul's Guilty Secrets'. As all but the most uninformed of dance music devotees will know, Northern Soul emerged as a fully formed scene in the mid-to-late 1960s when club deejays in the north of England, alienated by the changing sound of contemporary soul music, began instead to search out and play obscure recordings, missed at the time of release, which had a classic, old school dance rhythm.
'Northern Soul's Guilty Secrets' is an album brimming with unusual dance delights - some by well known pop artists (Bobby Goldsboro, John Fred & His Playboy Band), some by complete unknowns (Ann D'Andrea, Barnaby Bye), some by funkier R&B acts (Rodger Collins, Garland Green) and one, the classic "Ten Miles High", by David And The Giants, reminding dancefloor devotees that years before DATG became CCM pioneers they had a big record in Wigan, Cleethorpes and many other spots on the UK's Northern Soul map.
Reflecting on Northern Soul's early years expert Ady Croasdell wrote recently, "The music was all brand new to us at that time and being brought up in a culture thousands of miles away from its source, we had to make it up as we went along. Knowledge was limited and we had no idea of the circumstances or origins of the recordings. For all we knew, Barnaby Bye could have come straight outta Philly's black ghetto. Actually, we wouldn't have cared had we known he had long hair and flares; the beat and sound was all. Dance records were what we wanted. They were usually based on the classic Motown sound, but we veered off up many a dark musical alley. Soul revisionism didn't happen until the momentum and euphoria finally calmed down in the late '70s."
Croasdell went on to say how the recordings featured on 'Northern Soul's Guilty Secrets' have been "airbrushed from our musical history. These are the ones we've removed from the deejay box but left close to hand for that nostalgia trip."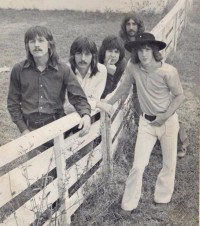 "Ten Miles High" was recorded in 1968. Remembered David Huff, "The band, that's me on vocals and guitar, Rayborn (Huff) keyboards, Clayborn (Huff) bass and Keith (Thibodeaux) drums, were signed to Rick Hall. He put us with the producers Jimmy Johnson and Roger Hawkins who were big at the time and had worked with acts like Aretha Franklin. We were a hard gigging band and the producers liked our demos so when we came to record we did four songs, 'Ten Miles High', 'Super Love', 'Rolling In My Sleep' and one other in a session which took two or three hours."
In his Northern Soul piece Croasdell wrote about "Ten Miles High", "I recently had a discussion about David And The Giants with a serious soul fan, who claimed their record's appeal was down to the Fame studio musicians and production. I'm sure that was him trying to justify his love of it. I think it's the way the group captured the essence and exuberance of young love that makes it." That serious soul fan will probably be dismayed to learn that there were no Fame/Muscle Shoals sessioners on "Ten Miles High". All the basic playing was done by the Giants with two exceptions, as David Huff remembered. "The horns were overdubbed at Muscle Shoals after we left and the strings were put on in Memphis. The other thing Jimmy and Roger added was the phasing effect which was a very new studio sound at the time involving a complicated set up of two tape recorders."
"Ten Miles High" was leased to Crazy Horse, a part of Capitol Records. When the single was released did David think it was going to be a hit? "Well, everybody at the record company said it was going to be a smash. As it turned out, 'Super Love' did better in the States. Years later I heard from someone that 'Ten Miles High' was getting some plays in British nightclubs but I didn't know what to believe. When we recorded 'Ten Miles High' we were all very naïve. Me and my brothers had been brought up in a Christian home but we hadn't really submitted to the Lord."
David And The Giants were actually formed in 1967 in Forest, Mississippi. For years they toured playing covers of artists like Yes and Jethro Tull. They were hardly bigtime though in the group drummer Keith Thibodeaux had experienced fame as a child actor. He had once won the hearts of America playing Little Ricky in the much loved TV show I Love Lucy from 1956 to 1959 and then starred as Johnny Paul (better known as "Opie's Best Friend") on the Andy Griffith Show from '62 to '66.
David Huff
In 1973 David Huff made a solo record, 'Glory Hallelujah'. He remembered, "I wasn't serving the Lord back then but I was going through some personal things and I ended up writing a kind of gospel song. MGM Records flew me to California to record it. You know it's strange that this thing about 'Ten Miles High' should come up now because I've recently been contacted by someone who'd got their hands on that song who told me how much it meant to them. God certainly moves in mysterious ways."
From 1975 to 1977 Rayborn and Clayborn Huff were members of a mainstream group called Magic but by the latter end of '77 David And The Giants had reformed once more and this time they were singing songs about the Lord. They recorded their first independent album 'Song Of Songs'. The album, in fact, included a new version of "Glory Hallelujah" as well as the song "Roll On", later covered by Wayne Watson. Their next independent album, 1978's 'This One's For You', featured the original version of the song "Noah", with a clever lyric about people mocking the builder of the ark until it began to rain. "Noah" went on to become a David And The Giants concert favourite. Other independent albums, 1979's 'Step In My Shoes', 1980's 'Almost Midnight' and 1981's 'Heaven Or Hell', followed but it was only in 1972 when Columbia Records' short-lived Christian music subsidiary Priority Records released the 'David And The Giants' album that the pop rock evangelists finally landed a label deal. Demonstrating their lack of research CCM magazine reviewed 'David And The Giants' as a debut album by a brand new artist. After another Priority album, 1983's 'Riders In The Sky', the band switched to Word's Myrrh label. Their string of Myrrh albums - 1984's 'Inhabitants Of The Rock', 1985's 'Under Control', 1987's 'Magnificat' - produced Christian radio hits like "His Love Lifted Me Up" and "Why".
The band's versatility was renowned with reviewers often tying themselves up in knots comparing them with everyone from Hall & Oates, Tommy James And The Shondells, Foreigner and just about every Southern rock band known to the critics. By 1988 David And The Giants had formed their own independent label, Giant Records. More albums, 'Strangers In The Night' (1988), 'R U Gonna Stand Up' (1989), 'Distant Journey' (1990), 'Long Time A Comin' (1992), 'Giant Hits' (1993), Angels Unaware (2005) and 'Dream' (2006), followed. David's daughter Kellye Huff also recorded some excellent music on Giant Records. But gradually David And The Giants were slipping from view with David Huff spending more and more of his time in the studio producing other acts and his own solo projects.
In 2000 Giant Records issued David's solo album 'Really' followed by 'Proclaim' (2004), 'Let My Guitar Talk' (2008) and 'Do You Know What I Mean' (2008). Sometimes confused with David Lyndon Huff, the drummer and producer who was once a member of the original lineup of White Heart before going on - very confusingly - to become a member of the band Giant, David W Huff continues to perform as a solo act and operates a recording studio near Atlanta, Georgia. The Huff brothers still occasionally perform together as David And The Giants and in 2007 they joined former drummer Keith Thibodeaux for a reunion concert in Monroe, Georgia. Apart from a visit to the UK in the 70s David And The Giants, have never played the UK. Said David, "This whole Northern Soul thing is utterly amazing to me. It just shows that God is the God of the unexpected. I would love to come to the UK sometime and I know the other guys would. I'd even be prepared to relearn the words of 'Ten Miles High'!"

The opinions expressed in this article are not necessarily those held by Cross Rhythms. Any expressed views were accurate at the time of publishing but may or may not reflect the views of the individuals concerned at a later date.
About Tony Cummings

Tony Cummings
is the music editor for Cross Rhythms website and attends Grace Church in Stoke-on-Trent.
Reader Comments
We welcome your opinions but libellous and abusive comments are not allowed.