Gavin Hand reports on the life and music of the travelling troubadour, DENISON WITMER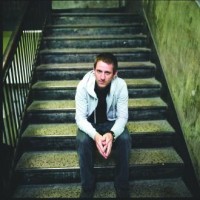 Denison Witmer
"I like to capture my songs really early. I think there's something really nice about capturing a song in its infant stage, because I feel like I'm willing to take more chances: let it make me, rather than the other way around." Pennsylvania-born Denison Witmer first ventured into music at the age of 16, after spending most of his time writing poetry. Buying a guitar after being persuaded by his older brother, Denison started what has been a lengthy and inventive career. His Mennonite upbringing has come through in his music, but only to a small extent; he generally bases his music on "life experiences" which range anywhere from the most minute detail to something incredibly tragic. After buying his first guitar, Denison sought the teachings of Don Peris. Peris, however, ended up playing a much bigger role in Witmer's career later in life. Influenced by Neil Young, Nick Drake and Leonard Cohen, Denison forged a compelling ambient folk sound that CMJ called "deceptively powerful" and Pitchfork said was "lavish but restrained." In chatting with Clara of Decapolis.com Denison described his music as "straight forward folk." He has a strange, erratic writing style that goes from simply playing guitar and "wrapping" pre-written words over the music by creating a melody, to quietly concentrating on what he wants a certain song to sound like before he even goes into a recording studio.
Denison started his musical career in 1995, by producing a cassette album 'My Luck, My Love' for an English project at school. However, he does not consider this as his "official debut" and it was to be three years before 'Safe Away' was released in 1998. The album was originally released independently by Denison and album producer Don Peris, but the album would be re-released that same year by independent label Burnt Toast Vinyl with whom Denison had signed.
2001 saw Witmer release 'Of Joy & Sorrow'. Denison intended this album to be "more accessible and straight forward" than the first and he thought that he "felt a little bit more tangible, a little less obscure." The album did not focus on personal problems that Witmer had at the time. It was not just "another record about breaking up with someone. It's not another record about losing that one particular person." The title for the album is based after The Prophet by Khalil Gibran, "Then a woman said, 'Speak to us of joy and sorrow.' And he answered, '. . . some of you say, "Joy is greater than sorrow," and others say, "Nay, sorrow is the greater." But I say unto you, they are inseparable.'"
After the album's release, Denison moved to Philadelphia and decided to record an album based on his experiences of moving to a big city. 'Philadelphia Songs', released in 2002, featured a lot of the Philadelphia talent who either played on the album or worked on designing the sleeve. Witmer and a friend carried bags filled with musical equipment into the ballroom of Philadelphia's downtown Ritz Carlton Hotel and asked the bartender to turn off the house music so he could "inspect" the grand piano. Witmer spent the next 25 minutes secretly recording to mini-disc, "You can hear bus people dropping silverware and dishes and people talking and stuff," he told Megan Holmes of Paste Magazine. 'Philadelphia Songs' was produced by Blake Wescott who previously worked on albums with Pedro & The Lion and Seldom.
After the critically acclaimed 'Philadelphia Songs', Witmer released an album full of covers. 'Recovered' was released in 2003 and two years later 'Are You A Dreamer', produced by Don Peris and his wife Karen, was released. Leah Greenblatt of Entertainment Weekly wrote, "His brand of happy anachronism is easy enough to fall into - if you can slow down long enough to enjoy it." 'Are You A Dreamer?' was another album originally released independently but was then re-released when Denison signed up with The Militia Group record label in 2006. On his 30th birthday in November 2006, Denison offered his growing legion of fans 30 downloadable tracks on a website to raise money for charities Partners In Health and Musicians On Call. The tracks were a range of acoustic covers of various songwriters as well as some of his own compositions.
While on tour in Germany, Witmer discovered that his father had been diagnosed with cancer. Denison rushed home to be with his father and to take care of him. "He was a real inspiration to me. He would get really bad diagnosis after really bad diagnosis and he could have given in to all that stuff." Denison decided to buy a house not far from his parent's home; he began to renovate it which took up most of his time. He told Paste Magazine why he did this, "It was a lifelong dream of mine to just buy a house that was kind of beat up and fix it up. I spent a lot of time fixing up that house, and that kept me occupied."
2008 saw the release of the album 'Carry The Weight' which was heavily influenced by his father's battle with cancer and the feelings that Denison had while he was taking care of him. The album was recorded and produced at London Bridge Studios in Seattle and was again produced by Don Peris. This was his last album released under The Militia Group label. When asked why he wanted to call the album 'Carry The Weight', he said, "I wanted it to feel like a hymn. I wanted it to be a repetitious refrain that kept reminding me that there are times in life when we must carry on even when we only have a vague idea of what we are doing."
Three years later, 'The Ones Who Wait' was released. This album was originally released under the Mono vs Stereo label but was re-released in 2012 by Asthmatic Kitty, the label owned by renowned singer/songwriter Sufjan Stevens, when Denison signed with the label. The re-release was discussed by Denison in an interview with Tony Cummings, "I got stuck in the record label limbo where I ended up signing to a label that had big plans, and then they didn't do anything with the record. I called them and said, 'Can I buy the album back from you and release it myself?' I put a lot of heart into it: I wanted people to hear it."
This year, on 6th May, Denison's 10th album was issued. The self-titled project has again released under the Asthmatic Kitty banner and was produced by Don and Karen Peris, who also feature on the album. Witmer recounted, "One day I put out an album, and then I was packing up my car and going on tour. Then 10 years in, I was still doing the same thing." The song "Constant Muse" is about those first years: "I think it's the most direct song on this album, about deciding to keep doing something that chose me, rather than I chose it - and now, choosing it." The songsmith spoke about his philosophy about music making, "For me, music's always about the process. It's not always about the final product; it's more about the journey. I feel like people draw their own conclusions [in regards to my music]. My songs change meaning to me over the course of my life. I started writing music when I was 19; I'm 35 now. I sometimes play songs that I wrote in my early 20s and I hear them as a 35 year old - different worldview, different life experiences. I think, 'These lyrics apply to my life in such a different way than what I meant when I wrote them.' Those are always the songs that stand the test of time. They also teach me that someone else may have heard it this other way - and I like that."
With such a large repertoire of compositions, Witmer is particularly adventurous in his live concerts. He said, "I go through phases where I get bored of writing a set-list. So I take my CDs, put them upside down on the stage in front of me. I'll play a song and I'll look at my CDs and think, 'What do I want to play next?' If I see something that strikes me, I'll play that one." Recording-wise, Witmer's approach is simple at best. He has been compared by Sojo Music Interactive to '70s-era singer/songwriters Cat Stevens and Nick Drake, because of how he writes his music and because of how he records it. "I love home recordings, but I've been recording enough now I don't feel that much pressure in front of a microphone." Denison has expressed, however, his willingness to embrace modern technology and modern culture. "I want to change with the culture; I want to change with technology: I don't want to become antiquated. But if it changes the way that I can make money for my family, I need to figure out if I want to do it for a living."
Denison Witmer is a man who is really driving the folk/acoustic music scene forwards. He summed up his approach succinctly. "The undercurrent through most of my records is that encouraging voice to, when you're troubled, find hope and get through it."

The opinions expressed in this article are not necessarily those held by Cross Rhythms. Any expressed views were accurate at the time of publishing but may or may not reflect the views of the individuals concerned at a later date.
About Gavin Hand
Gavin Hand
is currently studying music journalism at Staffs University.
We welcome your opinions but libellous and abusive comments are not allowed.