Monday 20th November 2006
Tony Cummings reports on DORINDA CLARK-COLE gospel diva supreme and member of The Clark Sisters.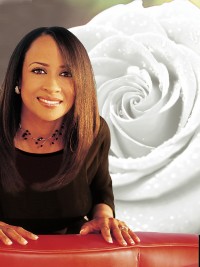 Dorinda Clark-Cole
In March EMI Gospel will be releasing the 'Reunion' album by The Clark Sisters. This album recorded live in Houston will be full circle for Twinkie (Elbertina) Clark-Terrell, Jackie Clark-Chisolm, Karen Clark-Sheard and Dorinda Clark-Cole who after their batch of groundbreaking albums in the '70s and '80s successfully forged out solo careers. For 'Reunion' is a swan song for the Detroit sisters whose '80s classics like "My Redeemer Liveth" and "Is My Living In Vain?" and their crossover R&B chartmaker "You Brought The Sunshine" were highpoints in gospel music history. Now, after a 12 year break, the living legends are regrouping for a final album. Talking about the decision Dorinda Clark-Cole told Christopher Heron, "I think we never wanted this recording to be the last time. But God has really empowered us to go to other levels of ministry and we're not getting any younger. I think it's in every group that there is not a break-up but a time we call separation when you just move on in life. To go to new levels, change must take place. The Clark sisters will never ever break up. They will always be together. Our mom taught us that when we were kids. There will never be a separation between us. We grew up to be a close knit family. There were times when we would separate in different seasons of our lives but God always has a way of bringing us back together. This is what I love about what God is doing with us. Not only is he using us collectively to impact the world, but he uses us individually to impact the world in so many different ways. When we come together, we can really try to help many people as we see them. But when we are separated individually, God could also use us to reach even more people in our individual settings and that is what God is doing with us, which is so unique."
The final Clark Sisters project is a mix of new and old material. Said Dorinda, "Having a phenomenal producer with Donald Lawrence, who is one of our favourite producers, was fantastic. We were so honoured that he was able to do it for us. He's brought all of our old hits back and songs that we didn't even remember. It's really exciting to know how Donald pulled this together and it took on a whole new life, this project. We are really happy about that. Twinkie wrote songs, I wrote a song, Jackie wrote a song. So we all contributed on a whole other scale. And this is what I'm talking about, as far as God taking us to different levels. Because before, it was Twinkie who would do all the writing and now, it just shows we're all individually writing our own songs."
As any self-respecting gospel fan knows the Clark Sisters are part of a dynasty that began when their mother Mattie Moss Clark commenced recording the first of more than two dozen albums with her various choirs and ensembles and in the process clocked up major gospel radio hits like "Lord, Do Something For Me", "Salvation Is Free" and "Climbing Up The Mountain". Although the gospel matriarch died, aged 69, in 1994 she still exerts a huge influence over the group. Said Dorinda, "We hold the legacy of our mom forever. She is the one who helped us achieve what we have today. We will never forget that. And of course, we want to pay tribute to her as well. I think our fans want to see us as we are. And, as you know, sometimes it upsets fans if you do something really crazy so that's not what you're going to hear. You're going to hear us as we are. I mean, when you hear us, you're going to hear some early '80s, you're going to hear some of the '90s, you're going to hear some of the new millennium, just variations from where we were up until now. I would say it's going to be a homecoming. A lot of our fans from mainstream came to the recording. They remembered us when we recorded 'You Brought The Sunshine'. So, there's not going to be a lot of change. We'll just be more up to date with the sound of today.
"My brother-in-law, Pastor J Drew Sheard played a very, very important role in this recording because he's the one who pitched the idea to us to record together. We really didn't consider doing another recording, at least not right now but when Pastor Sheard had pitched the idea to us, it was like, 'Oh my God! It would be a perfect opportunity.' And thanks to the leadership of the Church Of God In Christ, Pastor Sheard asked Bishop G E Patterson if it would be okay for us to do this recording during his term in the office, as chairman. For Bishop Patterson to give us this opportunity, it was an honour. It felt so in place. The timing and place was perfect because number one, it is our church. We are products of the Church Of God In Christ. Church Of God In Christ is just our heritage because it all goes back to my mom. That's where the foundation was for so many of today's artists. So it's really bringing it back to our foundation where the Clark Sisters started from."
Dorinda was born in Detroit in October 1957. Today Dorinda is an executive with the Church Of God In Christ. Some years back though denominational struggles had a devastating effect on the singer. She explained, "I had to go through a court situation dealing with church. Somebody was coming after me - although it was something that I did not do. It was something that had to do with the business that I had nothing to do with. I was put in the middle of it. It was a personal vendetta. It made me feel very disillusioned, very betrayed, because it involved a conflict between Christians. I was raised in church and somehow I didn't think this kind of conflict would take place in my life, because I knew God. It was a terrible challenge and it helped me to see that anyone can have challenges that can cause you to say, 'I don't understand this. Where is God?' I felt like God had left me, and I was very close to attempting suicide. My pain was that severe. I share this story because I want people to understand that we all go through situations we can't handle - only God can help us, only he can be the source of our light, our joy, our inner peace. There on that highway, I sensed him saying to me, 'Are you going to let everything I've invested in you go down the drain?' He stopped me before death took me. His grace pulled me back and I want people to know that you don't have to let your problems take you out. God is greater than these problems. A lot of my songs come from that ministerial standpoint."
While scouting around for a solo recording contract Clark-Cole recorded some tracks with the Alaska Mass Choir. JDI Records released that project in the spring of 2002 which didn't exactly bless Gospo Centric who had signed Dorinda and were planning a big push for her 'Dorinda Clark-Cole' album. They needn't have worried. With J Moss (the Clark Sisters' cousin) handling some of the production, 'Dorinda Clark-Cole' was a fine mix of contemporary R&B gospel and traditional COGIC style rave ups and such radio hits as "I'm Coming Home" and "I'm Still Here" took the album to number five on the US gospel chart and was named Female Vocalist Of The Year in the Stellar Awards. Her next album was 'The Rose Of Gospel: Live In Houston'. She told Andrea R Williams, "One song in particular on that album that I love is 'I'm Out And Over' which is a part two of 'I'm Coming Out'. And that particular song includes a preaching CD as well. It's actually me talking about the thing that I was going through at the time of 'I'm Coming Out'. I wasn't able to sing it until I came out of it and to know now that I'm really out of it and over it. It was the thing that really preceded me contemplating suicide."
As well as being a phenomenal vocalist Clark-Cole is also a wife, mother of two, executive with COGIC, CEO of her own Lifelines Productions, administrator and instructor at the Clark Conservatory Of Music (founded by her mother) and co-ordinator of the Conservatory's annual Singers & Musicians Conference targeted at those striving to enter the gospel music industry. A song on 'The Rose Of Gospel' came directly out of Dorinda's Conference involvement. "One song in particular that I love is 'Everything That God Promised'. It's a song that I got from a young man that was in my conference. He won the conference and I wanted to use the song to propel this young man forward. So he's actually singing with me. That's why that song is so special to me. In my conferences, I relate to young people who are trying to make it in the music industry. That's what my conference is all about - pulling the young people forward and passing the torch to them. It's really special to me."
With so many strings to her bow Dorinda is continually asked how she keeps up such a punishing schedule. "It really is God helping me. If I didn't have the strength of God.it's really like a supernatural strength that God gives me. I'm a mother and a wife; my husband is very supportive of my ministry. I also have my children; my daughter travels with me. She understands the role of mother and she assists me as does my son. My administrator and my pastor at my church are really there for the spiritual support. And I have to be at home; I have to have that connection locally. I have to be involved in my ministry. God helps me keep it all together."

The opinions expressed in this article are not necessarily those held by Cross Rhythms. Any expressed views were accurate at the time of publishing but may or may not reflect the views of the individuals concerned at a later date.
About Tony Cummings

Tony Cummings
is the music editor for Cross Rhythms website and attends Grace Church in Stoke-on-Trent.
Reader Comments
We welcome your opinions but libellous and abusive comments are not allowed.