Tony Cummings reports on the Alabama-raised singer on the Cross Rhythms playlist DOROTHY SAVAGE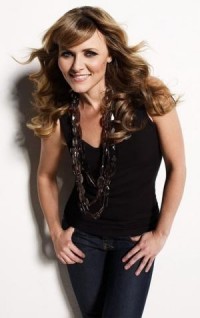 Dorothy Savage
The debut album of Alabama-bred Dorothy Savage has already produced the Cross Rhythms turntable hit "As Long As It Takes". Anyone seeing the fluorescent pink sleeve of Dorothy's 'Glorious Mess' album might expect a set of throwaway pop fluff. In fact there's a tough rock edge to some of Dorothy's music. And anyone expecting an album of saccharine love lyrics will be impressed with her song "Finally Live" which deals with her own experiences of overcoming a serious eating disorder. Clearly there is more to this vivacious blonde singer than first meets the eye. Even Dorothy's childhood was a long way from Pretty In Pink indulgence. She told broadcaster Mike Rimmer, "My father is this Grizzly Adams adventuresome type. He always had these fantasies of living in log cabins and having his four children adventuring and hunting for their food. He thought it was great fun. We bought a piece of land when we moved to Alabama and we lived in this huge Army-style tent while we cleared the land. Once we built the house we moved into it even without running water or windows. It was interesting!"
Dorothy's upbringing may have lacked some urban luxuries but hers was a particularly happy Christian home. She recalled, "My parents raised us in a Christian home, they both loved the Lord. My mother in particular was a huge influence in my life. I just remember watching her. She'd have these hours and hours of long prayer time. She'd wake up at three o'clock in the morning, and we'd wake up and she'd have a tear-stained face from praying. It was very evident that the Holy Spirit was in her. When I was four, I was at home with her all day while the other kids were at school. I remember hearing the Holy Spirit at a very young age. It may sound strange but even as a toddler he was my invisible friend. One day in church when the pastor said you have to say a particular prayer to become a Christian I knew it was true. At home, I was in the bathtub when I said, 'Mum, I want to pray this prayer because I know Jesus is real.' We knelt down in my bedroom and my mum helped me pray the prayer. It was as real as can be and I've never looked back."
Dorothy's home was also one where there was plenty of music making. "My mother played guitar. That whole side of my family is very musical. We grew up singing and at family reunions all four children stood up there, and we'd sing The Sound Of Music and mum would play. My mother had this gorgeous, stunning soprano voice. She grew up singing all over the north, where she was from, and her whole family sang. Her father played every instrument under the sun. I grew up in a home where that's just what we did - we sang. My father's side of the family, his mother used to be the opening act for a famous burlesque performer, Gypsy Rose Lee. I come by music naturally."
At the age of 13 Dorothy's happiness was suddenly shattered when her mother contracted cancer. "I was the baby and my older siblings were growing up and moving out of the house. I pretty much became her full time caregiver. She continued to have cancer on to my junior year of college, when she finally passed away. I was not angry at God. There were times when I was broken-hearted, and I questioned. The Holy Spirit just took care of my heart and continually reminded me that he was in control. She was so ill by the time it was over I was thankful she could have comfort in the end and go and be with the Lord. I didn't get angry then; I questioned, but I didn't get angry."
But there were ramifications to Dorothy's mother's death in the life of the time. Recounted Dorothy, "I was always a straight-A student but no one ever put that pressure on me, it was self-imposed. The eating disorder, bulimia, manifested as a way to have something that was mine, a control issue. I will say that through college, when my mum passed away, it really took root and I went to a couple of treatment centres, and counselling, those kinds of things. Every time they would tell me, 'This is something you're going to live with for the rest of your life. You can learn to manage it.' I went back to the Scripture and I said, 'That's not what God said.' It said he will deliver me completely and fully, and he did, but it was a process. If there's one thing I tell men and young women that are struggling with thi, it's, 'You have to be content with a process, and you have to be patient with yourself.' It is not an overnight thing. It's little baby steps, and it's 10 steps forward, two steps back, two steps forward, 10 steps back. I fed myself with Scripture, moment to moment. I had bulimia. Sometimes I would go two hours without having an episode, then I would go for four hours. Then I would go two days and I'd have an episode, but I'd give myself credit for those two days. Glory to God for giving me that strength. Today I am a completely healed and delivered woman from that and it's because of the Holy Spirit, grounding myself in Scripture, accountability, being honest about it and telling my family and getting help."
Graduating high schools with honours, Dorothy subsequently applied for and got a scholarship to study music at the University of Mobile. She got her degree in three years with her sights set for New York. "I was totally green and clueless with no training in theatre! After a year of working at our local bank - where the joke was I was out of balance every day - I sold everything I had and boarded the Amtrak for New York with $7.00 and a packed lunch. New York was very tough on my first attempt! It was very hard to find work in theatre and I ended up ultimately going back home to Alabama - discouraged momentarily, but not defeated, and definitely determined to go back."
The trip back home held a priceless treasure. "I was working in admissions at the University of Mobile, endlessly planning my next assault on New York, when one weekend around the holidays I decided to take my sister's kids to a Christmas parade in the little town of Fairhope, Alabama. I was standing there watching the parade when from across the street this attractive guy, Phillip Savage, came over to say 'hello'. This was a miracle in itself as I found out later how shy he is and how totally engrossed with football! I also later learned he was there with his parents on a weekend at home from his work with the Baltimore Ravens and had randomly decided to come to the parade with them, and that he knew immediately I was 'the one'.! The way I met my husband and the kind of man he is is a tremendous part of my testimony on how God healed my life."
Dorothy's career in the theatre began to take off and she was involved in national tours, performing in cities like New York, Philadelphia and Baltimore. She said, "I had been in the secular environment as regards performance for a while, and I just felt like God had blessed me and allowed me to go and do these things that I loved and really enjoyed. I just felt a hunger to give an offering to the Lord. I wanted to have a chance where I could say "Christ" from stage, that I could speak out boldly about my faith. I started to pray and God began to open doors and that's how I hooked up with Marty Magehee."
Throughout the '90s, until they retired in 2006, 4Him, the vocal group fronted by Marty Magehee, were regular CCM hitmakers. Now Magehee is making a name for himself as a record producer. On Dorothy's album the son of Michael and Stormie Omartian, Chris Omartian (Rubyz, Atomic Blonde) produced two songs. The others were produced by Magehee while high profile songwriters such as Chris Sligh, Dan Mukala, Jill Philips and Cindy Morgan contributed their talent. Working with Magehee and Omartian was a thrill for Dorothy. She enthused, "Marty has such a profound influence on me. He's an incredibly Godly man. He has an amazing repertoire as far as his background in music, but we were feeling it out when he came in the picture and feeling out how we wanted the music to go. It was a really wonderful, fluid relationship. By the time I got to Chris, I really knew the sound I was going for and I wanted something more edgy. I wanted something a little more raw which I thought would fit my vocals better. Chris got that and we just meshed. I'm really thankful because I think the pieces that Marty produced say, 'We are in church on a Sunday morning'. Those are really good things to do in that tough environment. The tracks Chris produced, 'As Long As It Takes' and 'Finder Of The Lost', speak to that rawness, and they're great for concerts and they speak to the truth of where I like to go musically. For the first project, there is a lot of learning. I think God can use both styles."
There is a definite autobiographical undercurrent running through 'Glorious Mess'. She said, "I am a 'glorious mess' with raw edges and a mountain of imperfections! However, I came to realise that Jesus loves me because of these things - rather than in spite of them. It was a beautiful moment of revelation in my life! I came to realise God not only can look beyond our weakness, he can look beyond our perceived 'strength' and give our hearts a place to rest. I hope my music will encourage others to find that place."
Dorothy continued, "In the song 'Finally Live' I talk about my struggle with an eating disorder and how it had a hold of me and then the release that the Lord gave me. Healing is a process. When I found him I truly could live. Even though I already knew him I was coming back to him in a fresh, new way and receiving healing from him."
Shortly after the release of 'Beautiful Mess' Dorothy released a second independent album, the Christmas project 'Sleigh Ride'. She said, "I have always wanted to record some of my favourite Christmas songs that just make you get all sparkly and warm inside. I chose some of the songs that mean the most to me mostly because they just remind me of the sweetness of Christmas, the innocence of it all and of course the baby Jesus. To me 'Sleigh Ride' is about just enjoying the season and the holiday with full out joy. From the sacred worship of Christ to the hanging of lights and giving gifts to the ones we love. There is something for everyone on this album from traditional carols to a new spin on the trippy title track."
The concerts that Dorothy now plays are making a particular impact on women. On stage the singer courageously talks about her battle against bulimia and her fight to overcome the two losses through cancer of her mother and her elder sister - who died three years ago. Said Dorothy, "My manager constantly tells me that he's proud of me for being vulnerable. I'm just so ridiculously thankful for being healed of this eating disorder, and surviving and coming out on the other side of losing my mother and sister. The main issues I've faced are very sensitive to women. However, I would say that the Devil wraps up one lie, and that is to separate us from Christ. You have sin in a package that looks attractive to you. Your package may not even tempt me. Mine was an eating disorder. Some people struggle with pornography, unfaithfulness, drugs, alcohol... all these things. When I share that particular part of my testimony, in my ministry, I find that's something men and women alike can relate to because we all can be deceived by things that we struggle with. It's all just one central lie, and that's to separate us from Christ. The only way to defuse that bomb, that lie, is Scripture and the Holy Spirit and the Saviour Christ. When I do concerts with mixed audiences they completely respond to that."

The opinions expressed in this article are not necessarily those held by Cross Rhythms. Any expressed views were accurate at the time of publishing but may or may not reflect the views of the individuals concerned at a later date.
About Tony Cummings

Tony Cummings
is the music editor for Cross Rhythms website and attends Grace Church in Stoke-on-Trent.
We welcome your opinions but libellous and abusive comments are not allowed.