We ask bands and soloists to pinpoint their most memorable live performance. This issue John Prockter of West Country rockers ESCAPADE reminisces about a gig in Crealy Park, Devon.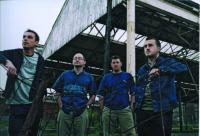 We agreed to do the gig in partnership with South West Youth Ministries to publicise their summer camp activities. I don't know if you've ever played a gig yourself or even been to Crealy Park for that matter but what we achieved on that evening was quite special. SWYM hired Crealy for the evening and invited young people from all over the Southwest to come and see us and hear about camp. During the day we had all of them just in the park but when we got there we found out we weren't able to set up until the park closed at 5.30! We still had to set up the gig, keep all the kids together and be ready for 7pm. All systems go, we had one hour and a half to get ready and 600 young people literally waiting to come in at the door! We had a big stage to set up, the PA, video screen, projector and sound check. needless to say we were sound checking while people were coming in. Martin our bassist had injured himself playing football and had to play the gig whilst sat on a stool! It was gutting for him because 600 people crammed into a hanger is quite an amazing site. The crowd was awesome, and the mosh pit was something else, but my favourite moment of the gig was hearing them singing along to a couple of our songs. Whether they believed in Jesus or not in those few minutes perhaps they were open to him and singing his praise. I think that anyone who plays, sings or gigs would agree that the most humbling thing of this ministry is spurring people on to worship God, and perhaps also realising that as good as you think you are, you're not half as good as the spirit working through you.

The opinions expressed in this article are not necessarily those held by Cross Rhythms. Any expressed views were accurate at the time of publishing but may or may not reflect the views of the individuals concerned at a later date.
We welcome your opinions but libellous and abusive comments are not allowed.