Thursday 11th October 2018
Tony Cummings spoke to Shane Carroll, provider of screams and clean vocals for metalcore's FOR ALL ETERNITY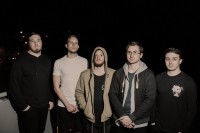 For All Eternity
Any metalhead will know that Australia has long been an epicentre for hard music. AC/DC are considered prime originators of hard rock and metal, while in the Christian scene Mortification and several others have made an impact with churchgoers around the world. In 2015, America's Facedown Records released the album 'Metanoia' by a band from Sydney, For All Eternity. It proved to be a success, climbing to 23 on Billboard's Christian Albums chart. After that, though, fans had to wait, if not for all eternity then two and a half years until the splendid follow-up 'The Will To Rebuild' was released. Writing about that project, a Cross Rhythms reviewer enthused, "Crisp screams crackle with intense passion and set up a high point of aggression on what is a recording that reveals more detail with every listen. A common criticism with music at the heavier end of the musical spectrum is a lack of variety, but with elements of light and shade, For All Eternity have put together an album that distinguishes them from the crowd."
The band - Shane Carroll (vocals), Michael Buckley (drums, vocals), Jeremy Mosiejczuk (guitar), Nicholas Page (guitar) and Scott Dibley (bass) - began life in 2008. Shane Carroll talked me through the band's past and present. I began by asking him whether he felt For All Eternity were part of Australia's rich hard music history. He responded, "Absolutely. When you look at it, Australia has a pretty rich history of exporting a lot of really massive rock and metal bands. Some of the biggest bands in the world are from Australia. Obviously, our country is quite big but our population is really low. So the heavy music scene is very tight knit; everyone seems to know everyone else. There is definitely a sense of community here. And it's a pretty big deal when bands in Australia start to make waves overseas."
For All Eternity's first studio album, 'Beyond The Gates', was released in tandem with Australian labels Shock Records and Taperjean Records on 24th August 2012. Said Shane, "'Beyond The Gates' was a concept album which was basically start through to finish about salvation. So a man who had no direction in his life, was quite hopeless, actually coming to a place of having faith and understanding what Jesus did on the cross for us and finding salvation through, I guess, battling his own demons which I think is a really great record. Each track flows into the next one really well. It's a really great journey that the record takes you on."
It was to be another three years before the band recorded the album which has been described as their "masterpiece". Shane recounted the thinking behind 'Metanoia'. "We felt 'Metanoia' was our more commercially comfortable record. A few of the songs - 'Break Of Dawn' sticks out for me right now - deal with battling with inner demons and things of that nature: different messages that creep into your mind that don't align with one which a hopeful person would have, and a faith-filled person would have. Our band was taking a bit of a break from touring and things of that nature and it sort of became crunch time to do something with this record that we'd been working hard on. In the year leading up to it, we'd developed a good relationship with the band Saving Grace, which were a band on Facedown Records at the time. I reached out to their guitarist Vasely Sapunov. He's a good friend of mine. I basically said we'd put such work into this record, this is our masterpiece and we really want this to be released on a platform that can help us reach more and more people, more so than just our Australian audience, we want to reach beyond that. Sure enough, he heavily endorsed the record and pitched it to the label as well as we did and the label said they loved it. They loved the sound; they loved the message behind the record."
Shane continued, "'Metanoia' by definition is transformative change of heart, which is a really powerful happening in someone's life. It's an amazing word that's multifaceted. It can conform and adapt to different people's life circumstances. There's definitely a relatability about it."
Off the back of the 'Metanoia' album, the band were able to play their first US gig at California's Facedown Fest. That particular gig left a vivid impression on the band. "It was such a surreal experience. We were literally on the other side of the world, in a room full of people screaming our lyrics back at us. It was honestly so surreal. I vividly remember it. It was one of the greatest moments we've ever had as a band, to have that experience of playing in the States for the first time."
Despite the success of the 'Metanoia' album, there wasn't enough traction for the band to give up their day jobs. Said Shane, "We all do have individual jobs. Easily enough for our guitarist, he is a producer so he works with bands and records music and things like that. So it's nice and easy for him. But yeah, each of us has their own little day job. For me at the moment it's not a very demanding thing, we're primarily focused on writing and releasing music which in many ways is the way the industry has gone in terms of the music scene. In terms of touring, Australia is a relatively small market so we only do tours of Australia once every couple of years, if that. Our days of touring until we've got no skin left on the soles of our feet - it's not the right way to go about things anymore in the music industry."
Shane is very pleased with the diversity of sounds demonstrated on 'The Will To Rebuild'. He pondered, "You know how an artist approaches the canvas to do a painting and how time grows that process and thought pattern and everything. I think we're a band that has constantly been honing our skills, writing much more mature music as we mature in our craft. I know that I personally in my heavy vocals have become a lot more diverse in what I can do and how I deliver my voice in many different ways. It's great to see a progression through records; it's really gratifying to see how you've grown throughout the years."
On 'The Will To Rebuild', there is a diversity of vocal approaches. Shane explained, "Our drummer Michael does clean singing, although on the latest record he does some screaming and I do some singing. They are more sort of interwoven rather than a cold contrast." Many of the lyrics on 'The Will To Rebuild' emanate from Shane's personal traumas of the last couple of years. He explained, "In September 2016, I split up with my wife under really dire circumstances. It brought into question whether I wanted to live or not and it took me to a really dark place, wrought with emotion, unable to function on a day to day basis; battling with self-worth and not understanding where my life is leading and how I should be leading. The track 'September' as well as 'The Vacated' and 'Fallout', a lot of these tracks are central to the devastation that was brought upon my life with the destruction of my marriage."
Shane found a level of healing in the recording of 'The Will To Rebuild'. "I couldn't be more thankful for this art form that I have at my disposal. I remember right in the thick of it, I thought about what I wanted to do with myself. A lot of people are just looking for a solution, an answer to numb the pain. A lot of people I've spoken to who have dealt with similar things have turned to drugs or alcohol or sex, any sort of worldly vice that can temporarily numb the pain or take you to a place where you forget. My therapy and my escape was to write; I poured my heart out on paper. I poured my heart into the performance on this record. In all ways I think the record was used as a means to save my own life. I feel like the record exists as a testament to my survival through what is and has been definitely the hardest trial I've ever faced in my life. So to God I'm thankful."

The opinions expressed in this article are not necessarily those held by Cross Rhythms. Any expressed views were accurate at the time of publishing but may or may not reflect the views of the individuals concerned at a later date.
About Tony Cummings

Tony Cummings
is the music editor for Cross Rhythms website and attends Grace Church in Stoke-on-Trent.
We welcome your opinions but libellous and abusive comments are not allowed.