Tony Cummings reports on one of urban music's most enigmatic talents, GEMSTONES
Gemstones
Gemstones, otherwise known as Demarco Castle, is a rapper and R&B singer from Chicago who is still to get well known in the gospel rap world but in the mainstream has forged quite a reputation as one of the finest urban music talents of his era. As a teenager the young rapper and singer came to the attention of the then unknown rappers Lupe Fiasco and the late Stack Bundles. In 2001 Fiasco signed Demarco to his 1st & 15th label and when in 2006 Lupe's debut album 'Lupe Fiasco's Food And Liquor' was released, Castle was featured on five tracks. In 2007 Castle released the first single from his debut album 'Troubles Of The World' and after the release of 'Lupe Fiasco's The Cool' Demarco, by now emceeing under the name Gemini, was touring extensively. Later that year Gemini's 'Troubles Of The World' was released to much praise from hip-hop fans. But then in 2008 Gemini, who had been forced to change his name for legal reasons to Gemstones, released a mixtape in the series Fahrenheit 1st And 15th, 'The Testimony Of Gemstones'. The mixtape attracted wide interest but it was the next one, 2010's 21-track 'On The Road To Glory: My Story', produced by superstar Kanye West, with its specific gospel content, which shocked his fans. In 2012 Gemstones released another mixtape 'Elephant In The Room'.
In an interview with Martin Bauman the rapper/singer spoke about his spiritual journey. "I just think about how God has been [with] me since I was a little boy. He's always been in my corner. Because even after my friend died, I remember when I saw things going on, when I was out here fornicating in the world and doing bogus stuff that I had no business doing. . . I would always hear God in my heart, talking to me, telling me, 'Yo, this is not you, stop. You don't wanna die in sin.' And I'm not putting my beliefs on no one else. This is just what my belief [is]. Even when I was out here [as] Gemini, with the braids, drinking and smoking and cursing. . . I knew deep in my heart [that] there was something deeper. And my soul yearned for something more than these tangible things that I was receiving, because I didn't find happiness in money. I didn't know that I would wake up one day and be making songs like 'XL' and 'You Gotta Believe (Never Give Up)' and 'Skeletons'. I thought, if it was left up to me, as a human, I would have still been making songs like 'shoot 'em up, bang bang', 'Bustdown' and just negative records. But God - and I don't mean to get spiritual, forgive me if I'm getting spiritual and churchy - [there] has always been a calling in my life, I just know it.
"That's how the album 'Road To Glory' came about. I still don't know the words to 'Road To Glory'. And [that album] came out in 2010. But I'm saying [this] to say that it wasn't me who did it. I was just being used as a vessel. Because once 'Road To Glory' was done, I didn't even know any of the words! Of that entire album, I [knew] none of the words. I still don't know the words to 'Where Would I Be'.
To this day, if you told me to rap the song 'Where Would I Be' right now, I could not rap it."
The rapper continued, "There's this song I've got called 'Deeds'. Every time I perform this song, I get to a certain part [and] I stumble on all my words. My last show, I paused and had to let the crowd sing it, because I didn't know it. And it's not because I don't want to know [my songs], it's because it's God showing me that 'Dude, it wasn't you that wrote these lyrics. I just used you to deliver the message. These are my words.' And I get emails every day, all day, from people. Grown men and women crying, and dude, if you go to my facebook page right now, someone just left a message on my page and said, 'Dude, I was about to commit suicide. But I heard your record 'Time' and I heard you say something else.' He was like, 'I was suicidal, I was ready to leave. But thank God for you, Gemstones, [and] this music that you're doing. It gives me hope to live another day.' And that's more than dollars could ever do for me. I mean, it's priceless. . . And you have to know, I get these types of e-mails all the time. This one dude was 500-some pounds [and] he's down to like 22 now after hearing my song 'XL'. He's lost all of that weight!
"There were girls that were being abused in their homes, raped. . . I get emails [telling me], 'You freed me. I was able to free my skeletons, because of these songs that you're making. Thank you.' And I just want them to know, it's not me, it's God. I just allow myself to be used. I'm not rich right now and I just feel like, man, if I was rich and famous. . . had I got rich and famous back in 2006, I know for a fact that I wouldn't be what I am now. I wouldn't be in this mind state. I would have sold my soul. Because in 2006, when I was Gemini, I was trying to sell my soul. I wanted the glamour, the glitz, I wanted to be rich. I wanted to do songs with Jay-Z. I wanted to do songs with all the biggest artists. And I [didn't] care what it took for me to do it, I was gonna do it. Whatever it took for me to get a Benz at that time, [or] a mansion. . . I would have done it. And I was selling my soul.
"But God had a different plan for me. So right now, no, I'm not rich in the pockets. But I am rich in the soul. People come to my shows, and it's not a performance. I don't know what to call it. It's an experience. We've got people at my shows that are drinking and drunk and getting ready to go fornicate, and by the end of my show, it's silent. You could hear a pin drop. Everybody's in there praying before we leave. And don't get me wrong, it's not church. But I'm just like, 'Yo, do you guys pray?' And everybody says, 'Yeah, we pray.' So I'll say, 'Before I leave the stage, can we just pray that we all make it home safe? I know there's some people in here going through stuff, because we're human. You feel what I'm saying? We're human. You laugh, you cry, you hurt, you smell, you use the washroom. . . I know that I'm not the only person with problems. Y'all [are] here to see me perform, and I still [have] problems. So I know there [are] y'all out here in the audience with problems. So can we pray?' Boy, I'm talking about [even] the bartenders that are back there making money off the bar. . . Everything stops. It's quiet. The music stops [and] everybody's in there praying. Crying and praying.
"I get offstage and then the next artist goes on, and they're looking like 'What the hell? What is this?' He doesn't even know what to do because these people are on a high now. Their souls have been touched. And then [he] gets up and he's talking about some 'Shawty let me hit you in the butt, let me have sex with you. . .' I've just got off there and given the listeners a message. So it's kinda hard to go [after] me."
Gemstones has been at some pains not to get his music labelled gospel. He told Bauman, "I'm still trying to figure out [what to call it]. There's no title for the music that I do. And this is honestly speaking. There is no title. Because gospel. . . it boxed me in. And for some lost kid that's drinking, smoking, high. . . let's just say your average teenager who needs to be reached. [He's] out here listening to Gucci Mane, and he keeps a gun on him at all times, and he's shooting and killing. Let's say he steals a car. And there's CDs in the car. He's high and drunk. He's never heard of me. And he sees a CD that says 'Gemstones - Gospel', do you think he's gonna put that in? Or if he sees a CD that says 'Street Music Vol 2'. I'm just saying, which CD do you think he's gonna throw in that deck, Gucci Mane or gospel? Jay-Z or the gospel?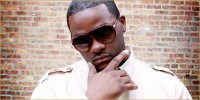 "I have a message, just like Gucci has a message. But my message is to heal [the kid]. He doesn't know that the message on that CD is to heal him, but now he can't get cured, because of a title. So he throws the CD out the window. He never gets cured from it, he rides up the street, gets into a shootout with the police, [and] he dies. Whereas if there was no [gospel] title on it, he puts the CD in, and he rides like, 'Ohh, this dude can spit! What is this? Oh, I'm going through that [situation].' And it changes his whole outlook on things. And he parks the car, like, 'I'm finished," and goes "who is this Gemstones dude?'
"With the title 'gospel', there's a lot of people that need the message that won't be able to get it, because I have the word 'gospel' on it. So if I take that word 'gospel' off, and stop boxing myself in, the message will reach the masses. It will reach! So, you're telling me the only reason that [people] didn't hear my song was because it was gospel? Let me take that title off. I still love God the same, [and] God still loves me the same. Am I going to Hell because it doesn't say gospel music? Of course not. I'm too big to be boxed into a title, and what I do is not hip-hop either. I'm still trying to figure out what it is that I do. 'Road To Glory' wasn't gospel. I mean, for example, I was able to go into a church and perform 'Road To Glory'. I was [also] able to go into the ruggedest club you know and perform 'Road To Glory'. This happened for real! During the daytime, I'm at a church performing 'Road To Glory', and at nighttime I'm at the dirtiest club in the city performing 'Road To Glory'. Everybody gets the gig. But if it's gospel music, the club ain't gonna book me. You feel what I'm saying? Only the church will book me. And then if I got secular music, the church ain't gonna book me, 'cause that ain't what they do there. You take that title away, and doors will open up for you. So that's what I did. I'm too big to be boxed in. I mean, I may want to wake up and write a country song Wednesday, but I can't because I'm a gospel artist? I may want to do a rock and roll song, but [if] I'm gospel, I've boxed myself in."

The opinions expressed in this article are not necessarily those held by Cross Rhythms. Any expressed views were accurate at the time of publishing but may or may not reflect the views of the individuals concerned at a later date.
About Tony Cummings

Tony Cummings
is the music editor for Cross Rhythms website and attends Grace Church in Stoke-on-Trent.
Reader Comments
We welcome your opinions but libellous and abusive comments are not allowed.