Tony Cummings spoke to Arizona's Anthony Bartimioli, now known to Cross Rhythms listeners as rapper HNST-T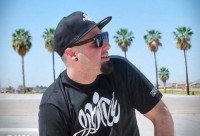 Hnst_T
Now that the Christian hip-hop scene has well and truly exploded, and there are literally thousands of gospel rappers dotted around the globe making recordings, doing gigs and striving to get the attention of the streaming generation, it's a considerable feat when a low-budget EP makes it to the heady heights of the Cross Rhythms playlist. But that is what has happened to Arizona-born, California-raised hip-hop artist Anthony Bartimioli, who raps under the name Hnst-T. You can currently hear on Cross Rhythms radio Hnst-T's powerful flows on "Ride Or Die" and "My Life VIP".
Anthony was born in Phoenix, Arizona. When he was two years old, Anthony's family moved to California where he spent most of his life. Anthony has been involved with music since childhood; as a teen he played drums in many different local bands, as well as on church worship teams. After he graduated high school, Anthony spent seven years playing "the prodigal son." In early 2011 he rededicated his life to Christ and moved back to Arizona. He soon began attending Arizona Christian University where he had been blessed with the opportunity to receive a chapel band scholarship for drumming.
During the 2011 autumn semester at ACU, Howard Ziwa and Anthony began making music together. It became very obvious right away that the two worked well together in their respective crafts. They made gospel centred hip-hop together for five years until 2016 when Anthony moved to Idaho. Now a year later, Anthony is ready to release his first solo efforts under the name Hnst-T.
Tony: How do you put your recordings together? Do you have your own studio?
Hnst-T: "Up till this point, I have outsourced a recording studio, I've booked time at various studios. I'll go in and do things that way. But towards the end of this year, I'm going to work on building my own studio."
Tony: Christian hip-hop is today a very crowded marketplace. Are you finding a growing audience for your work?
Hnst-T: "Yeah. It's been a slow and gradual process for me. A lot of that has to do with learning about social media and ways to promote yourself - the marketing and how things have changed in the past decade with online platforms."
Tony: Did you naturally develop to become a rapper?
Hnst-T: "I like a wide variety of music. I grew up in a musical household. I like funk, I like jazz, I like pop, I like R&B, I like hip-hop. The rap thing came natural to me. I would say my progression in it has been gradual, learning how to navigate that space and that style of music. I grew up playing drums, so I was in a different space musically for a long time. But that did help me, when I started writing lyrics, to understand rhythmic patterns more naturally than some other people might."
Tony: Can you tell us about the two songs of yours we're currently playing on Cross Rhythms?
Hnst-T: "'Ride Or Die' was a song I did with an artist named Illuminate. I had a vision of the past life that I used to lead, and some of the friends that I used to hang out with. It was a very dark place in a dark time. If you listen to some of that song, the sound leads to that: it's sonically dark, very eerie. It has a gangster vibe. I wanted to paint a picture of somebody who was so in love with Jesus that they would die for him at any point, in the just the same way that you would see hoodlums willing to die for something they didn't really understand. I feel I would be that much more inclined to die for my faith in Christ.
"'My Life' came about working with an artist named Davis Absolute. He was kind enough to let me use his song, and I did a variation. I went in and told my story. 'My Life' is very much my testimony, if you listen to the first verse especially. A lot of it breaks down some poignant bullet points in my life. If you want to get to know me as a person/artist better, 'My Life' would definitely be a good track to go listen to."
Tony: Tell me about your single, "No Grave".
Hnst-T: "It features a friend of mine, Thomas Iannucci. He and I came around to friendship through social media. We're both Italian. We kind of had this bond, and it was this very family-style bond. We started going back and forth about this idea. The song was released around Halloween, and I wanted to paint this picture of not being attached to the life that is tied to death, not be attached to the grave. Through Christ we are saved and given new life, so we are not any longer chained to being a dead man. That was the visual. If you look at the cover art for that single, I think it paints vividly what I was trying to get across."
Tony: What about the future? Do you plan to do any touring?
Hnst-T: "I would love to. Where I'm at with the rest of this year is continuing to release singles, maybe a small project or EP towards the end of the year - still just trying to collectively build my fanbase - and then maybe next year being able to start doing some shows locally or wherever anyone would like to bring me."
Tony: You put out a Spanish language release in March. Tell me about that.
Hnst-T: "I released the song 'Pisalo Bien' on 28th March, which is my birthday, and I celebrated by releasing a song that has a multicultural feel to it. A friend of mine, BJ Maldonado, came together and put together this idea. What most of the chorus is getting across is this idea that, if you were to translate from Spanish to English, would be, 'Having a good time on the devil's head.' That's the essence of this song: it's aggressive, it's got a gritty vibe to it, but it's also happy and energetic. The surname to the song would be 'stomp on the villain'."

The opinions expressed in this article are not necessarily those held by Cross Rhythms. Any expressed views were accurate at the time of publishing but may or may not reflect the views of the individuals concerned at a later date.
About Tony Cummings

Tony Cummings
is the music editor for Cross Rhythms website and attends Grace Church in Stoke-on-Trent.
We welcome your opinions but libellous and abusive comments are not allowed.