Tony Cummings chronicles the extraordinary musical journey of grizzled veteran ISHMAEL
Ishmael
Ishmael has crammed in enough adventures with God to fill a dozen large volumes while his musical achievements from fronting possibly the first ever Christian punk band, to birthing kids' praise parties and Spirit-led ministry for children, to writing worship classics like "Father God I Wonder" means that nothing short of legendary seems appropriate in describing the grizzled veteran. Now the singer/songwriter has returned with a new adult-orientated album 'Songs & Hymns'. Impressively it is one of Ishmael's finest with special guests Martin Smith, Cathy Burton, Dave Bilbrough and Aaron Frith all lending their talents to an album about which Ishmael commented on in his sleevenotes, "For my last 33 albums I wrote and recorded songs to encourage children to worship, but this time I needed to write songs and record an album to encourage ME to worship. I also wanted to re-record a few of the older songs that have meant so much to me. With all my unanswered questions I realise that God is God and is always worthy of praise."
Ian 'Ishmael' Smale was born in Bristol and moved with his family to Worthing, Surrey when he was eight. Ian's father was something of a mover and shaker in evangelical Christianity being a director of Turn To Christ, the organisation that published the widely read Challenge newspaper. The whole Smale family lived in a Christian community but at age 15 a rebellious Ian moved away from home. Ishmael was briefly in a band called The Handsome Beasts. Said Ish, "We were dreadful but we had a pretty good stage act - setting fire to crowns on stage and stuff."
Ish went off to agricultural college where hard drinking, women and rugby songs became his main interest. Then at the age of 19 the young man became a Christian. He commented, "It was the prayers of my parents rather than anything I found in the very boring, very traditional churches that I encountered." Leaving college, Ish took to the road. "When I first became a Christian, which was late 1970, I would travel around with a guitar, with my friend Paul, for a year. Of course, we were hippies, so the Church didn't accept us at all. We just felt God called us into music. I've always used music as a means to say something - that's always been my aim. We just lived in a van, didn't get paid or anything. We just drove to a village, got out, went to the schools and clubs, coffee bars and hopefully some Christians would give us something to eat. Some of them were very generous, but some of them didn't realise we were Christians: we were quite scruffy."
In 1971 Ish met up with Andy Piercy. In later years Piercy was to become an influential figure in the British scene, fronting the seminal rock band After The Fire, becoming a worship leader at Holy Trinity Brompton and producing albums for acts like Delirious?. But back in '71 Andy was like Ishmael, another penniless, Jesus-loving longhair. Ishmael reminisced about his first meeting with Andy. "We met at this party; we just got on really well, because he brought his guitar, and I was fascinated by his guitar playing. He started playing Bert Jansch's 'Angie', just plucking away on his guitar, and I thought, 'Wow, he is good'. We met up on the bridge the following morning over a bowl of soup, if I remember rightly. We've been best buddies ever since."
So the duo Ishmael & Andy were born. Ish wrote with commendable candour about the partnership in the sleevenote to the '25 Years With Ishmael' compilation, "Now Andy was a very good guitarist and had a great voice, but I didn't hold this against him even if God had not particularly gifted me with similar talents. I earned my place in the Ishmael and Andy partnership with my songwriting abilities, as I found it easy to write cheerful melodies, even if sometimes I found it hard to play them."
The duo went full time. Recalled Ish, "Youth For Christ said at the time, 'Don't even think about it, because you'll never survive'. But Andy and I felt it was something God wanted us to do. We said, 'We will, because God wants us to do it'. We were the first professional travelling, trusting God, musicians in the UK."
Looking back Ish commented, "Ishmael & Andy were a bit too crazy for the just emerging Christian record industry that at this time took themselves far too seriously, in our opinion. We were on the edge of things. I remember when we did one concert where we wore gloves - both of us, playing guitar. People thought this was revolutionary, they thought there was some spiritual significance, but we just did it because we were stupid. It was fun watching the then musical missionary moguls spying out talent that would be worth recording. The qualifications to record on a Christian label at this time was that the artist had to be smartly dressed, wear spectacles and be able to put some Christian lyrics to Ralph McTell's 'Streets Of London'. Of course Andy and I didn't qualify for this on any count, except Andy sometimes chose to wear glasses because he thought they made him look more attractive to the girls.
"This being the case, we invented our own label, Salt, and went to the Elim Bible College studio, with Helmut Kaufmann (later to become the boss of ICC Studios) and recorded our own single, "Benedictus"/"Song Of Praise No 2". Bearing in mind that we had no producer, musical arranger or any other instruments than our acoustic guitars, it didn't come out too badly. More to the point, it also made us enough money to buy us a van to keep the Ishmael & Andy ministry on the road."
The duo toured all over the UK with ever increasing popularity. Remembered Ishmael, "Travelling around together, it was great fun. We got in a lot of trouble, because those days we were both very young Christians. We knew that we must have Christian girlfriends, but we didn't realise we only had to have one. So we used to have girlfriends at a lot of the towns we visited, which was quite nice; we'd go back to a town and see the old girlfriend again. I remember we were dragged in front of the Youth For Christ director and called a couple of Christian Casanovas. We thought he was complimenting us, but he obviously wasn't. He says, 'You're not supposed to do that sort of thing'."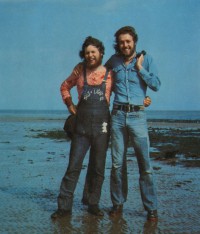 Ishmael and Andy Piercy
In 1973, just before Ishmael & Andy broke up, they were invited by Word UK to record a farewell album, 'Ready Salted'. Wrote Ishmael, "We had less budget than it costs nowadays to take the session musicians out for a curry. What you saw was what you got - Andy, me, our guitars and a few enthusiastic friends slapping their legs in time. (The prehistoric recording machines couldn't cope with the noise level of clapping hands.) If you listen very carefully you might even hear the sound of my then newly wed wife Irene slapping her thighs (take my word for it, she still has a very distinctive slap). It took a few hours to complete the whole album, but again although it was rough and ready, it had a feel that few of the slicker albums of the day seemed to have."
Ishmael enrolled at Elim Bible College. Then after finishing his studies he was appointed pastor to three London churches before becoming the pastor of a church in Accrington. But he was still writing songs. And what songs! In 1977 Ishmael released 'Charge Of The Light Brigade'. Ish spoke about the album. "Most of the songs upset some people. There was one called 'Laodicean Church', which is really offensive now looking back on it. It's all about church unity at any cost. I really really believe in church unity, don't get me wrong, I love it, but when you're going to throw everything out the window you believe just to be good chums, I thought that was a problem. I took the mickey out of it all in that song. The college I was at had an open day, and they said Andy and I could do a song. They invited all the local churches in, and I sang that one. We were banned from singing again at the college. In those days you were Pentecostal or you weren't: charismatic was a word that involved the Roman Catholics, so you had to be a bit careful about that, you see. I deliberately wrote this song, 'I'm Just A Charismatic'. Two sides: very anti and very for. The love of Christ just didn't show, that was the problem. It wasn't a right or wrong, was it? We just didn't love each other."
The highly provocative 'Charge Of The Light Brigade' got a decidedly mixed reception. "Scripture Union bookshops banned it for some strange reason," remembered Ish. I think the funniest story was with the denomination which I was actually in. We went to their conference, and my wife went up and said, 'Have you got Ishmael's new album?' Not knowing who she was, they turned round and said, 'We refuse to stock it in our shop'. She was furious, and so was I. They wouldn't even sell my album, and I was one of their church leaders."
In 1978 Kingsway Music offered to finance an Ishmael worship album, 'It's Amazin' What Praisin' Can Do'. Andy Piercy had joined After The fire and Ish was close friends with all the band. Wrote Ish, "I wrote Bible study courses for them. In return they offered to do the music on my next recording. We took a mobile studio into a hall in Essex and as I explained to the producer (John Pantry) that my aim was to really rock up every sacred worship chorus I could think of, I remember him throwing his hands up in horror as if I was about to commit the unforgivable sin (twice). All I can remember about the session was the fun After The Fire and I had together. The problem was that I had done so much laughing and shouting that I wrecked the welding rods within my throat (which some term as vocal chords). Of course the show had to go on so I completed the album with a strained whisper that ended up sounding like Joe Cocker or Rod Stewart with laryngitis. Still, it was all good clean fun and that is really what music is all about, isn't it?
"Well, probably Kingsway, who ended up footing the bill, had different opinions especially as the album was so bad that I agreed not to put After The Fire's name on it as they were about to embark on an international music career and this would certainly not enhance it. A limited edition was released [on cassette] but even I was so embarrassed by it that I soon had it deleted. I'm sure the producer thought it was divine retribution. I didn't. I put it down to experience and hoped to have another crack at it later on. The worst thing is I still meet people today who claim that 'It's Amazin' What Praisin' Can Do' is in their opinion the best tape I'd ever made."

Reader Comments
We welcome your opinions but libellous and abusive comments are not allowed.