Susanne Martin went to South London to meet up with the hip-hop man who's resisting fame and fortune to rap the Gospel, JAHAZIEL
Jahaziel
It was a hot and beautiful day on the afternoon I hopped on the Underground down to South London to meet British holy hip-hop artist Jahaziel. But the stifling journey was made worthwhile when I sat on his leather couch and heard the eye-opening story of the rapper's deliverance from the capital's dreadful drugs, guns and gangs culture. Now of course this most talented of MCs, who first gained attention as Solid R.O.C.K. and who rapped on Daniel Bedingfield's album debut, is now creating a buzz with his solo project 'Ready To Live'. Having previously worked with acts Craig David and Lemar it's crystal clear that Jahaziel has enough talent to be successful in the mainstream, yet courageously he has chosen the gospel hip-hop route. Said the rapper, "I was given this gift for a purpose. God took me from nothing to something and he wanted to do something with this. I would be a sell out to now just take it like it's mine and try and use it for my gain."
Jahaziel reckons he must have told the testimony of how he became a Christian a million and one times. Even with a vague picture of his life before and after the event, it's not hard to understand why people want to keep hearing about it. So for a new record I asked the rapper to tell me about the times leading up to his conversion. Growing up in Elephant & Castle, London, he was always mixing with bad company and was often in trouble with the Police. He told me, "It wasn't like I meant to hang around with people who were into all that kind of stuff but it just seemed those were the people that lived on my estate and who were my friends and my family. Those were just the people that I was around and when you're around people it's like you have to prove yourself all the time. Most people want to fit in. If I was with a crowd of nerdy computer guys I'd have been into computers. But I was around guys who were violent and selling drugs, and so I had to do that to be in with them. That's just how it was."
The troubled teenager was made to change secondary schools five times, but that was no way near the worst of it. He started to hang around with older gang members who were into major crime and carried guns. As Jahaziel's problems stacked up he believed he was destined to end up in prison or dead. He told me about one particular night that he remembers very well. He said, "I was staying at this guy's house who used to supply us with drugs; he was in hospital because he got stabbed. The guy who stabbed him was going to come and burgle his house. So me and another guy were looking after it for him when he phoned and said he had something for us in case the guy turns up. So we looked in this bag and he had a sawn-off shotgun and a loaded hand gun. This is the first time I'd ever had a gun in my hand. I thought to myself, 'I just hope this guy doesn't turn up,' because if he did, the guy I was with wanted to shoot someone just to get his name up. Plus, I just knew that a) I'd have to live with killing someone on my conscience for the rest of my life, and b) I'd probably get caught and go to prison for the rest of my life. I sat there and I thought, 'How did I end up here?' Thank God the guy didn't turn up."
Continued the rapper, "But when I was walking home I just started to cry, I was crying my eyes out. When I got in I just knelt on my bed and I prayed the Lord's Prayer. 'Our Father, who art in heaven, hallowed be your name. . .' and at the end of it, the only thing personal I said was, 'Lord, if you're real, guide me. Amen.' Then I heard the phone ring. About a month before I met this guy who explained to me that he was a Christian, he shared some of his faith with me and he took my number. It was him that called me then and said, 'Do you want to come to church tomorrow?' Prior, when he talked to me before, I was unsure. But when I'd just prayed and asked God to guide me and he phoned immediately, I just knew it was not coincidence. So I gave him the benefit of the doubt and I went that Sunday and I made a confession of faith that Sunday. That was 14 or 15 years ago."
Gradually he noticed that from that day something had changed in him. "At first I went back to hanging around with the same people, smoking weed, going to raves. But from the very day onwards I felt convicted. I'd go to smoke and everything just seemed wrong. It seemed wrong, it tasted wrong, it felt wrong, everything was just wrong. And I knew then that God had made a change in my heart and the only way I was going to live in peace was to follow my heart." He started to change his company and became good friends with Christian rap group GreenJade. They encouraged Jahaziel to use his lyrical talent, something that he admits he wasn't into until he knew Jesus. "Before I was a Christian, I never really had anything to talk about," he said. "I used to lie in most of my raps about cars I didn't own, girls that I didn't have, about money and stuff like this. I got to the point where I was just like, 'Nah, I can't be bothered with it, it's not serious.' But when I became a Christian and the more I started to learn about God and the Bible that I found I had things to talk about and a perspective to talk from. So I started to write stuff. Then over the first couple of years the Lord opened doors for me and I went to California, Norway, France and around the UK. I was thrown right in the deep end. I think the first gig I did to an audience was opening for Delirious?. But I didn't have a clue who they were and I didn't have a clue what I was doing! It was a bit like that."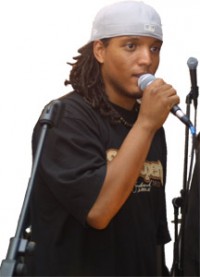 Over the last few years Jahaziel's considerable rapping skills have given him the chance towork with UK hitmakers Lemar, Bedingfield, David and Asian R&B singer, Raghav. He also recorded an EP, 'Blow The Trumpet', under his previous moniker Solid R.O.C.K. which got some Cross Rhythms radio play. But it's only now with the 'Ready To Live' album, distributed by Spirit Music, that the Christian CD buyers have a chance to buy Jahaziel's hard-hitting holy hip-hop. He said, "I was flirting with the idea of doing mainstream stuff and I did a lot of remixes. In the space of about 12 to 13 months I must've done about 50 features on other people's stuff with a company called Blacksmith. I got a couple of breaks. I did a video for Raghav's single. I think that went to about number 13 in the charts. So I was kind of on the fringe of starting to approach labels. I was at that fork in the road when I started to feel really convicted that I was given this gift for a purpose, more than making money. I know Christian producers who do stuff for all top mainstream artists and I hollered at them to do my album but they just took so long! I think what it showed me is that this whole mainstream thing, not that I'm against it, if that's your decision than that's your decision, but I felt like their offering to God was becoming more and more diminished. I didn't want to become like that, like God only had two per cent, if that, of my time and my talents. So I wanted to flip that and trust that God would provide my needs."
Jahaziel is determined to resist the siren voices of the mainstream which lead to excess and spiritual compromise. "You get an artist like Puff Daddy or whoever, who says, 'I give thanks to my Lord and Saviour.' But I wonder are they painting an accurate picture of the Christ follower? Are they accurately reflecting this man called Jesus? The more I got to know God and the more I got to know what Jesus is about the more I felt these guys are not even just making a POOR reflection of him, I think it's like an absolute distortion. It's as far left as it can be. God wants to send people out to be a reflection, to shine his light in dark places, and I felt that in hip-hop he was under-represented. I know in the US there are guys that are further ahead down the line with what I'm doing. The Christian hip-hop scene is more together in the States. But over here in the UK it's still very underground, still developing. I'm probably one of a handful of Christian hip-hop artists who have even put out an album. So I felt like I needed to represent and set a bar, to set a standard, as far as letting the world know that not every rapper has to rap about cash and violence and guns and whatever. I can make good music with good content. I wanted to do that. And hopefully I did."
It looks like there is a lot more to expect from Jahaziel in the near future. At the moment he's planning a new album, do a mega amount of collaborations and use his Jamaican roots to record a reggae-orientated project in between. In November he's heading to Florida to perform at the Christian hip-hop event Flavor Fest. But hopefully he'll be back in London before long and will continue to lead the way for British hip-hop to leave behind the guns and gangsters and present a more radical, life-changing message.

The opinions expressed in this article are not necessarily those held by Cross Rhythms. Any expressed views were accurate at the time of publishing but may or may not reflect the views of the individuals concerned at a later date.
About Susanne Martin
Susanne Martin
is studying journalism at Staffordshire University.
Reader Comments
We welcome your opinions but libellous and abusive comments are not allowed.