Wednesday 20th March 2019
Tony Cummings quizzed Tom Eccleshall, worship pastor of London's Kings Cross church, KXC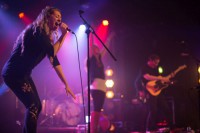 KXC
There have been plenty of churches, long established and new, who have joined the modern worshp movement and released recordings of their own musicians and songwriters. Only a few make a truly national, let along an international, impact, but this is what is happening to London's KXC church. Planted in 2010 and led by Pete and Bee Hughes, worship music has always been at the centre of KXC's activities (not surprising in that Pete's brother is renowned worship leader Tim Hughes). I quizzed KXC's worship pastor Tom Eccleshall and managed to resist all those lazy journalistic clichés ("KXC - Britain's answer to Bethel and Hillsong"). Instead, I found this charming down-to-earth young singer and songwriter to be a pleasure to throw questions at.
Tony: Tell me a bit about KXC church.
Tom: It's been going eight or nine years now. It's a church plant in King's Cross, London. As most people know, it's right in the middle of London. It was planted by a church called St Mary's and St Mary's was a church plant of Holy Trinity Brompton. Pete and me both absolutely love worship. Pete leads worship himself sometimes at KXC. It has always been a big part of them, their family and their journey and it's always been central to the church. The hope is that worship fuels the flame for everything else that goes on and all the other work that goes on in the community around King's Cross.
Tony: When you started, were you initially using everybody else's songs - Hillsong's stuff and some Matt Redman stuff, that kind of thing?
Tom: Yes. The church started with 40, 50 people so we did songs that were easy and simple and that would draw people in. The band was very stripped back and acoustic. It was kind of getting by week by week. Then as things started to grow and develop there was a lot more opportunity to try and express what God was doing in our community. A lot of songs started to emerge from some of the writers in the team and Pete was incredibly encouraging and supportive and suggested we do them in our main times of worship. It's always very scary when you introduce a song for the first time. But he was really. So then it became part of the culture as the worship team; we write songs that express what God is doing right now in our city and in our community.
Tony: Your first EP 'Chapter One: The Father's Love' came out in 2014 and, amazingly, three songs - "Now Glorious", "The Father's Love" and "Singing Over Us" - made it to the Cross Rhythms radio playlist. Tell me about that project.
Tom: I was writing quite a lot personally and a lot of the songs we were doing at church. The songs kind of worked in our church and it felt like they were key parts of our worship time. Lots of people were asking do you have a recording of that, where can I find that song. I only had my little demos that I'd done on my laptop that I didn't really want anyone else to hear. It got to the point where we thought we should really get some of these songs recorded and make an EP. We were very encouraged by it. The money we put into it, we broke even so we could think about doing the next one. Worship Central were really nice; they put one of our songs on their album, which gave some profile. New Wine put some of the songs on their albums as well; we were definitely super encouraged by that.
Tony: How do you get songs used at a big event like New Wine? Did you submit your EP officially to them or was it simply friends that you had there? How did that work?
Tom: A lot of bribery. (laughs) No, not really. That's a good question. I don't really know the answer! We definitely didn't proactively say 'Please can you consider these.' I think New Wine just asked us, which was really nice; quite natural. We did have contact through some of us leading worship at New Wine, anyway, and good friends at the event. We were really honoured by that.
Tony: In 2016 you released the 'Chapter Two: Flux' EP. But then you decided to go the whole hog and record a full-length album, 'All Things New'. That was really going out on a limb.
Tom: Yes, this was a brave step. There was some debate because doing an EP there are only four or five songs you can pick, the best songs. You might have a lot more songs than that but you can narrow it down to the ones that God's really using, that people are connecting with. But it felt like the right time to do a live album and maybe to capture some of the songs that we'd recorded previously in the studio and capture those in the live worship context. Because that's really what we're all about; we want to write songs that are useful for our church. And if they work at our church they might work elsewhere as well. It felt right to do an album. I applied for a grant with PRS [the music industry's royalty collection agency]. They have something called the Momentum Fund and they help artists who've done a few projects before but looking to go to the next step. So I applied to them and they gave us funding which was amazing. I think 'All Things New' is the first worship album they've ever funded. That was a miracle really. I'd been put in touch with a guy called Jeremy Edwardson in the US. He's a producer, I'm a big fan of all his work and the people he's worked [Jesus Culture, Bethel Music] with and the recordings he's made. So I thought I'd shoot for the moon, drop him an email and see if he'd be interested in coming over to London and working with us. I was really amazed that he said he'd love to. He said yes and the rest kind of fell into place. We recorded it March 2018.
Tony: But the process was blighted by a tragedy, wasn't it?
Tom: We were really excited about the whole project; it felt miraculous how it had all come together. Jeremy had an assistant, a guy called Andrew Jackson, who was 29. They'd worked together for about a decade. They'd worked with people like Chris Tomlin and on Jesus Culture stuff. They've made dozens of albums together. They were a real dynamic duo together. We'd organised all the flights and we'd got accommodation for them in London. My wife and I were on the way to pick them up. We'd obviously done all the pre-production and been working on the songs a lot together, skyping every few hours almost, talking about logistics and working on some songs, trying to get them as close to finished as we could before they flew over.
My wife and I turned up at the airport to meet them and we got a voicemail saying Andrew had had a cardiac arrest on the plane and he was being rushed to the hospital. We went to the hospital near Heathrow, met Jeremy for the first time, and was told that Andrew had died. The guys who came over with Andrew were just so traumatised. We wanted to support them as best we could so we said don't worry about the album, that is bottom of the priority list, do what you need to do. We'll help if you need flights back to be with the family. Andrew's family came to the conclusion that they thought Andrew would have really wanted the album to be recorded and they wanted the project finished in his honour. He loved London; his Dad was actually born over here. So they had a lot of peace that he passed away whilst he was over here in the UK.

We welcome your opinions but libellous and abusive comments are not allowed.