Wednesday 16th September 2009
Tony Cummings quizzed the Australian songsmith KRIS MORRIS about his seven years in the UK
Kris Morris
Kris Morris is an Australian-born singer/songwriter who for seven years gigged around London clubland as well as doing live radio sessions for local BBC stations in Wales, Manchester and London. Currently it's Kris' haunting song "Beautiful" from his 'I Think We Both Know' album which is connecting with Cross Rhythms radio listeners. A few months back Kris relocated back to his homeland and Cross Rhythms tracked him down there to ask him some questions. I began by asking him about his unusual step of releasing an album and then a few days later leaving Britain!
"In some ways it was crazy timing to move back home as the album was done and things felt set up to really push on but I thought even if all these dreams come true will that make me happier than seeing my little girl Ruby grow up with her cousins and Grandma and Grandpa? And the answer was no. I think we always talk about making sacrifices for God and the call on our life and all that but the real people who sacrifice are our families. I felt like the best thing for me to do was focus on what was best for my family and let the rest figure itself out. It's been a great decision."
As it turns out, Kris' daughter Ruby features in the writing of his "Beautiful" turntable hit. "I wrote the song just prior to the recording of the album. A lot of my songs tend to be a bit melancholic and I wanted the album to be a bit more diverse and have some brighter moments. I also just really wanted to write a song for my little girl. She's a little treasure and I thought if I can't write a song for her what am I doing? The song just mentions some of the things I love about her and how this love I have with her has changed me. There are times I spend with her that she just knocks me out and makes me so happy to be alive. It's pretty amazing to me. The sad news is though she knows it's her song but she still prefers High School Musical."
The 'I Think We Both Know' album was recorded in, of all places, a Victorian hunting lodge. Kris recounted what led up to his full length album debut. "Dan Weeks had been very excited to crack on and make the album. Almost too excited. He booked the week off with Matt and younger brother Will - it was about six weeks out from when we agreed it so there wasn't a lot of time. We wanted to keep costs down and also have a space that was really relaxed. Those guys are in studios all the time but for me I wanted a space that didn't have the studio pressure. They mentioned this place that they stayed in as kids and said it was huge and private. I rang the owner and I guess I stretched the truth a little when I said we'd love to book it to do some songwriting. I didn't have the heart to tell her we would be lugging in three vans full of equipment. That's a confession right there. I'm a naughty boy. In any case we got there and it was just perfect. We scoped the whole house up and set it up as a studio for the week - with a control centre in the middle, drums under the stair well (in true Led Zep fashion) and rooms for the other instruments. My greatest joy was having a room with my electric guitars at one end of the house - it was loud down there. We worked really hard every day - starting with guide tracks early in the morning, then drums and bass, then guitars, and then smoky late night vocals. It was amazing. The place was totally perfect to create the right vibe for what we were doing."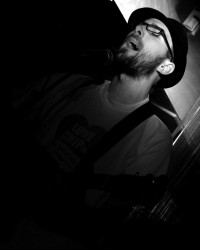 Pinpointing Kris' gritty yet haunting vocal style has long flummoxed the critics. More than one have ended up comparing Kris' music to that of Ray Lamontagne. What did Kris think of the comparison? "The comparisons probably come from the beard and the fact we both strum an acoustic guitar. I really respect Ray as a songwriter and singer though. I got to see him play a fantastically intimate gig at Union Chapel in London - just him and his guitar and a few hundred folks. He seems to be a very fragile fellow but everything about his delivery draws you in. That gig felt more sacred than most church services I go to - people were crying all over the place. It was amazing. I guess I thought here we are in a church with a guy with one guitar and all these people are having their hearts touched. I thought yeah, I want a part of this. And the interesting part for me is that he didn't offer anyone any real hope. Lots of tension, lots of identifying with the tough parts of life. . . it made me think I'd like to take people on that journey but give them something more."
Kris continued, "In terms of artists that have influenced me over the long stretch I would say Bob Dylan is right up there. I know Bob Dylan aficionados mock the gospel albums a little but 'Slow Train Coming' has been an important album for ever since I was about three years old. We had a pretty limited record collection at home (Keith Green, Chuck Gerard, Dion, Amy Grant, etc) and that was a highlight. I love it as much for Mark Knopfler's superb guitar playing as much as anything else. I still listen to it all the time."
Kris grew up in Australia as a pastor's kid. Speaking about his early years he said, "It was a fantastically loving and stable upbringing. I would say that generally everything about my life and faith was quite stable throughout my childhood and teenage years. More importantly, I got my first guitar when I was 12 and my first electric guitar (a Strat that I still have) for my 14th birthday. Life was good. When I met my wife we both had a desire and sense of calling to serve in the UK - I definitely felt my music was a part of that although I didn't know how that would take shape. Sometimes the dream in your heart can't be explained and you just have to go with it. When we first moved to the UK we helped to run a youth/community work up in the north west. It was based in a small church - great people and a really cool work. It was quite a tough time though - we found it very hard going being so far from home and I struggled very much with the idea that we'd left all our comforts and it wasn't very obvious what that was for. I had this dream but the reality really didn't match up. I felt pretty lonely and very lost. We got to a point where it was time to move on. We had a chance catch up with some friends in London and felt excited about the prospects of moving south. I very quickly got some work in London and we got involved with Holy Trinity Brompton (the Alpha church). I was working there managing all the web stuff and serving on the worship team. I still had this sense of unrest in wanting to move things on with my music."
It was a conversation with Dave Clifton, the guitarist with a vast array of experience in both the mainstream and church ministry music, which proved pivotal in Kris finding direction for his music. Kris remembered, "I gave him some demos of some worship stuff I'd been working on. His response was that my approach to melody and my delivery was pretty 'unique' and that I should probably think of making it a all a bit more obvious so it could work in a congregational setting. I kind of took this advice but applied it in a different way. I finally realised that my musicality wasn't really built for church use - that I shouldn't tone things down but actually truly embrace what God had made me to be. This set off a really fruitful time of songwriting and a fresh vision for what I should be doing. I took some time out from serving in the worship team and committed myself to crafting the songs and playing gigs. It was so liberating to figure this out finally. To know what God had made me to be me and be able to go into all these places and connect with folks. It was different to the picture I was working towards but it was better. All of this prompted the 'Little Light' EP and set me up for what I've gone on to do. The journey has been very odd and gone in completely different directions than we expected."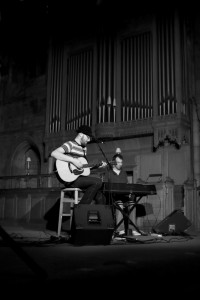 'Little Light' caught the collective ears of the critics. RoomThirteen called it "incredibly sincere and honest" while Xpression FM 87.7 enthused, "this is a lovely, haunting EP, capturing the essence of hope as well as fear." Kris remembered the EP's sessions with affection. "Recording it was a very quick process. I had the songs written and the producers, Matt and Dan Weeks, had just blocked off two days to get the tracks down. We set up in the back of their parents' house in West London, bought some tasty snacks and just banged it out. Sometimes it's the best way. You capture the spirit of the moment and the songs without getting too fussy. We just knew the songs had something about them and we wanted to capture a very natural and direct vocal. I guess it worked. It was the start of a great friendship with those guys too. It's been very special."
The EP led to Kris playing venues all over London including Union Chapel Islington, The Bedford, The Halfmoon Putney and FOPP Records Tottenham Court Road. It also brought him some local radio exposure of which he has mixed memories. "I absolutely loved playing down at BBC Radio Wales in Cardiff. My mum was born in Cardiff and emigrated to Australia with her family when she was young. It was special to be back where I have some family roots and the people were amazing. Inversely I played a midnight slot on BBC Manchester and the DJ was super fruity. I travelled up there and stayed in the worst hotel - rolled into the hotel at midnight and had this weird conversation about my dad being a minister and then he asked me to improvise a closing jingle for the show. Horrendous."
Now back in his homeland Kris is busy pursuing the creative muse. He said, "Since getting back to Australia I've been writing a lot and the material is coming together. I have a bit of a plan to move things in a slightly different direction. Rather than work towards an album though I think I'll try and get things going and then release singles or EPs every now and again. Otherwise you're on an album project for a year or so and you can't go with the flow. I'd like to try something a bit different and see how folks like it."

The opinions expressed in this article are not necessarily those held by Cross Rhythms. Any expressed views were accurate at the time of publishing but may or may not reflect the views of the individuals concerned at a later date.
About Tony Cummings

Tony Cummings
is the music editor for Cross Rhythms website and attends Grace Church in Stoke-on-Trent.
We welcome your opinions but libellous and abusive comments are not allowed.