Wednesday 20th March 2013
Tony Cummings and Mike Rimmer quizzed "the voice of Foreigner", LOU GRAMM
Continued from page 2
Tony: And in fact there's a famous worship leader called David Ruis from Canada who for many years used this song in his worship music.
Lou: Wow.
Tony: I've heard this song sung in church and it does work as a prayer to the Lord because in a sense that's a call of all our hearts; we all want to know what love is. It must have been an amazing revelation when you actually met him, when you met love himself.
Lou: Yes, it was unbelievable.
Mike: We'll talk about how that happened in a moment. My memory of this time was playing this song on the radio and being amazed that a big name preacher turned up at my church one Sunday and started quoting from it and referring to it in his sermon, which was a bit of a shock...
Lou: Is that right?
Mike: Yeah. That wasn't the kind of thing that went on in my church normally. And I was even more amazed that this big name preacher actually knew what was in the charts for starters. It obviously touched people way beyond what you could have imagined could have happened with it. Were you moved by the gospel choir singing on that when you were recording?
Lou: Yes, it was unbelievable. They knew the meaning of the song. When they came into the studio they held hands in a circle and they said the Lord's Prayer. Then they began to sing, and it was like angels.
Mike: There's just something very powerful about gospel music isn't there? Tell me about your own coming to faith. How did that happen?
Lou: It was around 1991. I think that rock life and the travelling and everything that goes along with it had begun to get the better of me. I was not being the kind of person my parents raised me to be and I knew I was being overcome by drugs and alcohol and was at the point where there was nothing I could humanly do to stop it. And I tried time and time again.
Mike: So how did your deliverance come?
Lou: It was the night after we played Madison Square Gardens and I had been up all night and was very depressed the next morning. I kind of just broke down and started praying that I didn't want to live like this. I didn't want to be the kind of husband and father that I had become and that my parents would be very disappointed by and ashamed of what this lifestyle had allowed me to become or what I had allowed myself to become. And I was feeling very little to no self-worth. I really did break down and fall to my knees and ask the Lord to come into my life and shape me more in his image and to rid me of the demons that really had overrun me as a person.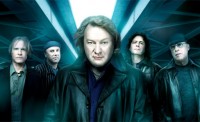 Lou Gramm Band
Mike: Was that that and there was an instant kind of change or was it something that God helped you grow into?
Lou: I think it was very gradual. I called a close friend of mine who made a call to a very good place for rehab called Hazleton, in Minneapolis. He drove me to JFK and within three or four hours I was met in Minneapolis by someone who represented Hazleton and drove me right to the rehab and I began my in-house rehab for 30 days. It was a very cleansing and holy process. There were Christian pastors there that helped allow me to forgive myself for what I had done to myself over the years. That convinced me that I was still one of God's children and that the Lord would want me to live the kind of life that he had planned for me.

Reader Comments
We welcome your opinions but libellous and abusive comments are not allowed.