Wednesday 15th April 2009
Mike Rimmer met up with Dove Award winner MICHAEL ENGLISH and spoke about Michael's moral fall and addiction to prescription drugs
Michael English
The church is often very skilled at pointing the finger and not so good at rehabilitating its wounded. The Christian music scene is littered with the casualties of artists who have done stupid things, made bad choices or simply indulged in sin. In other genres of music this sort of behaviour is encouraged and even mythlogised! Heck! It's expected for rock artists to be bad boys and for soul singers to indulge in the flesh. But for Christian music artists such behaviour is measured biblically and the moral failings of artists can ruin careers, start the gossip mills turning and scandalise the Church.
The truth is that Christians fail and fall. But when they do, it seems the fall is harder and rebuilding tougher because of the attitudes that can prevail on the scene. Whatever happened to gently restoring the sinner? Whatever happened to the ones without sin casting the first stone? The story of Michael English is the story of a man who fell a long way and who over the next two decades struggled to get back on his feet with more than one failed attempt. It's also a story that should remind us that a flaky immature faith is not going to cut it. But most of all, this is a story that reminds us that no matter what we've been through, God is a God of second, and third, chances.
There was a time in the early '90s when Michael English was at the absolute top of Nashville's Christian music tree. His Michael Bolton-style quasi-soul balladry and pop rock may not have been to everyone's tastes but he was just the kind of artist the conservative gatekeepers of US Christian radio were keen to play. And play they did. By 1993 Michael was up there with Steven Curtis Chapman and Michael W Smith and by '94 Michael was being voted by GMA Artist Of The Year and Male Vocalist Of The Year as well as winning Inspirational Song Of The Year ("Holding Out Hope To You") and Pop/Contemporary Album Of The Year ('Hope') awards. Michael had come a long way from his humble beginnings. He was born and raised in a strict Pentecostal church in Wallace, North Carolina. By the age of eight he was singing with his family in a gospel group, The Singing Samaritans. After graduating from high school and after briefly pursuing the notion of becoming a hairdresser Michael became a professional singer on the Southern gospel circuit. He sang with the Singing Americans (1980-1982 and 1984-1985), the Happy Goodmans (1982-1983), the Couriers (1983-1984) and most successfully of all, the Gaither Vocal Band. In 1989 Michael decided to go solo and was signed to Curb Records. His first self-titled album was produced by Brown Bannister and featured major Christian radio hits in "Solid As The Rock", "Mary Did You Know" and "In Christ Alone" (not the Stuart Townend and Keith Getty hymn but an inspirational ballad penned by Shawn Craig and Don Koch). In 1993 his album 'Hope' produced more Christian radio hits. But then, while on tour with CCM hitmakers First Call (at that time consisting of Marty McCall, Bonnie Keen, Mel Tunney and Marabeth Jordon) and a week after making a clean sweep of the Dove Awards, Michael's hugely successful CCM career suddenly lurched into disaster. It came to light that English had been engaged in an extra-marital affair with First Call member Marabeth Jordon who had become pregnant. Although Jordon subsequently lost the baby, English's Christian music career plummeted. He was dropped by his label, his albums were removed from stores and radio stations stopped playing his music. Michael English became a hot item in America's media - for all the wrong reasons.
15 years later I have an extremely surreal experience. I am doing the interview equivalent of a speed date in a fondue restaurant in Nashville. It's organised by English's record label and it's been nicknamed by some journos as "What Would Jesus Fondue?" Effectively, you get a limited time with each artist and at a given signal, we all move round to the next table and artist. He is talking to me because he has written his autobiography and recorded a comeback album which is not his first attempt at a comeback.
English has been through hell since his fall from grace and I doubt my journalistic skills in talking to him about it in a limited time but I give it a go! I sit down as he's dipping into his fondue. Grabbing the bull by the horns I begin by going back to those painful days of 1994 and that Michael English and First Call tour which, with crass irony, was a benefit fundraiser for Mercy Ministries, an outreach to women facing unwanted pregnancies. How on earth had Michael and Marabeth started a sexual relationship? "Well you know what?" he muses, "Even in Christian music a lot of times your beliefs and your Christianity would take a back seat to what's right there in front of you - the success, the screams, the applause, the adulation; everything that's going on around you."
He continues, "For me, my deal is that I grew up singing Christian music. My dad taught me to be the best at it as I could but I didn't necessarily know much about Christianity, it was more about being a Christian 'star'. And then having attention deficit disorder, trying to read [the Bible] and not being able to read because I'm trying to get this stuff in my mind and I'm thinking of other things - of baseball or what I'm gonna do tomorrow. My remedy to that was just not to do it. Praying; same thing. So I came up with this way of thinking that was so wrong, of going, 'Hey, I'm singing every night just about. I'm singing in churches, I'm doing all this stuff, so that should be plenty for God.' You know what I'm saying? And there's no such thing as a 'plenty for God'. So not being in the Word and not praying - two very important pieces of the puzzle of Christianity and your walk with God, and if that's not happening then you are, I believe, a very weak, weak Christian."
He reflects, "And that's basically what it was for me all through my career, not to mention just like I said, that everything was going so great in my career that everything else took a back seat. So it's easy to fall into sin in situations like that. You look at preachers and you look at people who get up and preach every night; I have had this last five years of my life singing Christian music again and I have had so many people, numerous people, hundreds of people, come up to me and say, 'My story's the same as yours.' Preachers, singers. . . people who have gone through the same situation. It WILL happen if you're not careful because of the way you choose, the life you choose, or whatever reason; it WILL happen! And that's what happened to me. I just turned my back and BOOM! Sin will come into your life so quickly!"
So what was the backdrop? What was going on in his life at the time that meant he fell into an adulterous relationship? Michael pauses for a moment, takes a deep breath and explains, "Well, my wife Lisa and I were having problems long before. I'd made it as a Christian soloist and I had gone to management and the record company and said, 'Listen, I can't promise that this is going to work. I've tried and tried and we've gone through therapy; I just don't know.' This was before the affair or anything. They were so adamant making the marriage work, which is understandable. And what had happened was, I went off to therapy - three weeks of intense therapy in California for depression. When 'In Christ Alone' was number one, I was at lockdown, which is just a crazy thought! And then after that things just did not get better with my wife and I and when things are like that, when you're living the lukewarm life that I was living, the sin happens."
English and Jordon, who was also married, had decided to end their affair after both were overcome with guilt. He remembers, "But right after that happened my record company paid for a trip for my wife and I to go to Hawaii, just because they wanted to help out the marriage, because we never had a honeymoon. While I was there, Marabeth got word to me that she believed that she was pregnant. So the rest of that week was shot for me. When I got home we got together and had a test and that's how we found out. It was a few days before the Dove Awards when that happened.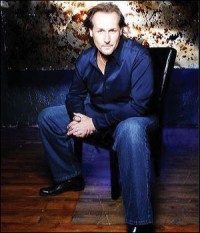 "I remember the Dove Awards and I remember hoping that I wouldn't win them, especially the Artist Of The Year. I admit it is a weird place to be but I knew what was ahead of me. And then it blew up after that. We told management and the record label and then the news broke and we made statements and stuff. That was a very tough time to go through that, after winning the Doves, and so I felt that I needed to turn them in. I felt like I didn't deserve them after what I'd done. But Bruce Koblish, who was the head of GMA at that time, said, 'You won the Doves fair and square. You were voted,' so he gave them back [to me]."
Obviously the scandal caused a media frenzy. English remembers, "I wasn't staying at home so Naomi Judd and Larry Strickland, who are married, let me stay at one of their condos. So I was hanging out there. A Current Affair were after me, trying to get me. The news trucks and all this kind of stuff were trying to get me. Then somebody told A Current Affair where I was so they were knocking on the door. They were the only ones who know where I was. But I got physically sick, I got the flu and I'd never been by myself with the flu before. In the past my mother or my ex-wife Lisa, somebody was there to help me because I'm a baby when it comes to being ill like that! I called my mother and I was like, 'What do I do?! I don't know what to do here!' I had heard thousands of people die with the flu each year. So my mom said, 'Well, find some medication - Acetaminophen, tylenol - and take it, go to bed and sweat that thing out.' So I did; I found some medication. It had Acetaminophen in it and it was a painkiller so I thought, hey, can't hurt! I had taken painkillers for operations and stuff and had put up half of them when I was done with it; never dreamed, never thought that it was addictive. Took it and I'm telling you it was the weirdest thing. All the symptoms of the flu were gone! I got up, I was feeling great physically but I was also feeling great. . .everything else around me was feeling great - A Current Affair were out there and it was almost like, 'I don't care!' That was the hold that it got on me. And so I began to take more until years later, I'm a full-blown addict and I was a mess."
Most people, when they think about drug addiction, think of cocaine or heroin. But prescription drugs are seldom thought of in that way. Yet for English, they spelt disaster. He asserts, "I think people are realising it now that there's more advertisement about it because from what I know more people are addicted to painkillers now than street drugs. It's an epidemic that we're trying to overcome here. Kids, high school kids, middle school kids are grabbing it out of their parents' cabinets or grandparents' cabinets. Even here in Nashville they just had a bust yesterday of older folks who are selling it. Their reasoning for selling it is because financially, they're just older people with social security and stuff but either way it's wrong. And that's how people are getting it."
He continues, "I did have my bout with cocaine and heroin and ANY kind of drug; if I didn't have those painkillers, which were what I favoured - my drug of choice - I would do anything to take care of the pain that I was going through because basically at that point in time I was withdrawing if I didn't have it. So it was definitely a tough time. But getting off the painkillers from what I hear is just as difficult as getting off heroin or anything else."
English maintains that his usage of harder drugs was slight by comparison. "Basically what happened was that it was just the people that I was around. The problem was rehab because it introduced me to another world! Up to that point in time all I did was painkillers but, when they throw you out of a place or a home with a bunch of other drug addicts, people talk. I found out things about painkillers that I didn't know, like chewing them up or snorting them or melting them down. I don't think it makes it any better, but I never used a needle - but I was headed there had things not changed."
After his fall into sin in 1994 his career became a confusing succession of stops and starts. In 1994 he had recorded a duet with country star Wynona which was featured in the Bruce Beresford film Silent Fall starring Richard Dreyfus. The success of that song, "Healing", seemed to be opening a door for a mainstream career for English. But the 'Healing' album was a hasty compilation of some of the less specifically Christian songs from 'Michael English' and 'Hope' plus the duet with Wynona. Despite announcing that he was retiring from gospel music he did in fact continue to record with the Gaither Vocal Band and even won a Dove Award for his song with them, "I Bowed On My Knees", in 1995. Also that year, English was divorced from his wife, grew his hair long and with his life becoming increasingly fuelled by drug use made the tabloids, first dating a stripper and then, in 1996, being charged by a girlfriend, Tina Wilmurth, with assault and theft. The charges were subsequently dropped. In 1996 Curb released 'Freedom' on which were pinned hopes of a major mainstream success and indeed the song "Your Love Amazes Me" was a hit on US adult contemporary radio.
English couldn't completely shake off the attraction of gospel music. He served as producer on albums by such acts as Jeff And Sheri Easter, the Imperials, J D Sumner & The Stamps and Russ Taff. Even while touring as a mainstream artist he often included a smattering of traditional gospel songs ("Blessed Assurance", "I Surrender All") at his concerts. In 1998 the album 'Gospel', a collection of such songs, was recorded by English and his "secular" band. In 2000 a fresh attempt was made to rehabilitate Michael with the CCM audience. 'Heaven To Earth' was again produced by Brown Bannister. CCM magazine and other Christian publications inaccurately reported that it was English's "first recording of Christian music in seven years." The song "Finally Free" seemed like a potential autobiographical signature tune ("I'm free to play the lesser role/Give up my need to take control/I'm finally free of me"). Unfortunately English's troubles were not behind him. No sooner had the album hit the shelves amid much CCM hype then English admitted himself into a rehabilitation centre in an effort to free himself from his prescription drug addiction. A police investigation ensued as to whether English had obtained his drugs legally and several Christian radio stations deleted the first single from 'Heaven To Earth' from their playlists. English was sentenced to three years probation and told CCM magazine in 2001, "I don't know if I'll ever have a name for myself in this business again but I don't feel I'll be doing the will of God if I give up. I believe God has plans for me, but I keep screwing it up."
Finally after years of self-inflicted torment the singer came to an end of himself. He recalls, "One night I'd basically come to a decision that I'm gonna die from this because I can't get over it. I can't fight it. I'd gone to rehab, I'd done all this stuff but no matter how hard I tried. . . And I'd also heard that it would basically take a year or two for your body to get back to a normal state, and it probably never would. That frightened me. Because every day after rehab, 40 days, 50 days, 60 days, I was fighting a battle that was a battle I couldn't win. So I ended up using again."
He continues, "One night I end up on the couch of somebody's house because I was homeless. I'd let my hair go, I didn't shower; I just didn't care. I told everybody around me I'd be dead before I was 40. So I ended up on a couch and I took everything that I had and I fell off to sleep. Next thing I know I'm hearing something in my mind and I'm seeing something, and what I'm seeing is myself and it was God showing me what I'd become; I believe that with all my heart. I heard a couple of questions asking, 'Is this what you want? Is this where you want to go? Is this the road that you want to go down? Is this how you want your daughter remembering you?' I didn't know what to think. I didn't know what to say, I just was saying off the top of my head, 'I don't know what you expect! I don't know what you want! I don't have anything else to offer you! I can't sing anymore!' I'd lost my voice but even if I hadn't no one would let me sing in church again. But he let me know that it wasn't about that. It wasn't about Christian music. It wasn't about how good you sing. It was about ME, and how much God loved ME, and how much he wanted ME to come home. And at that point in time I got down on my knees and rededicated my life to God. And I fought; it was a hard fight with the drug thing but I got through it, thank God, only by his mercy. And that's when I realised, you know what, man, there's still a place at the table for me, and God was just saying, 'You can come home, and it doesn't matter what you've done.' I didn't have to go get off drugs. I didn't have to go shave. I didn't have to go clean up. I hadn't to do nothing but just come home."
Continues Michael, "And after that was the hard part! Because I had to get cleaned up. I had to get my life straightened out and all that stuff. And you know what? It was good for me. God knew if he'd have healed me just like that I couldn't have gotten it together. I had to go through hell, even more hell, to understand the refining process of everything. And it's a great place to be. You know, I ended up homeless basically. I didn't have anything. And today I have a wife, a home, a Christian career, and Norman Miller's managing me again, and I have a better perspective of God. He's a God of love, mercy and grace and not a God who points his finger at you every time you think a bad thought; that smacks you around all the time. It's a great feeling, it really is."
These days, English is back making Christian music. His rehabilitation began with the decision to write his story in the autobiography The Prodigal Comes Home: My Story Of Failure And God's Story Of Redemption published by Thomas Nelson Also released last year was 'The Prodigal Comes Home' CD produced by a bevy of top studio maestros including Mark A Miller, Dale Oliver and Bernie Herms. More than one critic named the album Michael's best ever release and Cross Rhythms radio gave considerable airplay to Michael's smouldering interpretation of the John Hiatt ballad "Have A Little Faith In Me". He sums up the approach to his book and album as, "Let's get the story out! Let's show people what's happening in Michael English's life and how great God is in the process! And then let's give the world some music!"
The book describes one of the greatest comeback stories ever, because from the brink of death, English has got his life back together after false starts and failed comebacks. Despite everything, he still had friends in the industry and he still has considerable vocal talent. He remembers, "I had gotten so hooked on drugs that I couldn't function. One of the last concerts that I did, I was just rambling on. It so happened to be near my home town and my family, they were just mortified; I was up there talking about stupid stuff because I was on this OxyContin medicine, just eating it like crazy and basically taking so much of it to where I couldn't function. Because you CAN function on this stuff, you know? So many people do and I did for years but your body becomes immune, man, and you gotta take more and more and more and that's what happened - I just kept taking so much. There were several times when people thought I was already dead anyway."
English has been through his trials and tests and as the saying goes, he really now has a testimony. "I remember when I first got the opportunity to do a solo CD," he says. "They came to me. I didn't go to them seeking it because I didn't want to but we all know that God doesn't always put us where we're comfortable. And so what I'm hearing from these guys is, 'Okay we know you can sing but what have you got to say?' And I'm like, 'Well you guys came to me! So what are we doing here?!' I started thinking, 'Lord, if you want me to do this you'll have to give me something to say,' not knowing that I did have things to say like being molested as a kid and not dealing with it at that time. So really in my mind I didn't know what I was going to do so, 'If you want me to do this give me something to say.' Of course I look back now and go, 'I got enough Lord! You can turn it off now!' He laughs.
In the fondue restaurant, my time is up and I'm forced to move on and interview the next artist sitting at the next table. But I have so many more questions that I want to ask English. Reluctantly I take my leave with a promise that I'll talk to him again about all of this.
Some stories take a long time to gather together and this is probably one of the longest. A year after the fondue, I am back in Nashville and this time English visits me in the quietness of my hotel room. I ask him to reflect on what he's learned through all of these experiences and how God is using them to minister to others. "It's so amazing now," he says. "I look back now and think; the things that I have come through! That's what I'm mostly hearing about, doing what I do, it is like, 'Thank you! Thank you for showing us that even at the worst place that you can somehow fight it, with God, and get back up and dust yourself off.' And that's what I choose to do and that's what I'm so glad that I'm able to do because the drug thing was a hard thing. But I look at it and I go, man, the things I've been through! I seem to cover the gamut as far as things that have gone wrong."
But this isn't simply a story about a fall from grace and a dramatic descent into drug hell. Like all of us, English has had to contend with the every day hurts and losses as well. He says, "Even now, even with things going great in my life, my wife and I lost twins; that was a tough time. Also I lost an aunt who was like my mother. I didn't understand because it just made no sense. She was young, her daughter was in prison and she was getting ready to get out and then she dies. God takes her! And I kind of got angry at God. But you know, God can handle that. Nowhere in my mind was I thinking, well I'm gonna go and take drugs if you're gonna do this to me! That never entered my mind. But God helped me with that and he seems to do that when you pray."
Praying isn't something that comes easily to English as he struggles with his attention deficit disorder. A devotional life has always been a challenge for him but little by little it is growing. "My remedy used to be not to do it and what I have found out is that even if it's just this much," he places his fingers to indicate a tiny amount, "God can use it. And you know, God wants more and more and more. But if my mind starts to wander when I read the Bible; I will just put it down and I'll come back later and I'll get more and more and more. The same way with praying; just a little bit here and there and God will bless. And I'm seeing that every day and it blows my mind about God!"
Even experiencing God's grace and starting again on his career, it must still be hard for English. Perhaps you're reading this and have no grasp of how popular a singer Michael once was all those years ago. English himself remembers the days before it all went wrong. "I have lots of great memories," he comments. "I remember the crowds and things like that. There's one memory that I talk about in my book about being in Detroit, in a place called Temple Baptist. I don't remember a lot of things but that's one that sticks out in my mind because it was on the Hope tour, and when I came on, I came on to basically a silhouette; I was standing in front of this big light and when that light came on was when the roar came - the screams. I remember it because my ears distorted from the screams and that's just a really weird thing for me because it was so loud. I think there were 6,000 people or more there. That was a great moment for me, to look back and go. . . I had heard things from my family that I'd never amount to anything and at that point in time in my life the words 'never amount to anything' took a back seat! But the interesting thing is I went back to that same place years later, after all the stuff that happened to me and I had about 800-900 people and they looked empty; they kind of just gave me a glimpse of what had happened to me."
You can imagine that writing the book must have been a challenge with attention deficit disorder! "It was," he agrees. "You know what the biggest challenge was? Afterwards, reading the whole thing and making sure everything was correct; that was really the challenge. So what I did, my wife read it to me. There are ways around things without going, I just won't do it! So that was a challenge. But more than that, it was just going through it again; that was pretty tough, but also therapeutic. It makes me realise how fortunate I am that God has given me another chance. We serve the God of second chances."

The opinions expressed in this article are not necessarily those held by Cross Rhythms. Any expressed views were accurate at the time of publishing but may or may not reflect the views of the individuals concerned at a later date.
About Mike Rimmer

Mike Rimmer
is a broadcaster and journalist based in Birmingham.
Reader Comments
We welcome your opinions but libellous and abusive comments are not allowed.