Tony Cummings reports on London's unusual purveyors of club-friendly rhythm, OOBERFUSE
Ooberfuse
Of all the bands on the current UK pop scene, none are as outspoken and thought provoking as the London-based aggregation Ooberfuse. Their powerful socio political and spiritual messages coupled to deft club-friendly rhythms make Ooberfuse just about unique on the whole pop pantheon and with the recent launch of their second album 'Seventh Wave' the band have continued to make an impact. The band consists of vocalist Cherrie Anderson, Hal St John (vocals, synth, guitars), Nico Cox (guitar) and Jon Jonsson (drums). Hal spoke to Cross Rhythms journalist Rose Edwards about 'Seventh Wave'.
"It's got hidden biblical overtones, if that's the right way of putting it. It's going back right to the beginning of the Old Testament, where Adam sins, and under the consequence of sin the eyes of faith close and the only way he's receiving information from the outside world after he's sinned is through his five senses. But as we know, Jesus came along and he undid all the effect of sin and all of a sudden our eyes are opened. So we're not just able to receive knowledge and wisdom through our five senses, there is something more than that and the thing that is more than that is the seventh wave."
The opening track to the album, "Call My Name", when released as a single, was used by the organisation Nationwide Vocations Framework to encourage people to find their vocation in life. Hal commented on the song and the message behind it. "The notion of being called is always one which has intrigued us as a band. Quite what it means and quite how you speak about it in a language which can be understood is a big question and a big challenge too. So the idea of vocations, of being called by God: obviously it's not just something religious people experience, we all experience calling in some way, shape or form. Our song is an attempt really to dig deep, deep down into the undergrowth of the human condition where the voice of God is whispering and to try and tune our senses and our inner ears to that voice, so that when we hear it our life pursues a direction and we light up the world around us."
Another powerful track on the album is "Blood Cries Out". Explained Hal, "The song is kind of a follow on from the Shahbaz Bhatti memorial which was held at Trafalgar Square in March to mark the first anniversary of his assassination. He was a Christian minister in a country which is predominantly non-Christian and sadly he was assassinated for defending the rights of minority groups, in particular Christians, in Pakistan. One of the people he defended is a lady called Asia Bibi, who is currently alive but unfortunately is in prison and has been in prison for three years. June 14th marked the third anniversary of her imprisonment or arrest. We were invited to write a song about Shahbaz Bhatte by the organisers of the protest in March and out of that they also asked us if we could write a piece of music for Asia Bibi. 'Free Asia Bibi' is our song which is a cry out to whoever is listening to release Asia Bibi from prison. Her only crime really is to be a Christian and to stand up and speak loudly and proudly for Jesus in a situation where it's not a message which is heard with sympathy."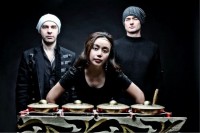 The origins of Ooberfuse go back to 2009 when Cherrie Anderson, Hal St John and a chap called Larry, who played a kulintang (an ancient Eastern percussion instrument), entered a nationwide talent search, Live And Unsigned, under the name Fuse. Said Hal, "The rules for the competition stipulated that as you progressed through the competition and do live performances that you have to do an original song and you have to do a cover. We got through to the final so by that point we'd had to perform a cover and the cover we chose was 'Love Cats' by The Cure. It's not an obvious cover to do and it's probably not an easy one to do because the original is so quirky and it's almost inconceivable that anyone could take that song and do anything with it, so we were playing with fire. But it seemed to work! The original name was Fuse and we found that when you googled Fuse hundreds and hundreds of things came up including an electricians' convention in Australia. So we thought if people want to find out about us then they're going to have to trawl through all this stuff and probably end up giving up, so we decided that we needed to change our name or at least make our existing name a bit more stand-out. We opted for putting Oober in front of Fuse, hence Ooberfuse. It basically enhances the original spirit of the concept behind the band in the sense that we're bringing together traditions from the East and West and also bringing our faith into the secular musical world that we all live in."
In the spring of 2011 singer Cherrie Anderson submitted two songs to the song search organised by the Catholic Church's World Youth Day. They ended up being sung at WYD, held in Madrid that August. Said Cherrie at the time, I am happy and humbled that my songs have been chosen from out of the 270 entries. When I submitted them earlier this year there were only around 20 entries. There are some really good songs included in the other submissions so my expectations were not that high. It is incredible that both songs 'Faith In You' and 'Unshakeable' were actually listened to by young people all over the world more than half a million times!"
Later that year Ooberfuse released their debut full length album, 'Still Love My Enemies'. Hal has fond memories about the project. "Making that was an amazing experience. I think any musician currently in today's secular society, they're faced with this question: do you park your faith into a little corner and when you're doing your music just focus on secular and worldly things in order to attract an audience, or do you not park your faith into a little corner and allow it to influence what you are doing? We chose the second course of action. So a lot of the music on our album was experimental - obviously there are a lot of Christian bands that do that - but it's difficult to straddle the Christian and the non-Christian world, the secular society we're living in, and to be successful; so we were surprised by how well album was received and encouraged by that to continue developing what we're doing and taking it forwards."
The title track to 'Still Love My Enemies' was something of a turntable hit on Cross Rhythms radio. Hal spoke about the song. "'Still Love My Enemies' is a track where we kind of get inside Mary's mind and heart at the moment that she is standing at the foot of the cross, gazing up into the eyes of her beloved son. The song really tries to explore the emotional turmoil that she would have been in seeing her son dying in front of her. Not simply opening up to the dark emotions that would have overwhelmed her, but trying to reconcile those feelings of fury, anger and whatever it was she was feeling; to reconcile those feelings with Jesus' teaching about loving our enemies. It seems almost impossible for somebody who has brought a son into the world to see him crucified and killed in that way and still, after all of that, to love her enemies. So that was kind of the inspiration for that song."
Ooberfuse's 'Seventh Wave' was given a much enjoyed launch party held at London's AAA@Archangel club. Said Hal, "The future's looking very bright, we hope. We obviously don't know what's going to happen in the future but if things continue to develop and grow as they have been doing then we'll be very happy with that."

The opinions expressed in this article are not necessarily those held by Cross Rhythms. Any expressed views were accurate at the time of publishing but may or may not reflect the views of the individuals concerned at a later date.
About Tony Cummings

Tony Cummings
is the music editor for Cross Rhythms website and attends Grace Church in Stoke-on-Trent.
Reader Comments
We welcome your opinions but libellous and abusive comments are not allowed.