Rose Edwards reports on the 21 year history of the husband and wife Ohio-based duo OVER THE RHINE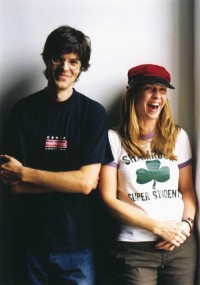 Over The Rhine
Husband and wife two-piece Over The Rhine have been recording music that has changed lives and been part of many people's moments for 21 years. As singer Karin Bergquist and multi-instrumentalist Linford Detweiler's legion of fans know the Ohio-based duo have their own style, an eclectic mix of folksy art-pop and rock with occasional excursions into jazz. Down the years they have released 11 studio albums, three re-issues and five live albums. The musical couple have appeared on stage along with artists such as Bob Dylan and Shawn Colvin and toured with Cowboy Junkies. In 1996 they even became "honorary members" of the Cowboy Junkies and played as a group on hugely popular TV programmes such as The Late Show with David Letterman.
The duo are still busy. On 7th June the band played the Pantages Theater in Winnipeg, Cincinnati and then on 28th July they will be gigging at the South Broadway Cultural Center in Albuquerque. They have also started workshop writing classes every August where they help songwriters to develop the same polished craft that has served Over The Rhine down the years. OTR is nothing but utterly committed to their art. Said Karin on the Aquarium Drunkard website, "We decided early on that we were gonna do this and do it to the point where we either made it and made a living at it or we were gonna be penniless on the sidewalk. It was that kind of commitment."
The band named themselves after the Cincinnati home town where they were born even though the neighbourhood was considered the bad part of town. In an interview Karin once commented, "It has quite a history and it's experienced a bit of gentrification over the years but 20 years ago it was a great, affordable place to live for artists who couldn't afford anything else and it's a beautiful place. A hard place to live, a little dangerous, a little different for a couple of white kids from Ohio but Linford had an apartment there and that's where we started writing our songs. It was good. It got us out of our comfort zones." Linford added, "It's where we were born and grew up and met each other and it seemed like it would be good for the music if we could stay where we had roots and could give the music space to find its own direction without a lot of intervention by professionals in a music city like Nashville or New York or wherever. So we kept it close to home." Now the couple live in an estate farm in Ohio. Speaking about Over The Rhine's current home environment Linford commented on The Milk Carton website, "I think it's influenced our headspace. I don't think we could live out here if we didn't work city to city because we kinda need both. It's a good balance; it's a good home base. So we feel real fortunate."
The band was once a four piece with Linford Detweiler (pianist/guitarist/bassist), Karin Bergquist (vocalist/guitarist) Ric Hordinski (guitarist) and Brian Kelley (drummer) but after Hordinski left in December '96 and Kelley left in '97 the band became a duo. When asked whether it was hard to work together as well as being husband and wife, Linford explained, "You have to learn to make space for the marriage and to take of that and to make space for a creative partnership and learn to take care of and balance both. It's something that requires experimentation."
As Christians the pair weave in elements of spirituality to their songs even though seldom in an overt way. In an interview with Christianity Today, Linford said, "When Jesus is teaching, when he really wants to get at something deeper, he's usually telling a story that invites the listener to enter a place where things are happening on different levels. That's really where we want to live as songwriters."
The band's first album ''Til We Have Faces' was named after the CS Lewis novel. Released in 1991, it firmly showed that even though they were just beginning it was a fascinating musical journey they were on with lyrics that seemed to address many of the enigmas of post modern man mixed with glimpses of spirituality. Their second album from 'Patience' was released in 1992 after the release of their debut album. In an interview with MBI's student newspaper Linford commented, "'Patience' was dreamier, more atmospheric." Later that year the album was re-issued by IRS Records with a different track listing.
After 'Patience' came 'Eve' which was released in '94 by major label IRS Records. With it the band proved that they could change their style a little to incorporate louder guitars with up-beat pop material. Explained Linford, "'Eve' was a record where we tried to rev up the guitars and make more noise. We had been playing in a lot of clubs prior to 'Eve' and we felt we had to play louder, more up-beat material to be heard. We were wrong." Despite Linford's misgivings 'Eve' still received rave reviews. The Vermont Collegian enthused, "An absolute masterpiece and without question one of the finest releases of the year," while Beth D'Addono, a Times Music columnist, wrote, "'Eve', with its tales of feverish love, suicide, guilt and yearnings for self-worth, is the most real thing to come down the pike in a long time. Do yourself a favor, check it out."
Over The Rhine's 'Good Dog Bad Dog: The Home Recordings' was released in 1996 by Imaginary Records after Over The Rhine was dropped from IRS Records. Said Linford, "'Good Dog Bad Dog' surpassed all our expectations. It quickly outsold anything IRS. had ever released for us and for the first time in our career peers like Sarah McLachlan, Cowboy Junkies and others began seeking us out to voice their appreciation for our music. Sarah told Karin that 'Good Dog Bad Dog' had been her antidote for writer's block. Cowboy Junkies invited us to tour with them for almost two years, and Karin and I ended up recording two albums worth of material with them: their live album 'Waltz Across America' and the forthcoming studio album for Rounder Records, 'Open'. They were so gracious and we gleaned a great deal of wisdom from them, had a lot of laughs, covered a lot of miles. Maybe sitting in with another band (as well as doing our own music) sort of took the pressure off for a while." With 'Good Dog Bad Dog' the duo went back to their original sound. Linford explained, "'Good Dog Bad Dog' found us returning to the center of what Over The Rhine is about. OTR has always been about confessional songwriting and a voice that invites the listener to come closer. With 'Good Dog Bad Dog' we made peace with just being ourselves come what May."
Also released in 1996 was 'The Darkest Night Of The Year', a Christmas album. Commented Linford, "'Darkest Night' was a spare, after-midnight collection of songs we had been slipping into our annual December concerts."
In 2000, 'Good Dog Bad Dog' was reissued by Back Porch Virgin Records with a different track listing where they took out two of the songs and added a new one dropped from the original release. Said Linford, "The guys at Virgin just said 'Hey is there anything you'd like to do to make the record feel fresh for you?' That was basically all they said. They didn't make any suggestions or anything; they just left it up to us. We decided to repackage it: I collect beautiful old photographs and I love all kinds of imagery like that so we pulled out a couple of our favorites and dressed it up in a new set of clothes. Karin always felt-there was a song on there, a bouncy gospelly kind of tune-she felt it was the odd girl out on the record. I had, in the space of about 20 minutes, improvised a spoken word thing that we put on the record. 'Jack's Valentine' has become a crowd favorite live that was a song called ', a quick tip of the hat to Jack Kerouac."
'Films For Radio' released through Virgin in 2001 received great reviews. At the time Linford said, "Many have commented that they feel 'Films For Radio' is our most accomplished work so far as a band. I think 'Films For Radio' will be a good record for us and I think our long-time fans will find plenty to enjoy. We're drawing from the same well we've always drawn from. In so many words we're just telling people what we've seen, what we've thought about, what we've dreamed and imagined, how we've lost our way, how we've found our way back." There is a story behind the off centre album title. In an interview with The Lantern, Ohio State University, Linford explained, "I got the idea for the title from a local artist here in Cincinnati called Aralee Strange. Aralee is a poet and a film-maker who had written a surreal radio drama about 10 years ago called Etta Stone: A Film For Radio. I loved Etta Stone and I always loved that phrase and asked her if we could use it. I like thinking of these songs as short films. And again, one of the lines in the first song is 'Roll the movie of my life inside of my head.' The character in the song is recognising that her life is a story. She wants to try and take care of her story and take care not to miss the good parts."
The group's 'Ohio' released in 2003 and was a two-CD album. Critic Mike Breen for Cincinnati City Beat reviewed the album calling it, "a record of disarming beauty and stunning emotional focus."
'Drunkard's Prayer' was the next album released, in 2005 by Virgin Back Porch Records. The duo admitted it came from a place where they had gotten through marriage difficulties. The pair had seen a Christian marriage counselor and had through the rough patch. Linford said to The Milk Carton, "Karin felt the need to lighten up a little bit. Cause she was sort of lobbying to let some light in. Although 'Drunkard's Prayer' I felt like there was some hard-long joy on that record. It was sort of a record, a very simple project that celebrated the survival of our marriage after we had hit a rough patch. So, hopefully people can feel some of that joy on that project."
In 2006 the band released their second live album 'Live From Nowhere, Volume One'. The album was a limited edition CD with only 3,000 copies pressed. Since then three further albums in the series have been released. 'Live From Nowhere, Volume Two' was issued in 2007, 'Live From Nowhere, Volume Three' in 2008 and 'Live From Nowhere, Volume Four' in 2009. All four albums were on limited edition runs and were named after their farm. Linford spoke about the demands of being on the road. "Touring is a very communal enterprise that requires six or eight people sort of working closely together toward a common goal - putting a great show on every night."
In the same year Over The Rhine's second Christmas album 'Snow Angels' was released and produced a Cross Rhythms turntable hit in 2007. The Los Angeles Times reviewed the album and commented, "Singer Karin Bergquist and multi-instrumentalist Linford Detweiler share song writing duties and with this set of original songs, they've crafted not just one of the year's best holiday albums, but one of its best, period. Knowing the season sparks a multitude of emotions, they explore loneliness, romance, hope, spirituality, wonder and forgiveness, subjects wrapped in music that's evocatively atmospheric and irresistibly melodic. "
Jazz-oriented 'The Trumpet Child', which was showcased at that year's Greenbelt Festival, was issued in 2007 with the couple's own independent record label Great Speckled Dog named after their Great Dane Elroy. Linford explained, "'The title I suppose goes back to one of my earliest memories which was the sound of a trumpet at a camp meeting revival. I grew up around a lot of old church music and my father was a protestant minister in a coal mining town for a while. He was a bit of a jack-of-all-trades. But the sound of that trumpet, which I consider my first real memory, has remained kind of a powerful moment for me."
"And then also in the old hymns, I've talked about this, you know as a boy I kept hearing reference to this sound of a trumpet. The trumpet of the Lord, or the angel Gabriel blowing a trumpet and that signifying the rebirth of the world or something big. And Karin and I, as we got interested in music, all of us have obviously heard these great American horn players: you know, Louis Armstrong, John Coltraine, Charlie Parker, Stan Getz. And I've just been wondering about the sound of that trumpet. Is it real? Is it a metaphor? What exactly is on God's iPod?"
Over The Rhine's 'The Long Surrender' on Great Speckled Dog came out in 2011. When he was asked by Christianity Today to describe the album Linford suggested, "A little bit dark, cinematic, sea-faring." He continued, "We cut the whole record live, I mean, with everybody playing together. It really felt that we were hopping on a train or setting out to sea, and we had to occasionally hit the lifeboats, but we made it back and the record is what happened." 'The Long Surrender' was OTR's first album to be funded by their fans. They asked their fans to contribute however much they wanted to have the experience of helping to fund the costs that it would take. Linford said to Examiner, "Our fans stepped forward and quickly paid for the project. We found that humbling and inspiring - there was something communal about the process. It was almost like they bestowed a blessing of some kind on us in advance. Some of them are already asking, 'When can we do it again?' I think it was a good experience for everybody. Some of the letters we got - I hadn't really thought about it - but for some people it was the first chance they had to actually make something like this."
Back in 2000 the Over The Rhine track "Goodbye", from 'Films For Radio', was featured on the compilation 'Roaring Lions' which was subtitled 'Christian artists who are making A Difference In The World'. Few would argue that the subtly nuanced pop art of Over The Rhine has done just that.

The opinions expressed in this article are not necessarily those held by Cross Rhythms. Any expressed views were accurate at the time of publishing but may or may not reflect the views of the individuals concerned at a later date.
About Rose Edwards
Rose Edwards
is a journalist living in Stoke-on-Trent.
We welcome your opinions but libellous and abusive comments are not allowed.