Rose Edwards spoke to PARADOX about his background and album 'Mending'
Paradox
Denver-based Christian hip-hop artist Paradox, whose track "I Don't Believe Them" is currently on the Cross Rhythms playlist, isn't what you'd expect a rapper to be. Paradox (real name Matt Klassen) is also a theology teacher. When the rapper spoke to Cross Rhythms he observed, "In a sense, my life has come full circle. I now teach theology at the high school I was forced to attend, which I see as evidence of divine providence."
The emcee chose the name Paradox to show that he isn't the usual stereotype of the hard-living, bling obsessed misogynist. Matt said, "Tha name Paradox started out as just a way of acknowledging that I'm not what most people think of when they think of a rapper and that the content I try to bring to the table is not what most people think of when they think of rap music. Over time, though, it's grown to be a nod to the seeming contradictions that lie at the heart of the Christian message: that we must die to truly live; that true freedom requires obedience; that happiness and suffering are not mutually exclusive."
On his latest album 'Mending' he worked with big names in Christian hip-hop such as DJ Sean P, Manchild and Freddie Bruno. From the album the track "I Don't Believe Them" is inspired by his work as a teacher. The rapper explained, "In my role as an educator, both at the school where I currently teach and the others where I've worked over the past eight years, I've experienced first-hand the negative messages with which today's youth are constantly bombarded. Even those young people who genuinely seek to live a life informed by Christian ethics, in opposition to the widespread sentiment of moral relativism, are hard-pressed to find examples in popular culture of how to actually do so. Listen to any mainstream hip-hop station for more than five minutes and you can't help but get the impression that to be male is synonymous with disrespecting women, using drugs, employing violence and acquiring material wealth. The role laid out for females is no better, but I teach in a single gender, all-boys school, so I tend to focus on the messages geared toward young men. It's hard to blame our teenagers for buying into this picture, when, in large part, it's the only one for sale. At the same time as they rap the lyrics of these mindless anthems in the high school hallways, though, my students express a deep sense of meaninglessness and lack of fulfilment when given a safe, non-judgmental environment in which to do so. When they can step outside the white noise of technology and media, they find that their innate, God-given desires are for something more. A more that they don't always have the language to put into actual words, but which the Christian message says is a longing for love and relationship with God. 'I Don't Believe Them' is an attempt to say that these things that the world tells us are worthy of striving for or emulating are all lies."
The album was well received by critics finding the album a call back to the old-school style of rapping over DJ Sean P's production. A reviewer for Indie Vision music said, "Paradox has done a great job of trying to bring a fresh sound to the scene with his clean, articulate raps and his hip-hop feel. If you're looking for something different from the over-produced Christian rap you should give 'Mending' a spin."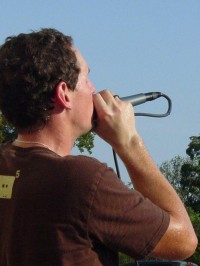 On the recording of the album and working with DJ Sean P, Matt commented on how organic the process was. He said, "DJ Sean P is incredible to work with and his feedback always yielded a better finished product. Since he handled not only the production, but also the cuts, the mixing, the mastering, and even some of the rapping, the outcome was a collaboration in the fullest sense. Also, it's a true credit to our little underground Christian hip-hop scene that every artist I reached out to for a guest contribution to the project was extremely humble and receptive. DJ Sean P and I have been friends for quite a few years now. He used to be in a crew called Bone Circus and I think I was actually at their last show as a group. Anyway, I've always had a ton of respect for his work; beats, raps, scratches, mixing, mastering, design work, and we've rocked a few shows together. As I got to know him more, I found out he wasn't just a beast on the music end but a really genuine, solid human being. We had kicked around the idea of doing an album for a while but life got in the way until recently. My wife was pregnant with our second daughter so her due date served as a good deadline for the album and helped give us a sense of urgency. Early on in the process we caught a general vibe for the project and that pretty much carried us through. The features are all people Sean or I have built with in the past and that we were both excited to be a part of what we were making."
Paradox was born just outside Dallas, Texas in 1980 but moved to Denver, where he has lived most of his life, at the age of eight. His childhood had a lasting effect on the rapper. Paradox said, "I've never met my biological father and was raised primarily by a single-mother. My mom, as one of eight brothers and sisters, came from a large, very supportive family who all lived relatively close to one another, so fortunately everyone pitched in during my childhood. That being said, I think the absence of a consistent paternal role model during those early, formational years had a lasting impact on me that I still deal with in various ways today. On the negative side, this fact about my upbringing manifested as defiance against authority which basically got me expelled from middle school and that, in hindsight, I think stemmed from trying to compensate for feelings of insecurity due to this lack of a solid male influence. On the positive side, though, now that I'm a married, father of two, I look back at this aspect of my life as a way God was preparing me to more meaningfully embrace him as 'father" and look to Jesus as the blueprint for human flourishing."
He continued, "I was raised, from birth on, in the Catholic tradition but my Christianity, for lack of a better term, and my personal relationship with God was definitely something I grew into over time. With a few notable exceptions, until my senior year in high school I outwardly went through the motions of spirituality and religion, while inwardly harbouring a lot of doubt and cynicism (which I now think was partially another result of having never met my biological father). After being 'asked to leave' the public middle school I had attended, due to disciplinary and academic issues, my mom and stepfather, who she married when we moved to Denver, forced me to attend a private Catholic high school to prevent me from following in the footsteps of my older, public school friends. I greatly resented it at the time but now I have little doubt that I would never have graduated high school and honestly may have ended up in jail if it were not for their decision. Anyway, my senior year I had a theology class taught by an amazing teacher and Jesuit priest who challenged all of his students to wrestle with and thereby take ownership of their beliefs."
After high school, Paradox attended Colorado State University and met people who were creating hip-hop music. The emcee began using rapping to deal with his feelings surrounding his faith. Paradox commented, "At the time, I started writing and eventually rapping as a way to deal with the scepticism I still had in regards to faith. It provided a cathartic release and a way to become more involved in a culture that had been so important to me in life."
Paradox and DJ Sean P
He continued, "It was that Jesuit priest's influence and the urging of my now-wife that, years after I graduated from college, prompted me to serve for two years in Belize as a volunteer at a last chance high school for girls; last chance meaning that all of our students had already been expelled from one or several other high schools and that this was literally their final opportunity for a high school education. While there, I lived in an intentional community with five other volunteers. I've often told people about my service experience that I've never wanted to succeed at something so badly only to, from my perspective, fail so miserably. Add to this the fact that my stepfather decided to divorce my mother out of the clear blue while I was out of the country and it was amidst this challenging climate that I turned to my Christian faith as the anchor which enabled me to persevere through the two-year commitment. Long story short, I would say that it was during this time, between 2003 and 2005, that I truly became a Christian."
He added, "I actually dragged an old eight-track to Belize with me and recorded the lion's share of what was to become my first solo album 'Hiatus' in a classroom at a school there where one of my roommates worked. When I listen back to that earlier music, I regret some of the things I said and actually committed to record, but I can also appreciate the spiritual struggle and development to which those recordings testify, a progression that was essential to get me where I am today."
Today, Paradox lives with his family in Denver after recently returning to the area after living in Austin, Texas for the past six years. For the future Paradox is seeking how to use his time wisely. He mused, "I pray for the wisdom to recognise when it overshadows or supersedes more important obligations in my life, as it definitely has in the past, and even to discern when I'm perhaps called to step away from it altogether. Now that my free time is at a premium, while I try to juggle a full time teaching job, being a husband and raising two little girls, I can't really justify time spent writing/recording/performing unless it's for a more selfless reason. That's not to say that I don't derive enjoyment from rapping or that it doesn't still provide a means of escape for me every once in a while, but I try to be honest about my intentions by separating out my more selfish motives from the only reason rapping should ever occupy my time now, namely to spread the Good News."

The opinions expressed in this article are not necessarily those held by Cross Rhythms. Any expressed views were accurate at the time of publishing but may or may not reflect the views of the individuals concerned at a later date.
About Rose Edwards
Rose Edwards
is a journalist living in Stoke-on-Trent.
Reader Comments
We welcome your opinions but libellous and abusive comments are not allowed.