Wednesday 23rd April 2014
Tony Cummings reports on the 13 year history of rock rappers RAPTURE RUCKUS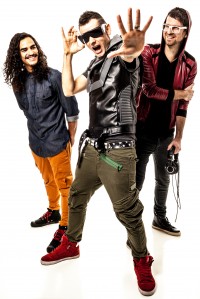 Rapture Ruckus
A good few years back when Cross Rhythms' I made a visit to New Zealand's Parachute Festival and came back clutching a copy of a rock rap album from a new band from Wellington, Rapture Ruckus. Cross Rhythms were the only radio station in Europe to give the self-titled album some radio play. As it's turned out, more than a decade on from that time the band, having relocated to the USA, are today finally getting the international recognition their talent deserves. Their latest single, "In Crowd" (featuring Solomon Olds of Family Force 5, otherwise known as Soul Glow Activatur), is currently getting plenty of airplay.
The origins of Rapture Ruckus go back to 2001 when a then 18 year old Brad Dring, struggling with a drug addiction, was trying to find purpose in life. One day while high on the back seat of his friend's car he was challenged on where his life was headed. He found himself at a church and committed his life to God. Refocusing his passion for music Brad partnered with Doug Aitofi and formed the duo Rapture Ruckus. They recorded a nine-track album of the same name and released it through local Wellington indie label Soul Purpose. An appearance at the Parachute Festival ended with them being signed to Parachute Records.
It was to be four years before Rapture Ruckus would record again but when they did their 'I Believe' album, with its singles "Freight Train", "Lose Control" and the title track, won them appearances in Australia and South Africa while in their homeland it was awarded the Best Gospel/Christian Album at the New Zealand Music Awards. Around this time Doug Aitofi left the group and Brad Dring continued the act as a soloist with the band as backup.
In December 2008 Rapture Ruckus released a live CD/DVD, 'Rapture Ruckus Live At World's End'. It debuted at number seven in the New Zealand Top 40 and made number one on iTunes New Zealand Hip-Hop chart. By 2009. After recording several tracks for a planned new album, they shocked their New Zealand audience by announcing that they were relocating to Nashville, Tennessee. Brad Dring explained his decision to America's NewReleaseTuesday website. "We've been going for a long time and built up our audience back home, but it's a pretty small country with only four million people, so we got to the point where we toured as much as we could over there. Now that we're spending so much more time in America, it's like starting from scratch meeting new people. But we've got a very simple strategy and that's to build it up organically the same way we did back home. We did 100 shows in America last year, are up to 130 this year and are always committed to taking a massive show with us wherever we go. We actually use the same production here as we would use in New Zealand, which includes a 40-foot super wide LED screen, because we want to bring our full game over here."
Brad Dring
NewReleaseTuesday were hugely impressed by the band's exciting stage act and with their lineup by then consisting of Brad Dring (vocals), Geoff Duncan (guitar), Mike Aitofi (guitar) and Ross Nansen (drums), they were indeed an on-stage phenomenon. Described by NewReleaseTuesday as "a beat-driven blur between four on the floor dance grooves, explosive hip-hop and electronic pop, all wrapped around alternative rock attitude. While comparisons are practically impossible, remarks of reminiscence have ranged from the Black Eyed Peas to Linkin Park to Daft Punk or The Killers." Dring spoke about the group's musical development. "If you listen to our older material, we started out as a straight up hip-hop group, but slowly evolved into more of the rock and pop side with a real British, electro glam aspect to what we do. It's not rap and it's not rock; it's definitely it's own thing. This is a full band with big '80s synths backed by big production both on the stage and in the recording studio."
In 2011 Josh Stein replaced Nansen on drums and Seattle's BEC Recordings released Rapture Ruckus' 'Open Your Eyes' album. Rapture Ruckus self-produced much of 'Open Your Eyes'. Also contributing were Family Force 5's Solomon Olds and the Atlanta collective ZK Productions (Outkast, Cartel). One-time Delirious? guitarist Stu G also appeared on several tracks. Said Dring, "The album is about seeing the world through God's eyes and realising that there's so much out there, whether it be beautiful or painful, that we can't see with our own eyes. The title track in particular talks about a couple of everyday stories and what people are facing behind closed doors. But even if people are going through challenges, the message is meant to be uplifting and encouraging. There's enough people pointing fingers and our goal in Rapture Ruckus is to lift people up from their burdens and leave our show feeling like a million bucks. We want people to hear our music and go away feeling better than when they came in."
The latest venture for Rapture Ruckus has been the single and video for "In Crowd". The funding for the video was raised through a Kickstarter campaign. Dring told NewReleaseTuesday, "We've seen some of our friends' bands do Kickstarters and things like that. We started playing 'In Crowd' a few times at our shows and we put a free download up on our site, and one day I posted a photo on my Facebook page of me writing on my hands. I wrote 'dyslexic' on one hand and I wrote 'never going to be in the in crowd' on the other, and I posted it on Facebook. I didn't even know what it meant other than I struggled with this thing and it kind of kept me out of what I thought was the cool crowd - and yet I'm still the way God made me and God loves me and I'm perfect in his eyes. And man, it just snowballed. Hundreds of kids started writing these things on their hands and on pictures, on posters, on whatever and posted them on our Facebook. We were like, 'Man, this is crazy.' We decided we were going to do this video, but we said if we were going to do it we've got to do it properly. We're going to do it awesome."
Rapture Ruckus hope to release a new record in the autumn. Said Dring, "We're hitting on a fall tour with Newsboys and For King & Country, so we're hoping to have a new project ready by then. We're probably thinking more like an EP, a six-track thing, so we've got a lot of songs to finish. We're just in the process between touring to get finished and mixed. We traditionally do all our albums ourselves, record them ourselves on the road and at our studios in our houses. That's how we've always done it. It's cool, but the pressure is on to get it done."

Despite their long history, Rapture Ruckus have retained their single-minded spiritual focus. Said Dring, "We want to draw people closer to God, but we just try to be really organic and relate to people where they're at. We don't want to burden people down and there's not much of an agenda other than just wanting to love on people. We're just guys who are going through the same stuff as anybody else and we just want people to know that God loves you so much that he saved a bunch of screw ups like us."

The opinions expressed in this article are not necessarily those held by Cross Rhythms. Any expressed views were accurate at the time of publishing but may or may not reflect the views of the individuals concerned at a later date.
About Tony Cummings

Tony Cummings
is the music editor for Cross Rhythms website and attends Grace Church in Stoke-on-Trent.
We welcome your opinions but libellous and abusive comments are not allowed.