Tony Cummings reports on the extraordinary life of Memphis bluesman REV ROBERT WILKINS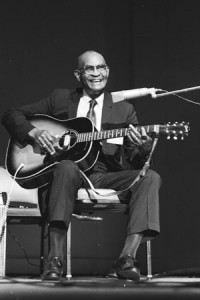 Rev Robert Wilkins
On 23rd September 1929 at the Peabody Hotel in Memphis a blues singer, Robert Wilkins, recorded a song "That's No Way To Get Along". Released on a 78 by Brunswick Records it was a magnificent record. Intricate guitar work underpinned a lyric about how the "low down women" treated him so wrong he wished he was "dead and gone" and how "that's no way to get along". No way indeed. In fact, Robert, then 33 years old, was a man very different from the hard living, hard drinking blues singer stereotypes. He was a quiet teetotaller and as author Francis Davis wrote in his book The History Of The Blues: The Roots, The Music, The People, "His songs were those of a man wondering if he was on the right path."
In 1935, shortly after recording some sides for Vocalion Records, a crisis occurred in Wilkins' life. His wife became seriously ill and Wilkins, who was already disillusioned by the frequent violence at blues parties, offered his life to God in exchange for that of his wife. His wife survived and Wilkins kept his pledge and joined the Church Of God In Christ and became an ordained minister.
Rev Robert Wilkins continued to play guitar and write songs. But now they spoke of a constant God rather than cheating women. Robert even took some of his old blues songs and wrote new lyrics so that "That's No Way To Get Along" became a powerful retelling of the parable found in Luke 15: 11-32, the Prodigal Son. For decades no one outside the confines of the COGIC church in Memphis had heard the dazzling guitar and strident voice of Robert Wilkins. But that was to change. In the early '60s a new audience for blues music had emerged as white folk enthusiasts belatedly discovered the riches of African American music. Music researchers began to comb the Southern States looking for country blues singers whose 78s were beginning to be re-issued on albums. And so it came to pass that Dick and Louisa Spottswood "rediscovered" Robert and offered Robert - now in his 70s - unexpected fresh opportunities to perform and record.
Rev Wilkins agreed, though insisted that he would only perform gospel songs. In 1964 Origin Records released Wilkins' 'Memphis Gospel Singer'. The album contained Wilkins compositions "Jesus Will Fix It Alright", "I'm Going Home To My Heavenly King", Dorsey's "Just A Closer Walk With Thee" and the Reverend's re-write of "That's No Way To Get Along" now titled "Prodigal Son". If the version of "Prodigal Son" on 'Memphis Gospel Singer' was good, his live nine minute, 30 seconds rendition performed at 1964's Newport Folk Festival was breathtaking. Thankfully the performances of Sonny Terry & Brownie McGhee, Rev Gary Davis, Skip James, Rev Robert Wilkins and others were recorded and Vanguard Records released many of the live tracks.
The album containing Wilkins' classic performance, 'Blues At Newport 1964 Vol 2', became an album eagerly received by the growing swell of white blues aficionados. In his essay The Blues: Religious Or Anti-Religious? writer Brian Darrith described "Prodigal Son": "Wilkins' song sticks close to the original parable presented in Luke and the only textual remnant of his original song 'That's No Way To Get Along' is the last line of verses one to four and seven. This line moves from the son leaving his home in verse one while stating, 'That'll be the way to get along,' to the son being broke and hungry in verse four and saying, 'That ain't no way to get along.' In the final verse of the song, the father orders the preparation of the feast saying, 'Kill that calf and call the family round/My son was lost but now is found/Cause that's the way for us to get along.'"
Rev Robert continued to perform for the white folk and blues audience. In 1968 The Memphis Country Blues Festival was recorded by producer Mike Vernon (the legendary founder of Blue Horizon Records) and Rev Wilkins was featured on the album issued by Sire Records singing the song "In Heaven, Sitting Down", a song also recorded by fellow Christian bluesman Fred McDowell. Another album released in 1968 and one that was to earn Robert Wilkins considerably more money was the Rolling Stones' 'Beggars Banquet'. It contained the Stones' version of "Prodigal Son". When writing about a CD re-issue of Wilkins' Newport Folk Festival recording of "Prodigal Son" Californian music buff Tod Armstrong nailed it when he commented, "Hear how Charlie and Keith appropriated the guitar and percussion (Wilkins' foot, here) parts for the Stones' version."
Throughout the '60s and '70s numerous compilation albums featured tracks from Robert Wilkins' pre-war recordings. And in 1976 Britain's Magpie Records went the whole hog and released 'Robert Wilkins 1928-1935: Before The Reverence'. Other intriguing releases were Miami's TK Records who in 1978 issued the 'Rare Gems' compilation unearthing a couple of sides Rev Wilkins recorded with producer Norman Dayron while Yazoo's 1980 compilation of pre-war oldies cleverly played on the Rolling Stone connection by issuing it as 'The Original Rolling Stone' (by coincidence Robert having recorded his two part composition "Rolling Stone" back in 1928).
Robert Timothy Wilkins died in Memphis, Tennessee on 26th May 1987. He was 91 years old. Intriguingly, one of the seven children born to Robert and Ida Mae Wilkins has a life story not dissimilar to his famed father. John Wilkins, the only of the Wilkins siblings with an interest in music, often performed with his father in church as well as at Overton Park Shell (the old park in Memphis where Elvis Presley used to play) in 1968. But most of the time John was hustling gigs in Memphis clubs like Dinos, the Flamingo Lounge and Club Handy where he often backed soul singer James Carr. In 1965 John played on ex-gospel singer O V Wright's first secular hit "You're Gonna Make Me Cry".
But in the early '80s, just like his father, John turned his life completely over to God. He was ordained in 1985 and became pastor of Hunter's Chapel Church in Tate County, just outside Como, Mississippi. At the age of 66 Rev John Wilkins recorded his debut album 'You Can't Hurry God'. Coming full circle it contained a fine version of his father's "Prodigal Son".

The opinions expressed in this article are not necessarily those held by Cross Rhythms. Any expressed views were accurate at the time of publishing but may or may not reflect the views of the individuals concerned at a later date.
About Tony Cummings

Tony Cummings
is the music editor for Cross Rhythms website and attends Grace Church in Stoke-on-Trent.
Reader Comments
We welcome your opinions but libellous and abusive comments are not allowed.