Thursday 13th September 2007
Tony Cummings quizzed Canadian singer/songwriter and record producer SEBASTIAN DEMREY
Sebastian Demrey
The haunting "Spring Rain" has introduced Cross Rhythms radio listeners to a new name, Sebastian Demrey. But who is this Canadian singer/songwriter and what is the story behind the man and his 'Searching' album? I quizzed this intelligent young songsmith about his life in music. Here are his answers.
Tony: Can you tell me a bit about yourself?
Sebastian: My music adventure started in a kid's choir, in church, at five years old. That is the first time I stepped on a stage to perform. After a couple of times, they gave me a microphone and next thing you know I'm asked to sing solo parts. Everything went by so fast, but I don't remember it all. At home, my three brothers and I would sit in the family room with our parents and sing some Southern gospel tunes. Dad grabbed his guitar and mom taught us to sing harmony on every song. With four boys it wasn't possible for my parents to get us all music lessons, so we did it at home, just like that. But being the church music director and a producer as well, my father always made sure we were constantly surrounded by music and ministry.
I really figured out what I wanted to do with my life at 15 years old, and that was music! So I went on to study classical, jazz and pop at a music college in Montreal. During that time, I started getting involved in the youth and church music team as a piano player and worship leader and was so thankful to God I did. It enabled me to be connected with the worship movement, and not just be overloaded with my music studies. As years went by, I started to work in studio projects as a backup singer for many Christian recording artists and quickly discovered that this was where I wanted to evolve in my next level. After graduating from St Laurent Music College in Montreal in 1997, I was hired by my church to become director. At the same time, I was approached by a label to produce a French gospel artist. I had never been a producer before, but I was up for the challenge. From 1997 to 2005 I produced many albums for artists and toured the world with them as band director. Though I was extremely involved in other people's ministry and music, I managed to work on my own music and accepted every invitation from churches and concert promoters.
In 2005, I decided I wanted to put all my energies into writing songs and record my first solo album. The same label I had been working for signed me and I began the solo adventure. Having worked for others in the past, it took some time to adjust, because now I was working for myself! Since the release of the album in the fall of 2006, invitations have not stopped coming in and I've been touring Canada, as well as France. It's really a blessing to be able to get on stage and share songs and stories to people I don't know. All I want is that through my music I can be a blessing to the Church and a light in the dark.
Tony: How did you become a Christian?
Sebastian: I was raised in a Christian home, so there was going to church every Sunday and prayer on Wednesday. Don't know how it is with other folks like me, but when I was child, I never asked myself if I was a Christian or not. For me, I was born like that and everything was meant to be. But I know that I sincerely dedicated my life to God in my teenage years, at a youth retreat in 1992. We had a guest preacher, Greg Wilkerson (that is David Wilkerson's son) and he completely ravaged the place (spiritually speaking) with his preaching and had all the kids kneeling at the end of the service, crying out to God. After that night, I wanted to save the whole world for Jesus!
Tony: Your biography says you've produced albums for such artists and Maggie Blanchard and Tabitha Lemaire. I'm afraid I am showing my ignorance here. Who are these artists?
Sebastian: These artists (and friends) are French, from Quebec, Canada. That is why nobody in the UK or US knows much about them. But if you just hop over the other side of La Manche, you'll hear that Maggie Blanchard is probably one of the biggest French-language gospel artists in the world! I produced her albums in 1999 and 2004, as well as Tabitha's in 2001, and many more.
Tony: Is 'Searching' your first solo album?
Sebastian: Indeed, though I wish sometimes I had started on that road before. I've participated in many different recording projects as guest artist, but never wanted to make the big leap. Now that I've taken this turn, I don't regret it at all! I love performing my own songs and communicating with my audience and share much of who I am. At first it was a bit scary, because being a singer/songwriter reveals part of who you are. My label gave me lots of space as far as songs, lyrics and producing, and so I had a say in choices of songs, lyrics, musical direction, etc.
Tony: As you know, your song "Spring Rain" has become a "turntable hit" on Cross Rhythms radio. Are you surprised by that?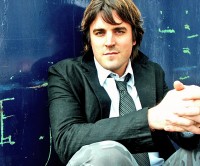 Sebastian: Surprised? Yes! Excited? Yes! I still don't quite understand how a short and simple song can get on a radio chart, and in another country! Karine (my wife) and I first wrote these lines to describe how sometimes we can experience an intimate moment with God, where we feel like everything in us is refreshed, renewed, just like the rain in spring, when it all comes back to life. This song is one of my favourites when it comes to live performances because I open up the structure and bring more life into it, sometimes moving into some spontaneous improvisations, which makes it much longer than the album cut.
Tony: Are you employed by your church?
Sebastian: I was a church music director for five years and was much involved in the worship music. In 2003 I decided to head into the music industry full time, producing, recording and touring. I'm currently doing all of this thanks to CIME Music, a Christian music label in Montreal. I still lead worship in my home church in Longueuil, New Life Church, as well as some other churches in Montreal, whenever they are in need.
Tony: What is the biggest spiritual lesson you have learned in recent times?
Sebastian: I've learned to trust in the Lord for everything! I'm not only an independent Christian artist, but also a husband, a father, a friend, an employee. Things can heat up sometimes when much is asked of you from all sides and it can be hard to keep up. But I stumbled upon that verse in Proverbs 3: 5-6 and it gave me a solid ground. I know I can rest upon the Lord and trust that he will be in control of all things. That has been my favourite verse for the past two years.
Tony: Presumably, you're doing a fair bit of touring.
Sebastian: I recently came back from a tour in France (not to be confused with the bike competition!) and it was amazing. I had been there many times before, but first time singing my songs and doing full concerts by myself. I recorded a French single with four songs on it, just so I could leave them a French album on my way out. Though they enjoyed the French songs, to my great surprise, 'Searching' was a hit and I ran out of CDs for my two last concerts, which is a very bad thing, but also very good! The next time I pass by France, early next year, I'll try to stop by the UK - with more than enough CDs!

The opinions expressed in this article are not necessarily those held by Cross Rhythms. Any expressed views were accurate at the time of publishing but may or may not reflect the views of the individuals concerned at a later date.
About Tony Cummings

Tony Cummings
is the music editor for Cross Rhythms website and attends Grace Church in Stoke-on-Trent.
We welcome your opinions but libellous and abusive comments are not allowed.