With the release of her 'Theology' double CD, SINEAD O'CONNOR was willing to talk to Cross Rhythms' Tony Cummings.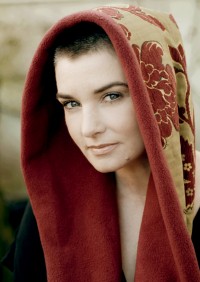 Sinead O'Connor
It was March 1990 when a singer from Glengeary, Ireland was suddenly catapulted form critic's darling to international pop icon when her unforgettable reading of an obscure Prince song "Nothing Compares 2 U" became a gigantic best seller. Considered by some to be one of the greatest pop records ever made, Sinead O'Connor's tear-soaked vocal was a heart stopping cry of emotional pain which once heard could never be forgotten. The accompanying video of that shaven headed beauty increased the emotional intensity even further. A stream of successful albums followed for the singer. But the next decade proved to be a hard and rocky road for the singer. In 1991 Sinead was the first ever person to refuse her Grammy for her 'I Do Not Want What I Haven't Got' album. Then, after ripping up a photo of Pope John Paul II on US Saturday Night Live she was booed off stage at a Bob Dylan tribute concert at Madison Square Garden in October 1992. Sinead announced her retirement but then retracted the decision in late 1992. And so the emotional roller coaster moved on.
Allegations of abuse by her mother resulted in a family feud, a subsequent breakdown and suicide attempt. Her 1994 'Universal Mother' contained lyrics of bleak starkness but failed to reach the sales heights of earlier albums while 2000 saw the release of 'Faith And Courage' following the announcement that the singer had been ordained into a little known Catholic sect and was now known as "Mother Bernadette". Also in 2000 Sinead announced she was a lesbian but then a year later married journalist Nick Sommerland. In 2002 she told The Irish Times that "I am still a priest, but how I feel about it is very much a private thing between me and the Holy Spirit." In the same interview she also said he was a "dedicated weed-head." Then most recently of all came a media announcement that Sinead's discovery that she was bi-polar and that some of her more erratic behaviour in the past had been the result of this particular medical condition. This month Sinead released her first album since 2005's covers set 'Throw Down Your Arms'. The new release is based largely on Scripture and is Sinead's "personal response to what has taken place and is affecting everyone around the world since and including September 11, 2001." The album 'Theology' was recorded in acoustic vein in Dublin and with a second album, with subtle electronics provided by producer RonTom in London. The double CD is a mix of O'Connor compositions such as "If You Had A Vineyard" based on passages from Isaiah and Jeremiah ("I adore how the prophet books speak very much about today's world"); "Whomsoever Dwells" (with lyrics from Psalm 91 - Sinead's favourite Psalm) and a casting of Psalm 33 in "33" ("this Psalm traditionally is the one you say when someone is expecting a baby, which I was at the time of recording"). The album also contains covers of songs by Curtis Mayfield ("We People Who Are Darker Than Blue"), Tim Rice & Andrew Lloyd Webber (the Jesus Christ Superstar evergreen "I Don't Know How To Love Him" - the album's first single) and an old Melodians' reggae classic later mangled by Boney M ("By The Rivers Of Babylon"). But it's Sinead's own songs, particularly the stunning "Out Of The Depths" which led me to the conviction that Cross Rhythms needed to interview this most gifted of singer/songwriters. Very aware that aspects of Sinead's theology and lifestyle would lead some Cross Rhythms readers to conclude that the singer is not, in fact, a Christian, I can only state that from my perspective, Sinead's art contains much which would feed any believer with the ears to listen. I spoke to Sinead prior to her return to concerts across Europe in July and August followed by a tour of North America in September/October.
Tony: Why the decision to do it as double? The one the acoustic version and then most of the songs in the studio version as well?
Sinead: I guess it kinda happened by accident really. I originally had planned just to make the acoustic record and what had happened was that the guy who produced the London record, we just kind of met at the same time that I was writing the songs. He said would I come to London to make some demos with him just for fun really to see how we got on in the studio. The only songs that I had were some of the songs from 'Theology' so we just messed about in the studio with those and then when the demos were finished and I said to him, "Look, I want us to work on a future record and not 'Theology'. He was devastated, really upset and just pleaded with me to let him make the record. So I said yes, but I had already started recording the acoustic. So it kinda ended up being a double record that way!
Tony: Were you pleased with what the studio version was able to bring to the songs?
Sinead: Yes - very much. I've always been intrigued with the idea of a recording that shows the evolution in a way in which songs develop, how it is when a person just sits in their sitting room writing them with a guitar and then what happens when they've been produced. So I had kinda felt quite confident about these songs too that you could do them in any kind of fashion.
Tony: My absolute favourite track on 'Theology' is "Out Of The Depths". I absolutely love that song! It's inspired by Psalm 130 isn't it?
Sinead: Yes. It starts with some of the words from Psalm 130 and I believe it finishes with some of the words from it as well. It was inspired by that Psalm.
Tony: To me it speaks of the difference between religion and spirituality.
Sinead: Yes, well I guess I would be someone who feels that God and religion are two different things and that in many ways religion holds God hostage. I think that there are these walls of rules and regulations behind which God gets trapped and also in front of which people get kept out. That to me is a concern. There's this attitude in a lot of religions, that they hold God hostage and they say when God can come out to love someone and when God must go back in and not love someone. I find that to be slightly blasphemous to be honest.
Tony: But isn't that an understandable inheritance because of the Bible? Because we've got his inspired book we are effectively attempting to apply a lot of rules into our lives?
Sinead: Well, yes, I think you're right obviously in some cases and some of the rules I wouldn't object to - the basic Ten Commandments, obviously no one would argue with those. But there are certainly things which are applied by modern religions which I don't necessarily think there is a whole lot of basis for in actual Scripture. I mean, if you really study the scripture of almost any religion under the sun, they tell you that God loves everyone equally, but an awful lot of religions seem to be selective as to who can be loved and who must not be loved, which to me is contradictory.
Tony: I'd like to come back to you about that in a minute. But just talk me through a bit more about the album. What's your personal favourite on the album?
Sinead: My personal favourite really would be on the acoustic album, "33". I am also very proud of "If You Had A Vineyard". But the one that I'm personally very moved by would be "33" on the acoustic version.

Reader Comments
We welcome your opinions but libellous and abusive comments are not allowed.