Wednesday 5th December 2012
Once again Tony Cummings sifts through around 1,000 Christian music releases to identify the 20 best albums
LARRY MILLER - On The Edge (Big Guitar)
Larry may be a hero among the blues rock cognoscente but to most Christian music devotees he remains unknown despite the smattering of albums down the years giving occasional indications of his strong Christian faith. This, his latest album, was described as "blues rock brilliance" by Guitar & Bass magazine and I wouldn't argue. Despite his clear stylistic indebtedness to Rory Gallagher there is such confident compositional swagger and dazzling display on his Fender that words like "timeless" and "breathtaking" come to mind wherever one dips into 'On The Edge'. Particular standouts are the ZZ Top-influenced "Road Runner" and a song, "When The Blues Men Walked The Earth", that could almost describe the Reading-based muso's tireless services to music. "Seven mouths he had to feed/Playin' all night 'til the fingers bleed/Gettin' home in a battered Ford/But Sunday mornin' he'll be praisin' the Lord."
BOB DYLAN - Tempest (Columbia)
It continues to amaze me that reviewers and journalists can examine every Dylan song under a microscope yet fail to make mention of the fact that a Christian world view is obvious in many of his songs and that on a track here like "Narrow Way" - the incarnation, the crucifixion and the resurrection are all proclaimed over a crunching blues riff. This, Dylan's first set of new recordings for quite a while, is a creative tour-de-force. Recording with his tried and tested road band and sporting a rootsily organic sound Dylan's new material is powerful, engaging and surprisingly varied. There's "Tin Angel", described by the Cross Rhythms reviewer as "a lovers' triangle of lust, revenge and murder," the 14-minute long title track about the doomed liner, the Western swing-style "Duquesne Whistle" and even a spoken eulogy of human regret "Long And Wasted Years". Clearly the rock icon still has much to sing about even if those myopic critics fail to recognise the biblical messages that permeate his work.
VARIOUS - The No 1 Classic Gospel Album Ever (Goldenlane)
As was noted in our original review this compilation bizarrely includes several tracks from country crooners completely out of place on a collection of African American gospel. But what makes one forgive such strange inclusion, and the shoddy mis-titlings and artist abbreviations in this download album, is the sheer quantity (and quality) of the vintage gospel tracks here. For a mere £7.49 this 200-track compilation offers recordings by most of the major figures of '40s and '50s gospel. So if you're looking for your first taste of Sister Rosetta Tharpe, the Soul Stirrers, the Staple Singers, Mahalia Jackson, The Caravans, The Blind Boys (both Alabama's and Mississippi's), Bessie Griffin and many more 'The No 1 Classic Gospel Album Ever' is a great place to start. As well as the gospel giants there's also plenty of room here for obscurities from the Spiritualaires, Sister Lottie Peavy, The Drexall Singers and many more. Yes, it would have been great to have all these in a box with comprehensive sleevenotes. But much of this thrilling, gutsy, cathartic music is timeless and at this bargain price, irresistible.
GABRIEL WILSON - The Maguire Side (Independent)
After his occasionally brilliant work with the Rock 'n' Roll Worship Circus and his somewhat underwhelming CDs by The Listening, nobody was prepared for singer/songwriter Gabriel's move into American folk/Southern gospel/Americana. But inspired by the recent discovery of his musical roots (Gabriel's grandfather was a singer/preacher and his uncle Southern gospel giant Dony Maguire), Gabriel penned a batch of rootsy songs which were a perfect foil for the dobros, acoustic guitars and vintage organs which dominate this warm and eloquent set. Lyrically Maguire elegantly expresses his feelings and memories as he touches on loss and abandonment, missed opportunities and hope of Heaven. The gems include "Rocking Chair", a melancholy tale as a mother explains to her son that daddy is going away but how "God is strong and will never leave you." Perfectly in keeping with the vibe of this beautifully executed retro album, as well as the CD, 'The Maguire Side' is issued in a nicely designed vinyl version.
CHIP KENDALL - Holy Freaks (Independent)
The one-time frontman with thebandwithnoname here continues where he left off with that renowned band of Manchester musicianaries, making music that fuses rock and hip-hop, electro and pop all with passionate lyrics of faith and conviction. One of two, like "Evolution", have emanated from his schools work with a deejay and a scientist in tow, others, like "Answers", came out of a mission trip to India. There's a bit of dubstep worship and a powerful reassembly of "The Old Rugged Cross" which brings back memories of thebandwithnoname's "Amazing Grace". Despite bringing seven different producers in to make 'Holy Freaks', Chip manages to retain a certain coherence in all the wild eclecticism. When released Cross Rhythms wrote, "In an age when whole sections of youth culture are lost in cynicism or materialism and where, even in the Church, there are many believers uncomfortable in presenting the radical message of the Cross to a dying world, Chip speaks, raps and sings with an authority that few other figures in CCM seem able to muster.
You can buy Holy Freaks from Cross Rhythms Direct for ONLY £9.97.
JOSH GARRELS - Love & War & The Sea In Between (Independent)
The fact that this songsmith from Portland, Oregon, released this 18-song opus as a free download demonstrates both his generosity and his determination to get his finely crafted songs "out there". Sometimes there are hints of some of the best known singer/songwriters - "Bread And Wine" vaguely resembles something a more spiritually-minded Jack Johnson might have recorded while "Million Miles" echoes the best of Ray LaMontagne. But Josh's winning way with lyrics ensure that there's plenty of creative edge on show. Particular standouts are "The Resistance", his withering condemnation of corrupt and unjust institutions ("I was born into a system constructed for failure/It's a sinking ship manned by drunken sailors") and the haunting "Farther Along" which asks some searching questions ("Tempted and tried, I wondered why/The good man died, the bad man thrives/And Jesus cries because he loves them both"). Masterly stuff.
THE VESPERS - The Fourth Wall (Black Suit)
This has been an excellent year for American/folk-tinged music and this Tennessee foursome, consisting of the Cryar sisters and the Jones brothers, came up with another set of songs every bit as appealing as their warm-hearted debut of 2010 'Tell Your Mama'. This time with a tighter and slightly rockier production than their debut, producers Anderson East and Daniel Scobey still wisely keeps the emphasis on the wistful blend of Callie and Phoebe Cryar's voices with the double bass and all manner of acoustic instruments give the songs a deft retro feel. The Cross Rhythms reviewer, commenting on "Jolly Robber", wrote, "any band who have the audacity to write an upbeat, catchy song about a thief with bipolar disorder is guaranteed to be a hoot" while their renditions of "Grinnin' In Your Face" by legendary Mississippi bluesman Son House and the moving song of faith "Better Now" make this a must have album for those with acoustic music tastes.
KRISTENE DIMARCO - Safe Place (Jesus Culture)
Ever since Kristene DiMarco emerged from the team of Jesus Culture worshippers and released the 'Those Who Dream' album (under the name Kristene Mueller) Cross Rhythms having been enthusing about his exceptional Californian singer/songwriter. If anything, 'Safe Place' is even better than her debut. One reviewer described Kristene's approach as "acoustic creative folk rock" while her voice has the same country-tinged poignancy of a Leigh Nash with a touch of Britain's Eliza Doolittle. Kristene's compositions investigate a wide range of subjects. As well as songs of adoration to the King there's an inventive number "Paint Me A Picture" about the act of creating while another "A Lonely Carpenter" imagines the conversations Jesus might have had with God the Father in the wilderness. Wonderfully executed, finely crafted songs from a memorable singer.
You can buy Safe Place from Cross Rhythms Direct for ONLY £9.97.
OOBERFUSE - Seventh Wave (Independent)
Over their two albums and smattering of singles, London's Ooberfuse have moved from being an experimental art pop group with strong Eastern music leanings to an electro pop band with a strong grasp of what sounds good in the clubs. But they've never lost their lyrical edge and determination to shine the political spotlight on the injustices of a sin-soaked world. So here we have "Free Asia Bibi" which succinctly sums up the plight of a Pakistani mother who proclaimed her faith and earned the death penalty and "Blood Cries Out", a song paying tribute to Shahbaz Bhatti, the Pakistani politician who was gunned down after speaking out against Pakistan's infamous blasphemy laws. With a fine lead singer in Cherrie Anderson Ooberfuse make some propulsive dance pop as well - check out "Call My Name". All in all, Ooberfuse are one of the most original acts to hit the scene, Christian or non-Christian.
AS I LAY DYING - Awakened (Metal Blade)
With Underoath's retirement, many would claim that the San Diego-based outfit are now Christendom's top metal outfit and on the strength of this brutal yet poetic set few will argue. The drummer with the Descendents Bill Stevenson gives them the kind of sonically majestic soundscape they need to bring out the power and authority of their literary lyrics while the fusion of hardcore and melodic elements is achieved with flamboyance and invention. There are also one or two welcome surprises, like the stunning guitar solo on "No Lungs To Breathe" while the closing numbers "My Only Home" and "Tear Of My Eyes" are as powerful as anything vocalist Tim Lambesis, lead axeman Nick Hipa and that rock solid rhythm section have ever achieved.
MINDY SMITH - The Essential (Vanguard)
Mindy's Vanguard albums are exceptional examples of modern country music so this compilation of the best tracks from 2004's 'One More Moment', 2006's 'Long Island Shores' and 2009's 'Stupid Love' could hardly fail. With a couple of nice bonuses, including Mindy's sinuous cover of Fleetwood Mac's "Little Lies" and her two classics, her breathtaking rendition of "Come To Jesus" and her painfully sad goodbye to Mindy's deceased mother "One More Moment" are the obvious highlights but throughout the songwriting craft and the delicious poignancy of Mindy's phrasing make for an outstanding album of songs about love both sacred and stupid.
ELEVEN22 - The Reason (Independent)
From the start the opener "God Alone" establishes that 'The Reason' is a modern worship set, head and shoulders above the standard stadium rock anthems that pour out from record labels and large-congregation churches. Eleven22 began as the worship team at Beach United Methodist Church in Jacksonville, Florida and "God Alone" shows that Gretchen Martin is an exceptional vocalist as she takes the song from a tender-hearted confessional over a rich string section to wall-of-noise guitar and keys crescendos. Production by Jeremy Edwardson of The Myriad is sonically top rate while whether the band are declaring their victory in battling through life's storms on "I Found A Love" to an elegant and passionate rendition of the beautiful hymn "It Is Well With My Soul" the effect is continually impressive. Top rate modern worship.
SARAH MACINTOSH - Current (Integrity)
Those CCM connoisseurs who followed the excellent but short-lived career of Chasing Furies will know that Sarah was the possessor of that haunting voice that made the group's 1999 album so memorable. Now her husband and keyboards whiz Jonny Macintosh has enabled Sarah to make an album which manages to be as inventive and cleverly delivered electro pop as you're ever going to hear while never smothering Sarah's delicately appealing voice in too many levels of electronic trickery. The Cross Rhythms reviewer observed 'Current' offered songs with each containing a story, "some of brokenness, but all are tinged with hope in the Saviour" while Josh's brilliant use of samples and unexpected synth riffs and sounds perfectly accompany the top line melodies. The opener is the Cross Rhythms turntable hit "Current" but throughout voice and production make a memorable sound.
You can buy Current from Cross Rhythms Direct for ONLY £9.97.
JASON UPTON & THE GOODLAND BAND - Family Music (Key Of David)
No one who'd heard Jason's shoal of previous albums with their intense semi-improvised explorations into the wall-of-sound realms of prophetic worship could have in any way prepared the listener for this album. Cross Rhythms' reviewer, struggling to find words to describe the worship leader's unexpected entrance into children's and family music, suggested "dropping the Bonzo Dog Doodah Band and the cast of Playschool into Bruce Springsteen's Seeger Sessions" which is a reasonable attempt at pinpointing the wild eclecticism, infectious humour and downright eccentricity captured here. Cross Rhythms radio listeners will already be familiar with the nostalgic paean to lost childhood on "Tater Peeler Road" while the pre-school ditties "Doctor, Doctor" and "Candy" are delivered with maximum aplomb. Top rate musicianship and a winning way with melody and lyrics make this the best children's/family album you're likely to hear this or any year.
You can buy Family Music from Cross Rhythms Direct for ONLY £9.97.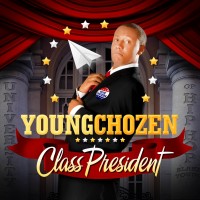 YOUNG CHOZEN - Class President (Independent)
The debut album from this youthful Los Angeles rapper manages to balance the production inventiveness that the top selling hip-hop stars offer without over-glossing the gutsy passion of word-and-rhythm with the vibe of street level raps without ever descending to the rants-with-drum-machine monotony of much budgetline hip-hop. The emcee's way with words, usually based on solid Scripture, is sure footed and whether he's offering an R&B/rap mix like "I'm Gone", some old school '80s beats like "Drive Through" or coming up with the best song based on Proverbs 31 since Larry Norman told us he was "looking for a woman of God" on "31 Status" the effect is continually fresh and potently relevant. A fine album deserving of maximum exposure.
FOR KING & COUNTRY - Crave (Fervent)
Overlooking the mysterious omission on this Australian' duo's official biography (for some unexplained reason Joel and Luke Smallbone didn't want to tell the world that they were brothers of Rebecca St James), this release immediately caught the attention of the Cross Rhythms team. The brothers wrote all but one track on this album and with magnificent production from Shaun Shankel, Matt Hales and Ben Glover their songs of faith and adoration have the kind of epic grandeur which few acts trying to echo the sound of Coldplay and other mainstream million sellers get near to. For King & Country's stunning full length debut has produced no less than four Cross Rhythms turntable hits: "Love's To Blame", "People Change", "Light It Up" and "Missing" and the appealing blend of voices, the continually inventive arrangements and the spiritual challenge of the lyrics make for an exceptional release.
You can buy Crave from Cross Rhythms Direct for ONLY £9.97.
DAMITA - Anticipation (Tyscot)
For my money the best R&B gospel album of the year. Having already made two good albums Damita Haddon, wife of gospel star Deitrick, delivers a tour-de-force of self-penned inspirational dance and urban gospel. The lyrics are clearly targeted at teenage girls struggling to find a moral compass in a culture surrounded by immorality and the fact that Damita so incisively points her listeners away from the lies and exaggerations of pop radio culture and towards the true lover of our souls is well judged and skilfully done. Great cuts abound here. There's the club dance rhythms of "Praise U Now", the tender "I Love You" and the slyly executed radio-friendly opener "Won't Turn Back". A gem of an album, even if you aren't a teenage girl.
You can buy Anticipation from Cross Rhythms Direct for ONLY £9.97.
JESUS CULTURE WITH MARTIN SMITH - Live From New York (Jesus Culture)
It always had the potential of producing something special - getting the one-time Delirious? frontman in a large auditorium to lead worship with the singers and musicians from Redding, California's renowned Jesus Culture setup. And so it proved to be. The gathering at New York's Nassau Veterans Coliseum must have been a life changing event judging from the music captured here. Smith's new songs like "Fire Never Sleeps", "Waiting Here For You" and "Song Of Solomon" - first heard on the singer's 'God's Great Dance Floor' EPs - take on a new power and resonance in this setting while the Delirious? oldies, with spine tingling contributions from the gathered throng, are also wonderful. Jesus Culture's Kim Walker-Smith is in fine voice as she powerfully emotes on One Sonic Society's "Walk With Me" and Bryan & Katie Torwalt's "Holy Spirit" while the Chris Quilala songs are strong too. My nomination for the best live worship album ever recorded.
You can buy Live From New York from Cross Rhythms Direct for ONLY £9.97.
ANDREW PETERSON - Light For The Lost Boy (Centricity)
Cross Rhythms has already gone on record to say that the opening two tracks here, "Deliverance" and "Cornerstone", are classics and if that's not enough, the closer, "Don't You Want To Thank Someone", is another magnificently crafted, beautifully sung and arranged song which gets better with every play. The fact that Christendom has produced one of the GREAT singer/songwriters of this age may be a fact still unknown to many UK churchgoers but that will surely change. Peterson's artful blend of Americana and American folk and lyrics which poetically explore the human condition, place him head and shoulders above all the other songsmiths and with magnificent production here from Ben Shive (Sara Groves, Matt Werz) and Cason Cooley (Matthew Perryman Jones, Mat Kearney) with Andy Gullahorn co-producing, this is an album that anyone blessed to hear it will be enjoying for years to come.
You can buy Light For The Lost Boy from Cross Rhythms Direct for ONLY £9.97.
BRITT NICOLE - Gold (Sparrow)
Cross Rhythms' reviewer described 'Gold' as "near perfect pop" and the singer and songwriter from North Carolina has certainly to age with this, her third album. The most infectious track of all is the current Cross Rhythms turntable hit "Breakthrough" which not only has a hook to die for but with its breakdown into beeps and scratches shows that American producers (in this case David Garcia and Christopher Stevens) are beginning to come to terms with the sound of dubstep. With lyrics aimed at teen and pre-teen girls this takes in themes like the journey of getting to know God on "Who You Say You Are", while the propulsive "Amazing Life" would be a guaranteed floor-filler if clubland ever get to hear it. Britt's first two outings were good but this one is special.
You can buy Gold from Cross Rhythms Direct for ONLY £9.97.

The opinions expressed in this article are not necessarily those held by Cross Rhythms. Any expressed views were accurate at the time of publishing but may or may not reflect the views of the individuals concerned at a later date.
About Tony Cummings

Tony Cummings
is the music editor for Cross Rhythms website and attends Grace Church in Stoke-on-Trent.
Reader Comments
We welcome your opinions but libellous and abusive comments are not allowed.