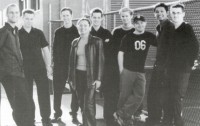 The Jive Express
Maxine: Can you give us a history of the band?
Paul Mabury: It all started basically as a whole group of Christian musicians. We all come from different denominational backgrounds, coming together with one goal and that was to preach the Gospel through music. We've come from all over Perth, we've been going for about five years, we've recorded one album and we're just about to get on with tours and start afresh with a new line up."
Maxine: What's your current line up?
Paul: It's a big one. I'm Paul Mabury and I play the drums, Dishan Abrahams plays bass guitar. We've got keyboards with Simon McCarthy, percussion player Colin Mills, saxophone players Brett Mabury and Graeme Blevans, Darrell Wilson on trumpet. There's another guy called Bobby Sazdov who did a lot of the singing on the album and there's a good chance that he'll be touring with us. A girl called Amanda Cayton is singing as well, so it's a big line up. There's Gavin Kerr who scratches records, writes arrangements and conducts horns and sometimes we have a string section and he conducts them. He does the arrangements for that as well.
We have two kinds of set ups. We have a small set up, which is the Jive Express and then we have the Jive Express Funk Orchestra with a string section and the full horn section. We usually grab a few more guys to play horn just to beef it up a little.
Maxine: Your 'Vision Inspired By Emmanuel' CD is a very fresh sound. How would you describe the style and what have been your major influences?
Paul: A lot of us have studied jazz. Our passion is jazz and the great musicians who have really
made jazz what it is like - Herbie Hancock and Jaco Pastorius with the bass; Miles Davis. Just a whole lot of musicians who have influenced us. There's also the modern music in acid jazz, Incognito, Jamiroquai and Brand New Heavies. Really, our passion is jazz and funk and we're doing our best to fuse them together. We haven't really come together and thought, "OK! Pop music is what sells, so let's do that." We've really come together with the music that we love to play and we're doing our best to convey the Gospel in that format. I guess I could best sum it up as a jazz/funk kind of style. We also love Stevie Wonder, Al Jerome, Marvin Gaye, etc. A lot of those guys have really influenced our vocals.
Maxine: Can you tell us a little bit about the Australian Christian music scene? What is there beyond Hillsongs?
Paul: Ahh yeah! Hillsongs just exploded across the world. The punk scene of all things is really flourishing in Australia. There are some really exciting acts. We've got a punk band with Scope, it's called Haste. They reach a whole crew that generally the Church doesn't reach and it's a very valuable ministry. There's some awesome punk bands in Adelaide. From what I hear it's a growing scene on the east coast as well. Scope Music is what we're attached to in Perth. What we're trying to do is really encourage Christian musicians to minister and to put God first.
My honest opinion is that the Christian industry has become very much just like any other music industry. I really feel that it's important to encourage musicians to put God first and to develop character so that where ever your gift takes you, you're prepared for the knocks that are gonna come along. When things come to challenge you and challenge your character, that you're able to stand because you've made the decision of what's important to you and if God's really and truly first in your life then it's gonna be pretty safe, no matter where you go. The Christian scene in Perth is good but I think it could improve a lot though. There's a lot of room for more hard-core ministering to people. Getting into the places where the Gospel isn't getting into. I don't know what it's like in the UK but over here the majority of people don't really know what true Christianity is about. They just have a whole lot of fear and anger attached with religion. What The Jive Express is trying to do is to break down those walls and to really make a point that Christianity is not about religion, it's about a relationship with Jesus. He's the truth and the truth sets you free. That's really what our message is.
Maxine: Can you tell us about the recording of 'Vision inspired By Emmanuel? What do you remember about the sessions?
Paul: It was a massive job. We knew we had a whole bunch of tunes and had to pull it all together. We grabbed the musicians that we knew could do the job from this city. Most of them were Christian guys and the singers were Christian. We also scored an American youth choir because they were in town and we were able to get them in the studio, which was just an awesome opportunity. Also Jeremy Olive who's from London and worked in Abbey Road studios and has produced Incognito and done some work with Massive Attack. I met him through doing the drums on another session with another artist a £100,000 over budget. We continued to keep in contact. He said he would love to be involved in anything that we're doing. When it came to mixing 'Vision Inspired By Emmanuel' he came on board and was such a valuable person to have involved. He's just so experienced and knew what he was doing. He helped us out big time. Unfortunately he didn't have anything to do with the tracking but he was able to mix it and master it for us with Don Bartley in Sydney at 301. So it was a massive project. I think there were 53 musicians all up involved with the recording and a lot of hours in the studio. An experience that none of us will forget.

The opinions expressed in this article are not necessarily those held by Cross Rhythms. Any expressed views were accurate at the time of publishing but may or may not reflect the views of the individuals concerned at a later date.
About Maxine Cummings
Maxine Cummings is the editorial administrator at Cross Rhythms.



We welcome your opinions but libellous and abusive comments are not allowed.